Pole Shifts" Isaiah 24 Record Heat Violent Storms!
/
Suwanee residents: 'The whole county is sinking'
First Coast News
As
sinkholes
plague a town, residents say it is cracking under the pressure. "The whole county is sinking," said Live Oak resident Wade Lashley. "They're all over the county. Live Oak is about destroyed." The residents are trying to go about their
...
/ Euro Crisis Breakthrough Breakdown - Nigel Farage
/
/
IRAN TEST-FIRES DOZENS OF LONG RANGE MISSILES...
/
Ex-FBI Employee Claims She Saw Angels at Flight 93 Site...
/
'ZOMBIE CANNIBAL': 'I'm a eat you'...
---
Zombie 'theme park' planned for Detroit's abandoned streets...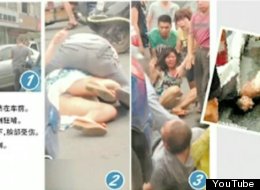 ------
Face Eating Attack In China: 'Dong,' Drunken Bus Driver, Allegedly Bites Woman 'Du's' Nose, Lips
/
/
ANDY GRIFFITH DEAD AT 86...
/
Midwest ranchers, lawmakers protest drone flyovers...
/
UK preps for Olympics -- with missiles...
/
Greece to present debt inspectors 'alarming' data...
---France Faces Major Test as It Enters 'Danger Zone'...
/
Muslim Arrested – Tried to Run Over Christians at Islamic Festival – Media Silent
/
CERN physicists announce they are 99% certain they have found elusive Higgs boson particle
/
Unknown disease kills 60 children in Cambodia
/
New Zealand's 7.0 earthquake was strongest to strike the region in 119 years
---
El Hierro sees increased seismicity in the magmatic process but some stabilization in the deformations
/
Mexico declares national animal emergency due to H7N3 outbreak of bird flu
/
Barclays And 20 More Banks, Including HSBC, Facing Criminal Inquiry Over Interest Rate Fix Scandal
/
Killer Microchip
/
London 2012 Olympics: Dark, Satanic Mills Of Industrial Revolution Take Centre Stage At Opening Ceremony
/
Prophetic Signs That Have Taking Place This Month
/
Collapse of spent fuel storage pool at Fukushima Daiichi could be worse than initial accident, says new report
A collapse of the already tilting reactor No 4 building at the stricken Fukushima Daiichi plant, ¬atop which sits a spent nuclear fuel storage pool containing 1,535 fuel assemblies – including 204 unused ones – would lead to a "significant global impact,"– by far topping last year's triple meltdown at the plant, a new report says. According to the report (available for download in PDF at lower right in blue box) released by Holpchi CH, a Swiss-based industrial analytics think-tank, even a 10 percent release of the storage pool's inventory of radioactive cesium and strontium would "represent 3 to 10 times the March 11, 2011 release amounts, substantially increasing risk levels in Japan and marine life." "This is an acute example that we will have to live with the threats emanating from Fukushima for years to come," said Nils Bøhmer...
/
US sends floating base for special forces to Gulf to thwart Iran
Officials told the New York Times newspaper that Washington would view any attempt by Iran to close the Strait of Hormuz as a "red line" triggering a US military reaction. "The message to Iran is, 'Don't even think about it,'" the daily quoted a senior Defense Department official as saying on condition of anonymity. "Don't even think about closing the strait. We'll clear the mines. Don't even think about sending your fast boats out to harass our vessels or commercial shipping. We'll put them on the bottom of the Gulf." The US Navy has doubled the...
/
Greek recession set to get far worse, minister warns
ATHENS — IMF and EU auditors arrived in Athens on Tuesday to audit state finances and progress on bailout conditions, finance ministry sources said, as the new government warned that a bad recession had turned worse. The audit by inspectors from the EU, European Central Bank and International Monetary Fund is expected to take weeks and comes as Greece's new conservative government takes the full reins of power after winning elections on June 17. Since the election, the coalition led by Prime Minister Antonis Samaras has has been stuck...
/
Manitoba highway collapses, creating massive sinkhole
A stretch of highway in southwestern Manitoba collapsed on the weekend, creating a massive sinkhole that has caused havoc for commuters. The affected section of Highway 83 is located south of Roblin, heading towards Russell, Manitoba. On Sunday, the highway sunk roughly six feet, creating a massive crater that made it impossible for motorists to pass. Then on Monday, the sinkhole dropped another five feet to 11 feet in depth. A photograph sent in by a CTV News viewer showed people standing on a high ridge that now rises above the sunken...
/ Jim Rogers, War and the Financial Mafia - LIBOR, Centrals Banks and JP Morgan!