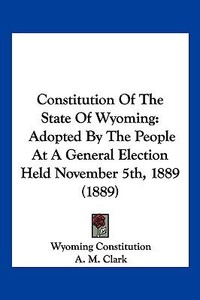 Constitution of the State of Wyoming
Article 1. Declaration of Rights
Wyo. Const. Art. 1, § 24 (2012)
§ 24. Right to bear arms.
The right of citizens to bear arms in defense of themselves and of the state shall not be denied.
NOTES:
Cross references.

As to state militia, see art. 17, §§ 1 to 5, Wyo. Const.

As to weapons offenses and firearms regulations, see §§ 6-8-101 to 6-8-103.

As to advisement of loss of firearms rights upon conviction, see § 7-11-507

As to the attorney general's protection of the constitutional right of citizens to bear arms, see § 9-14-101.



Former § 6-11-115 deemed legitimate exercise of state police power.

Former § 6-11-115, which prevented certain people from possessing firearms, was a legitimate exercise of the police power of the state and was not unreasonable. Carfield v. State, 649 P.2d 865, 1982 Wyo. LEXIS 373 (Wyo. 1982). See § 6-8-102.

No constitutional right to carry a concealed weapon.
Where applicant for a gun permit contended he had a fundamental right to own a firearm, guaranteed by the Wyoming Constitution, and that he was, therefore, entitled to a hearing, the Supreme Court of Wyoming held that there was no constitutional right to carry a concealed weapon and, just as one may not drive an automobile without a license, one may not carry a concealed weapon without a permit. King v. Wyo. Div. of Crim. Investigation, 2004 WY 52, 89 P.3d 341, 2004 Wyo. LEXIS 63 (2004).

Section 6-8-104(a), which proscribes carrying of concealed deadly weapons, is not unconstitutional infringement upon the right of citizens to bear arms in defense of themselves. State v. McAdams, 714 P.2d 1236, 1986 Wyo. LEXIS 658 (Wyo. 1986).

A permit to carry a firearm is a "privilege" and not a "right". Mecikalski v. Office of Att'y Gen., 2 P.3d 1039, 2000 Wyo. LEXIS 110 (Wyo. 2000).

Cited in

State v. Smart, 22 Wyo. 154, 136 P. 452, 1913 Wyo. LEXIS 43 (1913).



Am. Jur. 2d, ALR and C.J.S. references.

Validity of state statutes restricting the right of aliens to bear arms, 28 ALR4th 1096.

Validity of state statute proscribing possession or carrying of knife, 47 ALR4th 651.

Validity of state gun control legislation under state constitutional provisions securing the right to bear arms, 86 ALR4th 931.

Validity, construction and application of state or local law prohibiting manufacture, possession or transfer of "assault weapon," 29 ALR5th 664.

What constitutes actual or constructive possession of unregistered or otherwise prohibited firearm in violation of 26 USC § 5861, 133 ALR Fed 347.
HIERARCHY NOTES:
Art. 1 Note