Israeli Jet Strike Near Damascus Sends Fireball Over City...
USA 'not notified before' launch...
SYRIA WARNS: 'Opens door to all possibilities'...
Egypt, Arab League condemn 'attacks'...
Iran calls for region to unite...
Israel Deploys Iron Dome...
/
DeMint on Immigration: If people read the bill, it will be blocked...
...will cost TRILLIONS?
Durbin: No major changes allowed...
Rubio: Changes needed...
/
Obama To Grads: Reject Voices That Warn About Govt Tyranny...
/
Group Plans ARMED March on Washington...
Big Sis Seeks Millions MORE Rounds of Ammunition...
/
New NRA leader: 'Revenge' motivating Obama...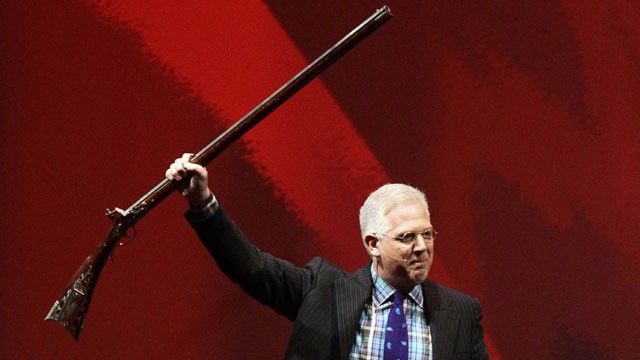 Beck: 'Freedom of All Mankind Is at Stake'...
Video...
EDITOR: Send NRA members to Gitmo...
/
Action Alert: Texas House Bill 1076 to 'Nullify Federal Gun Control' Votes Today
- The bill, introduced by Rep. Steve Toth, R-The Woodlands, would ban all state agencies and employees from enforcing any new federal laws that attempt to override Texas citizens second amendment right. If the bill becomes law it will stop any federal bans or restrictions on firearms, accessories, ammo, etc.
/
California offers free condoms and lubricants to kids without parents' consent
DAYS OF LOT: The California government is making condoms and lubricants available to all teenager's including kids as young as 12-years-old. The condoms can be ordered online for free and without their parents' consent. The…
/
FREEDOM WATCH: Whenever he can, President Obama likes to poke fun at anyone who suggests that he's a closet socialist because that's what socialists do – they ridicule anyone who tries to "out" them.…
/
ALERT: SF Issues Warning After Mall Food Handler Diagnosed With Typhoid Fever
SAN FRANCISCO– The San Francisco Department of Public Health is warning residents about potential exposure to typhoid fever. SFDPH reports that a restaurant worker a the Nordstrom Café at Stonestown Galleria has been diagnosed
/
Two Iron Dome batteries were deployed in Safed and Haifa, as a result of tensions in the north. Following an IDF evaluation of developments in the region, culminating in Israeli strikes on Syria – as confirmed by officials
/
DHS AMMO GRAB TO 'DRY UP' SUPPLY Claims Obama administration intentionally undermining 2nd Amendment
/
A Short History Of Currency Swaps (And Why Asset Confiscation Is Inevitable)
/
Doctors walk out of national Obamacare implementation meeting
/
PORTLAND, Ore. (AP) - Police: Letters told public to turn in pastors - When will your Pastor be turned in??
/
March against Monsanto taking place everywhere May 25
/
Obama To Grads: Reject Voices That Warn About Government Tyranny :Radio Host to Lead Armed March on DC July 4th 'To Put Gov't on Notice that We Won't be Intimidated'
Radio Host to Lead Armed March on DC July 4th 'To Put Gov't on Notice that We Won't be Intimidated
/
Obama: Americans 'Are Root Cause of Violence That's Been Happening Here in Mexico'
President Barack Obama, speaking in Mexico City on Friday, said the United States is responsible for much of the crime and violence in Mexico because of the demand for drugs and the illegal smuggling of guns across the southern border. He told the crowd, "We understand that the root cause of violence that's been happening
/
/
All Depositors Everywhere Should be Scared for their Money-Rick Ackerman