ALL-TIME HIGHS COULD BE SMASHED...
DEATH VALLEY 129°...
VEGAS TO 117°...
LIVE TEMPS...
/
FREAK HEAT: PHX SET FOR 119°
/
UPDATE: UK may approve creating babies with DNA from 3 people...
/
Bert and Ernie come out in NEW YORKER...
/
Global Derivatives Market Has Already Suffered A Staggering $300 Trillion of Losses, Fed Lost $151 Billion in Bond Values, Gold Drops Below $1,200, Smart Money Is Heading For The Exits!!!
/
/
TEA PARTY CALLED 'TOP TERROR THREAT' IN U.S. Poll: Obama supporters fear political movement more than radical Islam
/
Polygamists Hope Supremes' Rulings Will Pave Way To Decriminalization
/
Bulls Eye: Smith and Wesson Sales Sky Rocket: "We Are At Maximum Capacity"
/
Obamacare in Critical Condition As Support Collapses
/
Chile Red-hot as Student Protest Turns Violent
/
How Your Local Officials Are Using Stealth to Implement Agenda 21 & ICLEI
---
Blowing Smoke: Obama Climate Speech Riddled With Lies
/
/
/
/
/
Banks sell record sums of US debt...

Investors pull $23.3 billion out of funds -- in week...
/
Senators Ask if NSA Collected Gun Data...
/
Multiple Government Agencies Are Keeping Records Of Your Credit Card Transactions
/
CAIRO (AP) — As the streets once again fill with protesters eager to oust the president and Islamists determined to keep him in power, Egyptians are preparing for the worst: days or weeks…
/
Millions of krill — a tiny shrimp-like animal that is a cornerstone of the ocean food web — have been washing up on beaches in Southern Oregon and Northern California for the past…
/
Central banks sold a record amount of US Treasury debt last week while bond funds suffered the biggest ever investor withdrawals as markets shuddered at the prospect of the US Federal Reserve ending its…
/
/
Colorado Gun-Control Laws Go In Effect Monday; Critics Fume
/
/
Eric Sprott: Have We Lost Control…Yet?
/
PAPER: NSA has secret data collection agreement with European countries...
Judges in secret court upset with their portrayal...
/
POWDER KEG: Protesters gather to demand Morsi's ouster...
Egypt braces for storm...
FLASHBACK: Obama sends US riot control trained troops to Cairo...
American killed...
Muslim Brotherhood carry makeshift clubs...
Jordanians 'suspicious' about US military deployment...
/
Palin floats idea of leaving Republican Party...
/
/
/

June 29, 2013

–
SPACE

–

Launched 36 years ago, the Voyager 1 spacecraft speeds a rate of about a million miles a day entering a bizarre and mysterious region more than 11 billion miles from Earth that scientists are struggling to make sense of. It's a region where the fierce solar winds have all but vanished and pieces of atoms blasted across the galaxy by ancient supernovae drift into the solar system, the NASA probe is causing scientists to question some long-standing theories on the nature of our solar system and life beyond its cold dark edge dubbed the "magnetic highway" –a newly discovered area of the heliosphere, the vast bubble of magnetism that shields the solar system from deadly cosmic rays. Scientists had long envisioned this outermost layer of the solar systems, the heliosheath, to be a curved, distinct boundary separating the solar system from the rest of the Milky Way where three things would happen: The sun's solar winds would become quiet; galactic cosmic rays would bombard Voyager; and the direction of the dominant magnetic field would change significantly because it would be coming from interstellar space, not the sun. "The models that have been thought to predict what should happen are all incorrect," said physicist Stamatios Krimigis of the Johns Hopkins University Applied Physics Laboratory Scientists had assumed when Voyager exited the heliosphere, the vast bubble of magnetism surrounding the solar system, solar winds would become still, galactic cosmic rays would bombard Voyager from every angle and the direction of the magnetic field would change because it would be coming from interstellar space, not the sun.
But the latest readings from Voyagers instruments support none of those suppositions, scientists said. Voyager has reported solar winds suddenly dropped by half, while the strength of the magnetic field almost doubled, and those values then switched back and forth five times before they became fixed. "The jumps indicate multiple crossings of a boundary unlike anything observed previously," a team of Voyager scientists wrote in one a study. Voyager did detect the expected increase in galactic cosmic rays but found at times the rays were moving in parallel instead of traveling randomly. "This was conceptually unthinkable for cosmic rays," Stamatios Krimigis, a solar physicist at the Johns Hopkins University Applied Physics Laboratory in Laurel, Md., told the Los Angeles Times. "There is no cosmic ray physicist I know who ever expected that they would not all be coming equally from all directions." Whether Voyager 1 — which launched in 1977 — has truly left the solar system has been a matter of some debate, because scientists have come up with competing theories on what constitutes in outermost edge. "We're not free yet," Krimigis said. "This is a new region that we didn't know existed. We have no road map, and we're waiting to see what's going to happen next." –Daily Galaxy
/
STARKE, Fla. (AP) — A group of atheists unveiled a monument to their nonbelief in God on Saturday to sit alongside a granite slab that lists the Ten Commandments in front of the…
An animal protection officer in the German state of Hesse has expressed frustration with a German law that makes spreading bestiality porn illegal — but the act itself legal. Madeleine Martin told the Frankfurter…
/
NSA ACCUSED OF SPYING ON THE EU
/
GOP Congressman Goes Off on Obama for 1 Minute on House Floor: 'What Would Tyranny Look Like in America? Look Around'
/
Resistance to Tyrants is Obedience to God - Bradlee Dean
/
19 FIREFIGHTERS KILLED IN AZ
---

Half of town's homes destroyed...

-

July 1, 2013 - Breaking News Update: YARNELL, Ariz. (AP) -- Gusty, hot winds blew an Arizona blaze out of control Sunday in a forest northwest of Phoenix, overtaking and killing 19 members of an elite fire crew in the deadliest wildfire involving firefighters in the U.S. for at least 30 years. The "hotshot" firefighters were forced to deploy their emergency fire shelters - tent-like structures meant to shield firefighters from flames and heat - when they were caught near the central Arizona town of Yarnell, state forestry spokesman Art Morrison told The Associated Press.



/
Jim Willie-Next Financial Crisis Will Be10 Times Larger than Lehman
/
Demand for Firearms still at Record Highs: Ammo & Guns on Backorder for 6 – 12 Months
/
100% of Tea Party groups were flagged by IRS
/
Emotion is overshadowing fundamentals in gold right now and several factors point to a long-term bullish move in the metal, two gold bulls told "Squawk on the Street" Thursday. "It all depends on Fed policy," said James Rickards,…
/
Kori Kirkbride didn't get that immediate feeling of joy and relief when she heard the Supreme Court had struck down the Defense of Marriage Act. Instead, it hit after she talked to her attorney, and…
/
Only days after the Supreme Court used her lawsuit to grant same-sex couples federal marriage benefits, Edith Windsor helped lead New York City's Gay Pride march on Sunday. Signs along the route read, "Thank…
/
President Vladimir Putin has signed into law a bill banning the promotion of "homosexual propaganda" among minors, Russia's official website of legal information said on Sunday. The law will levy fin
/
/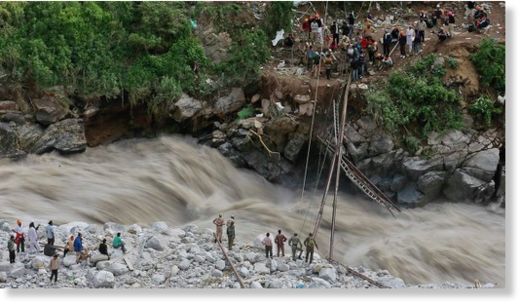 Over 10,000 feared dead in India floods
/
DHS Secret Assassination Squads ?
/
Lady Gaga amends national anthem: 'Land of the free, and the home for the gay'
/
News In Two Minutes - Sinking Volcanoes - 10 Million Protest - Failing Winds - Prepper Survival News