NEXT: Obama vows immigration push...
/
Ranchers in South Dakota lost tens of thousands of cattle from a freak storm. Thanks to the shutdown, no one is paying attention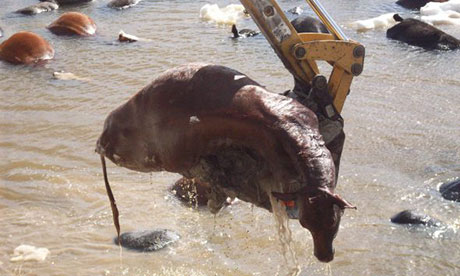 /
/
/
/
House and Senate Pass Bill on Debt Limit! Long List of Executive Orders!
/
/
/
MUST WATCH!! Chase Bank Prepares for BANK RUNS, Limits Cash Withdrawals $50K
/
Senate Debt Deal Includes Provision Lessening Congress' Power On Debt Ceiling...
At 11th Hour, Republicans Blink in Standoff...
'Obama won. His prize is lame duck presidency'...
VIDEO: House Stenographer Yanked From Chamber Ranting About God, Freemasons...
Bloomberg: 'Kicking Can Down Road'...
McConnell-Reid Deal Includes $2 Billion Earmark for Kentucky Project...
BACK TO WORK...
/
MYSTERY: Debt Went Unchanged for 150 Days...
Now $123,000 per American worker...
---
Millions to take part in global earthquake drill...
/
Hollywood 'NOAH' Movie Rejected at Religious Test Screenings...
/
Ice cream plant SHUTTING DOWN because of Obamacare...
As tech woes mounted, contractor payments soared...
/
Gang Of 9 Teen Boys Cheer While Brutally Beating 15-Year-Old Girl...
/
Obama Impeachment and World War 3