/
U.S. NOT on Brink of DEFAULT & will PRINT more MONEY. JIM ROGERS on U.S. GOVERNMENT SHUTDOWN
/
DEFCON Warning System - Update 10/1/13
/
Jesse Ventura Discusses Motorcycles, Politics, Gangs, Military, and JFK Assassination Conspiracies
/
MUSCLE: BOEHNER DIGS IN!
USA on path to default if Obama won't negotiate...
'Shutdown' halts federal regs...
/
Obama's Golf Course Stays Open While People Kicked Out Of Their Homes!
/
Veteran New York Times Reporter: "This Is Most Closed, Control-Freak Administration I've Ever Covered"
/
Massive Tornadoes Invade Western Iowa, Nebraska, South Dakota; Multiple Injuries
/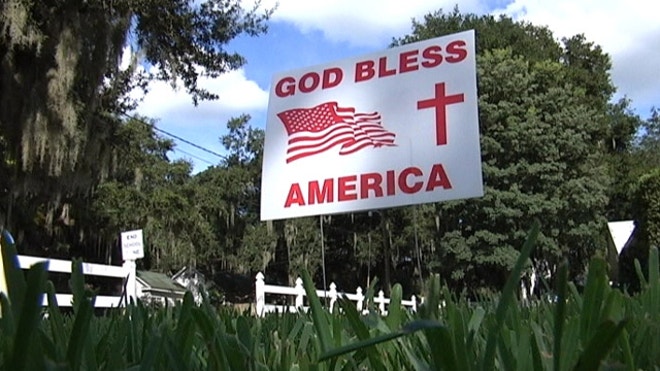 City Orders Residents to Remove 'God Bless America' Signs
/
Latest IRS Target? Surgeon: I Was Audited After Criticizing Obama
/
Less Than 1% of Visitors Are Signing Up for Obamacare on State Health Exchange Websites
/
Feds' 'Shackles' on Sheriff Joe Also In Immigration Bill – Legislation Imposes Heavy Restrictions on Stopping Illegals
/
60 New Creatures Discovered in Suriname Forest
/
Banks Prep for Government Default – Stock Piling Cash for Panic Runs. Obama Holds Secret Meetings with Goldman Sacs for "Line of Credit". Jamie Dimon Is Stepping Down as JP Morgan Chairman
/
/
UK: Bible oath could be scrapped from courts
Swearing on the bible may be banned from court rooms under new proposals. Magistrates will debate scrapping the religious oath for witnesses and defendants, but critics have raised fears the move could further erode the Christian heritage of Britain Instead all those giving evidence in court would make a secular pledge which it is thought
/
Three parent babies 'incompatible with human dignity'
Allowing the creation of babies with DNA from three biological parents in Britain is "incompatible with human dignity" and tantamount to eugenics, members of the Council of Europe have claimed. A group of 34 European politicians, including eight British MPs and peers, has signed a declaration attacking plans which will make the UK the first
/
Can you outrun it? DARPA's WildCat robot gallops at 16 mph
Boston Dynamics seems like a company full of friendly, intelligent folks. One wonders why these good people seem dedicated to creating terrifying robots. Their latest mechanized hellspawn is WildCat, a military quadruped machine that can chase you at speeds up to 16 mph. OK, it isn't chasing people yet. But it seems designed to scare the
/
White House openly threatens US default as debt fight escalates
US Treasury Secretary Jacob Lew has issued a categorical warning that the United States will default on its $16.7 trillion debt and throw the world into turmoil unless Congress agrees to raise the legal debt ceiling by October 17. "Congress is playing with fire. If the US government, for the first time in its history,
/
"Ok everyone following him says the bible is wrong"
Joel Osteen: God 'approves' of homosexuals
Joel Osteen is a phenomenon. A mega-church pastor, televangelist,...
/
Sweden A Nation Where Things Only Can Be Worse!
/
Russia to perform survey flights over Portugal, Spain
Press TV - Russian Defense Ministry has announced that the country's military inspectors will begin aerial survey flights this week above Portugal and Spain under the international Treaty on Open Skies.
/
Fukushima employee accidentally switches off cooling pumps
RT - A Fukushima worker has accidentally switched off cooling pumps – the latest in the string of mishaps and misfortunes at the crippled Fukushima Daiichi nuclear plant.
/
As U.S. Struggles With Health Reform, The Amish Go Their Own Way
(Reuters) A little-known provision of the law with its roots in a 1950s battle over Social Security exempts these communities from the individual mandate, an element of the Affordable Care Act that requires most Americans to purchase health insurance in some form. But it is not the idea of health insurance the Amish reject - the close-knit communities essentially insure themselves.
/
VIDEO: Eye Witness: Police pulled child from car THEN executed woman!
Blacklisted News - Wolf Blitzer talks to a woman who witnessed the Capitol Hill shooting and describes the barrage of gunfire.... Family NOT Allowed To See Body Or Daughter Of Young Mother Kill.
* Related Video/Article:
"
Deadly Physical Force Was Not The Ultimate Recourse
"
/
Treasury Will Run Out of Borrowed Money by October 17
The United States will run out of borrowed money "no later than Oct. 17″ unless Congress raises the $16.7 trillion debt limit, Treasury Secretary Jacob Lew said in a letter to Congress Wednesday.
/
US Treasury Secretary Jacob Lew has issued a categorical warning that the United States will default on its $16.7 trillion debt and throw the world into turmoil unless Congress agrees to raise the legal debt ceiling by October 17.
/
"Algerians Are Investing In Property, Gold and Foreign Currencies"
/
Jim Willie: US T-Bond Market: The Greatest Asset Bubble in Human History Nears the Cliff
/
21 Of The Best Comments Posted By Frustrated Americans On The Official Obamacare Facebook Page
/
Gold Fever In China: A Signal of The Next Financial Crisis?
/
Now Mastercard Wants Your Fingerprints
/
Greece Considering Confiscation Of Private Assets
- Think it can't happen here one can only think
Dodd-Frank Act Regulation‎
1
/
EXCLUSIVE--BORDER PATROL REP CLAIMS AGENTS BEING ORDERED TO STAND DOWN
/
Bring It On: I Will Not Comply with Obamacare Mike Adams of Natural News referred to this as "unlimited theft and confiscation." And he's right
/
Epic fail: 99% of Obamacare applications can't be processed, 'nightmare scenario' coming in January
/
ATF TRIES TO BLOCK FAST & FURIOUS WHISTLEBLOWER'S BOOK
/
South Carolina House passes bill making 'Obamacare' implementation a crime