AIRASIA AIRBUS GOES MISSING; 162 ABOARD
/



COUNTERPROTEST: Police Again Turn Their Back on de Blasio...




Cops watch funeral from rooftops as threats persist...




Crowds Line Streets...


/
Doctor Shortage Feared as Medicaid Rolls Swell...

300 PATIENTS A DAY HAVE SURGERY AXED IN UK...


Operations cancelled as National Health Service runs out of beds...




/


MALL BRAWL: Hundreds of teens involved in 'multiple fights'...




/


New issue of jihadist magazine suggests attacks against USA...
Al-Qaeda warns of more lone wolves...

/
The Sharia Law Invasion of the United States and Western Europe
There are some very dangerous immigration trends taking in place in Western Europe and the United States. Both regions of the world beg the question: How many third world immigrants can a nation absorb until that nation ceases to be what it once was? Invading Western Europe and the United States My heart goes out to most any immigrant group. Even the immigrants which are ..
/
Ten Chilling Minutes of Video Exposing Martial Law Preparations Following US Economic Collapse
This is a compilation of news reports indicating that martial law preparations have been put into place in anticipation of the imposition of martial law in response to an economic collapse. We are going to see ghost malls, student protests, farmer rebellions, squatter camps, armed rebellion, tax protests, labor strikes, food shortages, disintegration of law enforcement and troops on the
-----------------------------------------------------------
----------------------------------------------------------
/
The Math Does Not Lie: America Is One Hiccup Away From Total Anarchy
Half the country is on welfare assistance of some sort. Seventy million Americans receive some kind of federal assistance in obtaining food. The United States is one disaster from total anarchy. The disaster is likely to result from an economic collapse. Please consider these numbers: THE MATH DOES NOT LIE! NATIONAL DEFICIT: $18 TRILLION DOLLARS! UNFUNDED LIABILITIES: $240 TRILLION DOLLARS! DERIVATIVES DEBT: ONE QUADRILLION DOLLARS! ..
/
Michele Bachmann: Obama Embraces 'Agenda of Islamic Jihad' to Convert "United States into an Islamic Caliphate"
Tim Brown Freedom Outpost Rep. Michele Bachmann (R-MN) has been an outspoken voice against the infiltration of the Muslim Brotherhood into the halls of the United States federal government, and she has taken the shots against her, even by those who claim they are on her side. Recently, the Minnesota congresswoman was interviewed by Tony Perkins of the Family Research Council (FRC) and told ..
/
Truth in Media: The Root of Police Militarization
/
Lawsuit Could Reveal Truth About Sandy Hook Massacre
/
Can the Bankster Elites Take Down Russia?
/
Ann Barnhardt On IRS Audit & Seizure: No Rule of Law!
/
MORNING AFTER: Christmas returns hit new high... -
With Christmas Over, Millions of Gift Returns Begin
Online retailers not equipped to cope...
Purchases Boomerang Back to Retailers...
/
(((Weak Commodities Hinders 2015 Forecast)))
http://godsdestiny.org/destiny_christian_center3_011.htm
Wall Street's surge over the past couple of days has totally eliminated the slight correction and sent the markets to record highs. Many are expecting more of the same after the fourth quarter records are tabulated.
As hard as it is to believe, Wall Street insiders are buying on the news and not the facts--contrary to most fundamentals of economics. Some of most vociferous backers continue to bang the drum while doing the same exact thing they did in 2013--hype the potential for next year.
Not so fast. There is a little thing called oil values still standing out there that threatens to topple several areas. While it is easy to see all the good lower oil prices will bring to the economy, there is also some decided bad.
Foremost among the problems is the potential extension of the benefits could be short-lived, especially if the tree-hugging agenda of the President is extended. But once the public is accustomed to lower energy bills, the gurus expect them to keep on spending even though the prices will fluctuate. It is on this premise that Washington enacts bills that too often aim at one target but end up knocking down a whole different bundle of branches off the economic tree.
The economy still has extremely short legs. Some of the major national economies are beginning to stagnate. Yet the experts overlook these symptoms and predict rosy days in 2015. This defies logic.
The fact production is waning is going to be hard to ignore. Deflation, not inflation, will be the main source of concern in 2015.
Christopher Whalen, head of research at Kroll Bond Rating Agency, thinks the decline in oil prices is a mere reflection of the 2008 crisis finally catching up with the energy sector. "As much as we'd like to believe that the years of grinding adjustment since the sub-prime crisis are over, the precipitous decline in oil prices shows the healing process is still underway. In many ways the decline in oil is just an aftershock from the bust of 2008."
Besides oil he points to the decline of commodity prices as a sign deflation is igniting. "While the Fed and other monetary authorities [central bankers] have targeted a 2 percent annual inflation rate, it is pretty clear that deflation remains the dominant theme for 2015 for the global economy."
What Whalen specifically referred to were falling commodity rates. Commodity prices, more than stock prices, operate on a supply and demand basis. When demand grows, prices rise. When demand slows, prices decrease. The opposite is true for the supply side.
But the majority of commodities fall into the must have category for human population. Let's face it, we need food and energy to survive. Commodities are showing a very weak demand. In the 12 months ending November consumer prices rose at a modest 1.4 percent.
Politicians jump all over those numbers, trying to prove the success of the policies they have enacted or ordered. But full-time jobs are still elusive, workforce participation continues to drop personal income for the average American remains flat even while DC tries to alter the number base by using the average rather than the median. The difference, subtle as it is, is devastating to those hoping for an American economic growth.
The median is the halfway point and, for the majority whose wages are relatively flat, is skewed by the income growth of those on top. Taking the average wage per capita and American's income is still trailing the 2007 levels even though the median wage is now higher than it was.
The basic problem for those who want to see economic growth behind every windmill or solar panel, is fundamental. They want to refute fossil fuels and go green. Yet with fossil fuel costs dropping, the alternative green energy just crushes any economic endeavor reliant on a higher basic production cost.
At this time, regulation could stifle whatever gleam of hope one might wish to see at the end of the recession tunnel. Betting on the rigidity of the tree-huggers' adherence to their form of energy consumption, you'd probably be better off betting against the economists who expect halcyon times in 2015.
"I have sworn on the altar of God eternal hostility to every form of tyranny over the mind of man."--Thomas Jefferson
/
US searches for secrets to power of Islamic State...
General turns to experts outside Pentagon... Developing...
/
Warning: Sudden Economic Collapse Coming in 2015 :On 7/7/14 I had a prophetic dream in which I saw a sudden economic collapse coming upon the whole world. In this dream I was in a big banquet hall, which was filled with representatives from different coun
/
3 Of The 10 Largest Economies In The World Have Already Fallen Into Recession – Is The U.S. Next?
/
The 2.6 Billion Dollar Welfare Payment That The U.S. Government Gives To Wal-Mart
- Should the federal government be spending billions of dollars to pump up Wal-Mart's profits? I know that question sounds really bizarre, but unfortunately this is essentially what is happening.
- The size of Wal-Mart is sometimes difficult to visualize. To put it into some context, consider the following: 100 million U.S. shoppers patronize Wal-Mart stores every week. Wal-Mart has twice the number employees of the U.S. Postal Service, a larger global computer network than the Pentagon, and the world's largest fleet of trucks.
Americans spend about $36 million dollars per hour at the stores. Wal-Mart now sells more food than any other company in the world, capturing one of every four dollars spent on food in the U.S. The average American family of four spends over $4,000 a year there. Each week, it has 200 million customers at more than 10,400 stores in 27 countries. If the company were an independent country, it would be the 25th largest economy in the world -
/
On Leaving Church :There are many Christians who have stopped going to church. They have not given up on God, have not renounced their faith, have not denied Christ, and have not become pagans.
/
Allah in our schools :Muslim Brotherhood front groups have been, and continue to be, integrally involved in the development of Common Core curriculum
/
Wake Up!' 1000s take to streets across US protesting police brutality
/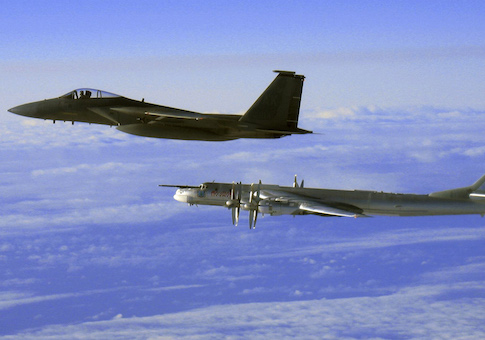 R
ussian Nuclear Bombers Again Buzz Guam Earlier aircraft incursions near Alaska and Europe
/
ISIS Closing in on Israel from the North and the South
/
Sniper shoots at Florida deputies three times after ambushing them in their squad car ...after 'shoot cop' graffiti appears
\/
OFFICIAL: RUSSIA PLOTTING TO START WAR ON ISRAEL Plan includes shipping missiles to terrorist groups
/
Crosses torn down from 400 churches in eastern Chinese province of Zhejiang Christians say their faith has been singled out because authorities are trying to curb its growth.
/
'Wreckage' of AirAsia jet carrying 162 people is spotted in sea by Australian search plane... as it emerges pilot may have been flying too SLOW and stalled in storm before it vanished off radar
/
Greece In Turmoil After Third Failed Presidential Vote Means January 25 Snap Elections
---
Greek Assets Tumble, Global Santa Rally Briefly Halted As Renewed Threat Of Grexit Looms
/
Only War, Inflation And Financial Collapse Can End The Global "Plutonomy", According To Citi
/
Caught On Tape: McDonalds Customer Goes Berserk Over A Fistful Of Cents
/
Spectacular! Mount Etna Explodes...Violent paroxysmal eruption preceded by loud noises and tremors.
/
US citizen shot with stun gun dies at San Diego border crossing; 4 hurt in scuffle
/
China To Launch Yuan Swap Trading With Russian Rubles On Monday
/
BREAKING: 70+ People Surround Cops, 2 Officers Assaulted, Squad Car Damaged In Florida
DELRAY BEACH, Florida -- SW 8th Ave. Officers approached the home after they say they smelled marijuana smoke. 20-30 people formed a barrier between the officers and the house
...
Read More
/
Federal Judge Orders Arizona to Issue Illegals Driver's Licenses
/
Japan's Economy Begins to Implode
/
MONEY is DEBT - the BANKING SCAM REVEALED