A PICTURE IS WORTH A THOUSAND WORDS: MARTIAL LAW IS LOCKED AND COCKED
IMAGES OF MARTIAL LAW EVENTS/TRAINING ON AMERICAN SOIL There is no subject that I have taken more grief over than the topic of martial law on American soil, especially when the martial law will utilize foreign troops to enforce the martial law. And if one dares say the Russians will form the vanguard of the martial law occupation force in America, then ..
Russian's Troops Training Photos @ Fort Carson, Colorado
/
image: http://www.trunews.com/wp-content/uploads/2015/03/062082-e2af1b78-d0dc-11e4-a4a5-09d7e9cc7466.jpg

/
image: http://www.trunews.com/wp-content/uploads/2015/03/jadehelm.jpg

Army Special Operations Command pushes back against alarmist claims about upcoming exercise
U.S. Army Special Operations Command is pushing back against alarmist claims that an upcoming U.S. military exercise is a preparation for imposing martial law or subduing right-leaning groups and individuals. Conspiracy theories about the exercise, known as JADE HELM 15, appeared online this week. Some commentators railing against the event referred to an online slide
/
The dollar index has risen for nine-straight months and recently hit a 12-year high vs. the euro. The greenback's robust rise caught a lot of traders by surprise; for years the conventional wisdom was the dollar was heading down the tubes because of America's runaway debt and the Fed's easy money policies. Now, sentiment has
/
image: http://www.trunews.com/wp-content/uploads/2015/03/018333284_30300.jpg

Report: Islamic Kuveyt Turk Bank to be granted German license
According to a report in a business daily, Germany is about to get its first fully operational Islamic bank. The report says Germany's financial regulator will grant an operating license to the Turkey-based bank. The report posted on the website of the Handelsblatt newspaper and to be published in the Monday edition of the daily
/
image: http://www.trunews.com/wp-content/uploads/2015/03/6338772-3x2-340x227.jpg

Massive hailstones from 'out of nowhere' pummel southern Queensland town of Chinchilla
Hailstones larger than cricket balls have pummelled the town of Chinchilla in Queensland's southern inland, causing widespread damage to the area. The hailstorm that hit late on Saturday afternoon also brought strong winds and heavy rain. Hailstones up to 12 centimetres in diameter hit businesses along the Warrego Highway, and the region received more than
/
image: http://www.trunews.com/wp-content/uploads/2015/03/017916960_30300.jpg

Denmark could become target of Russian nuclear weapons, ambassador warns
In an opinion piece for the Danish daily Jyllands-Posten on Saturday, the Russian ambassador to Copenhagen said that the Scandinavian NATO country could be the target of nuclear missiles if it joins the alliance's missile defense system. "I do not think that the Danes fully understand the consequences of what happens if Denmark joins the
/
RISE OF ARAB ARMY
/
SHOCK VIDEO: Woman Beaten With Skateboard As Dozens Stand Around To Watch...
\/
Thousands protest 'religious freedom' law in Indiana... -

that critics say could allow discrimination against gays and lesbians.
/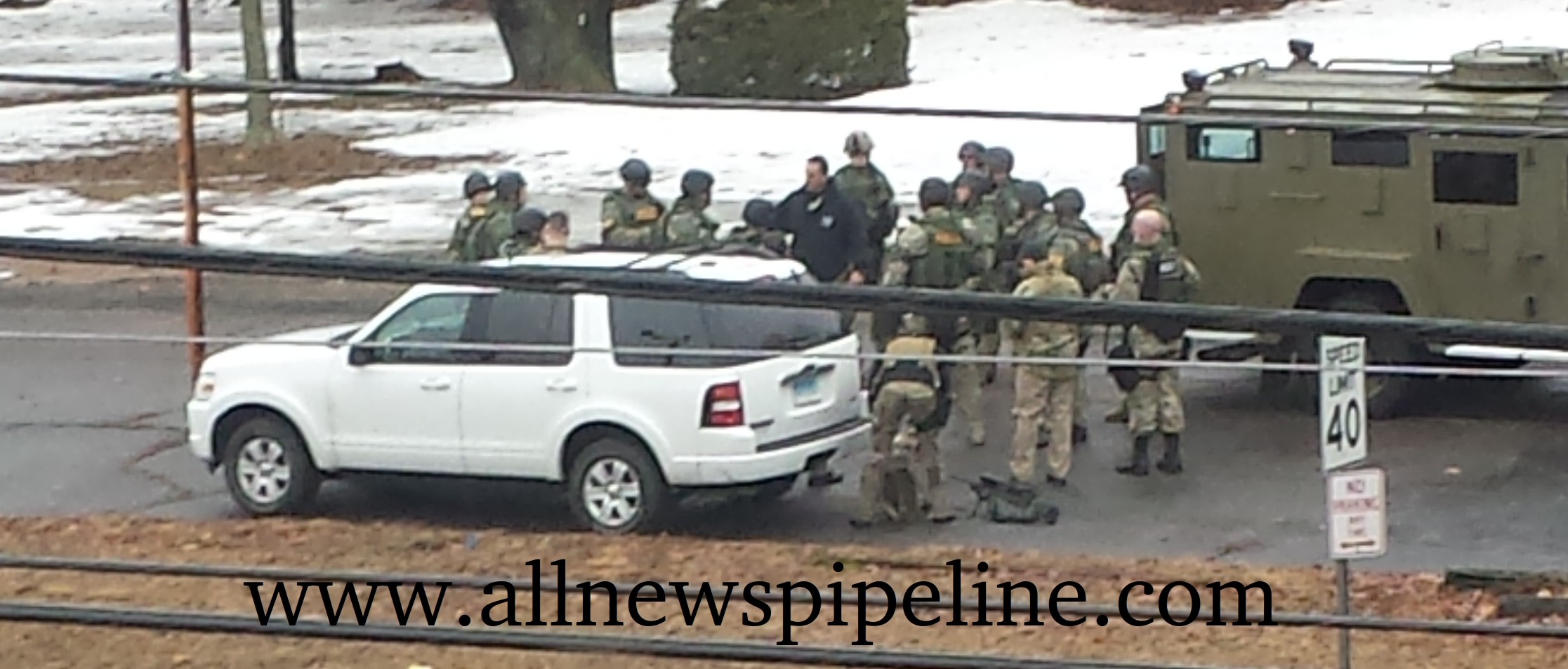 By Stefan Stanford - All News Pipeline - Live Free Or Die


An All News Pipeline reader recently emailed us the following

pictures

of a militarized drill in New Haven, Connecticut and asked us whether we believed that Jade Helm 15 had come to Connecticut. We've republished the pictures below along with several videos on what has been called the unfolding military,

martial law

takeover of America, including the 1st one featuring a US Navy Veteran who admitted to signing papers that he would 'disarm Americans or else'; please check out the pictures and videos...we'd

love

to know your thoughts.
Jade Helm 15 Exercises In Connecticut NOW? Crisis Actor Opportunities Abound For June!
/
RUSSIANS TO PARTICIPATE IN JADE HELM 15 MARTIAL LAW DRILL/DISSIDENT ROUND UP DRILL I spoke with my best source and he has information that the Russians training at Ft. Carson, CO., will a part of the Jade Helm 15 drill. This is in line with the Russians being allowed to train for the highly sensitive Grid Ex II drills in November of 2013. Further, this is also consistent with the omnipresent treason of letting the
/
High Ranking Russian Defectors Warned of Attacks Upon the American Media
Recently, I wrote an article which detailed how the American-based Russian media is attacking members of the media such as myself. The attack and subversion of our media and key media figures was foretold long ago by Yuri Bezmenov and Stanislav Lunev. Former Soviet defector, Yuri Bezmenov, a well renowned media/propaganda expert defected to the United States. in 1970, and subsequently
/
Anatoliy Golitsyn warns of Russia's Secret War Plans Against the U.S.
Anatoliy Golitsyn, a high-ranking KGB defector who fled to the United States in order to warn Americans about the secret Russian plan to attack the United States. Golitsyn is generally considered to be among the first and most revealing on the subject of the secret Russian plans to attack. Having authored the The Perestroika Deception in which Golitsyn wrote about the deceitful intent ..
/
Black Helicopters Rehearse Transporting "American Enemy Combatants" to Jade Helm 15 "Black Sites"
Black helicopters in Texas moving "enemy combatants" from Point A to Point B As I was working on a report concerning the existence of nationwide rendition centers known as black sites, I was sent a video, from multiple people, made by Aaron Dykes and Melissa Melton filming black helicopters, yesterday, in Texas (see video below). This video validates many reports that I am ..
/
Did your City take Federal Grant Money - it now has to house illegals
/
More countries say to join China-backed AIIB investment bank
/
Martial Law Training Reaching Its Apex