-
Just a heads up! Huge drought forming in Nebraska. Already grasshoppers showing up on a family farm. Grasshoppers now showing up in eastern Wyoming. Way too early for the season! California huge drought. Food is going to be a very high price soon. Even higher than it is now. Also traveling from Kansas City and going north then west to Cheyenne, it is very brown and dry. Buy extra food when you head to the store.
/
/
KANSAS ALLOWS CONCEAL CARRY WITHOUT A PERMIT Kansas goes to 'Vermont carry'
/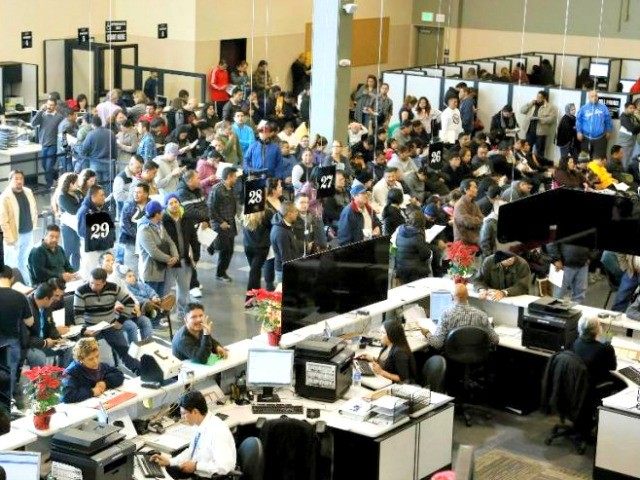 500,000 Illegal Aliens Sign Up for CA Licenses, Escape Deportation
Breitbart - Almost 500,000 illegal aliens have applied for California driver licenses within the first three months of 2015, doubling expectations under the state's new AB 60 law. AB 60 specialist Carlos Leon assures the DMV is not allowed to share information that would otherwise lead to deportation.... Illegal aliens fearing deportation in the AB 60 driver license process are being reassured that the DMV will not communicate their information to ICE (Immigration and Customs Enforcement).
/
How Many People Will Have To Migrate Out Of California When All The Water Disappears?
/
Intent of Russian military aircraft near U.S. shores remains unclear
/
WASHINGTON STATE: I counted 106 military vehicles heading East on I-90. On my Way East on I-90 heading home I counted 20 more military vehicles. That's 126 in 2 days!!!!!!
Steve,

I am a resident of Washington State of 37 years. As I have been following all the news out their regarding the "Jade Helm"! On March 14th of this year my mother passed away! As my father lives in North Pierce County, South King County area of the state (With which is the western half of the state) I was required to travel back and forth over the last couple weeks from Chelan County which is on the Eastern side of the mountains, via I-90 with the cut-off in the east/west-bound direction being Cle-Elum to Federal Way. During my transits back and forth over the last couple/few weeks I observed military vehicles traveling east-bound in convoys of up to 25 vehicles with up to 2-3 convoys. Well this Easter weekend i.e.. Friday and Saturday heading West bound on Friday I counted 106 military vehicles heading East on I-90. On my Way East on I-90 heading home I counted 20 more military vehicles. That's 126 in 2 days!!!!!! As I noticed that a few exits along the way had exits that paralled I-90. And during my observations of militay vehicles pulled over they had "porta-potties"! So my conclusion is this has been going on for some time and they have designated stops along the way that is off the interstate that they can "use the restroom"! As I do not have any photos nor video of my encounters as being a solo driver makes it difficult nor do I have a military back round! The vehicles were "various" hummers, tankers (maybe for water or fuel), Big hummers that seem to have satellites on them. (Maybe communication)? Hummers hauling what see to be guns. Single shot! Lots of what seem to be maybe communication or hell maybe a microwave beam trucks of some sort. Bull dozers, and what to look like "mini-tanks with the gun sticking out etc. Many of the vehicles were "Very dark-green" in color while the rest were very light green. I know their had to be others that witnessed at least part of it! Wish to pass this on and maybe some one with more understanding of the military and its movements can shed some light on this. God bless to you and all that read this!

Michael
/
Hello Steve,

I wanted to take an opportunity to report on Geo engineering activity. In general I see a significant decrease in activity across the country and suspect this activity is happening west of California to keep moisture away from food producing areas. My sister is an over the trucker and has noticed a decrease in produce loads. Although I have not been able to see activity while at altitude but I think I can recognize the activity from the ground based on normal aircraft routes.

I am currently flying with a co-pilot who was in the Soviet Air force for 15 years and is Ukrainian. He has some very interesting perspective on what is happening in Ukraine as he is in contact with family members and friends.

We were in Tulsa yesterday on a scheduled flight and were delayed for a time while F16s were training at the airport which is a joint use airport and has a National Guard wing established. The strange thing about this is that they were flying with full bomb, missile and long range tank loads. I have not seen this at civilian airports before although I am sure it has been done as there are military aircraft based there. I think this was part of the Jade Helm 15 Driil.

ROB
/
Dear Steve, thank you for the decades of hard work. You have helped make
life-changing differences in the lives of thousands of people. I wanted to
tell you two things.

Yesterday, in a gun store in my area, the manager told me that one of his
customers is DHS, and that that customer told him yesterday that DHS
officially considers Texas, Louisiana, Oklahoma, Utah and a couple of other
states to be "terrorist" states.

My guess is because we are hostile to the NWO. Well, good. Jesus said
that whosoever lives by the sword will surely die by the sword. Well,
sure. Who wants to die in a wet diaper? I much prefer to fight to the
death for Christianity, for the US Constitution and for my God-given
freedom than to die as a weak, flaccid old man.

Which leads to the second thing. A while back I had a mid-day vision. In
my vision, I saw a sword swinging through space to the earth, and then the
vision ended and I was back in my office. Immediately I had the vision
again, but the blade of the sword was in flames. And it ended and I was
back in my office. A third time I saw the sword swinging toward earth,
blade in flames, but this time I heard this: The MIGHTY road of the flames
on the sword, and the words "I am coming to separate the righteous from the
unrighteous".

I tell you that God is coming. He comes in great wrath. It will be the
great and terrible day of the Lord. The Satanists think they have sprung
the trap, but all they have done is cemented their destiny in Hell.

If we must die, we will die fighting. God IS a warrior. We WILL stand for
the Lord Most High, and His Way is the ONLY way.

I do love you, Steve, and I love every man, woman and child who loves you.
Though you do not know me, I am your friend. And I am grateful.

Jerry
/
RUSSIANS HACK WHITE HOUSE; ACCESS OBAMA INFO
/
FEDS SECRETLY TRACKED BILLIONS OF CALLS -- FOR DECADES...
Sheriff Records Reveal Invasive Use of 'Stingray' Tech For Cell Phone Spying...
/
MYSTERY: Treasury Says Debt Frozen at $18,112,975,000,000 For 21 Days...
/
Russia ready to offer Greeks cash in return for assets...
/
'SMART METERS' TO BUST WATER ABUSERS IN CA...
Water company to ration supplies for 26 cities...
Fiorina blames lib environmentalists...
/
Phase Two of Jade Helm 15 Is Emerging As many of us have suspected since the announcement of Jade Helm 15 and their desire to "Master the Human Domain", there is a lot to Jade Helm 15 that is not being released. We know the "drill" is a "dissident extraction" exercise which many of us fear could go live at any time. A week ago, I received information that the United Nations, including Russian troops, were going to have a presence in the drill. Subsequently, I reported that the United Nations would have an "observer" in every unit in every part of the Jade Helm 15 drill.
Common sense would dictate that Jade Helm 15 personnel do not need 60 days (July 15-September 15) to practice/complete extraction drills. Most researchers as well as my insider sources concur there is more to Jade Helm than the announced purpose. Although the drill is not scheduled to start in over 3 months, it actually began in Ft. Lauderdale with extraction of dissidents on March 27, 2015.
Is there a phase two to the Jade Helm 15 drill? The short answer is "yes".
Phase One: Potential Dissident Extraction
Phase Two: Gun confiscation
/
OBAMA TAKES SWIPE AT CHRISTIANS – AGAIN! 'I was about to veer off. I'm pulling it back' :Graham, of Samaritan's Purse and the Billy Graham Evangelistic Association, reminded Obama that Jesus Christ came to Earth to die for the guilty, while Islam's Muham
/
If You Think Jade Helm's Bad Wait Till You Hear About The Presidential Police Force Established on the Heels of Jade Helm! It's About to Get Wild!
/
Here is the video clip of the FEMA Camp Roundup Drill in Florida (Video by

NextNewsNetwork

):
/
Food prices to rise as California water restrictions cause farmer cutbacks :California, sometimes called the 'nation's salad bowl', is the country's largest producer of grapes, kiwis, olives, avocados, broccoli, tomatoes, spinach, tree nuts and dairy
/
Monsanto Employee Admits An Entire Department Exists To 'Discredit' Scientists But no one knows about it
/
LGBT activist Artery. Freedom for "everyone" – except Christians, of course.
Gay Group Demands Christian Churches Be SHUT DOWN for Opposing Same-Sex Marriage
/
OREGON SHERIFF: GUN CONTROL PUSH 'BORDERLINE TREASONOUS,' WILL NOT ENFORCE
/
The Special Operations Command for the U.S. Army may be preparing to blend in during its mock engagement of hostile populations in the U.S. Southwest this summer, but first it is going on the offense to counter the claims of "conspiracy theorists" about the true nature of the controversial Jade Helm 15 exercises.
'It's Just a Training Exercise': Army Special Ops Shoot Down Jade Helm Conspiracy Theories :Stay vigilant and stay vocal in calling out the unpatriotic use of forces for domestic control.
/
IRAN SENDS DESTROYER TO YEMEN
/
Everyone Is Preparing For War Except Clueless American Sheep!
/
Jade Helm's Trojan Horse :Medical Martial Law FEMA Camps to Be Run By HHS
/
ISIS Is Here In America And Obama Let Them In!!! Mass Attack Planned
/
ALL OF VETERAN'S GUNS SEIZED AFTER FALSE ALLEGATION Dispute with neighbor leads to confiscation
/
/
Swiss Government Becomes First Ever To Issue 10Y Debt At A Negative Yield
---
German Factory Orders Tumble By Most In 9 Months, Spanish Bond Yields Turn Negative
/
Russian hackers penetrated the White House non-public, non-classified computer system for several months last year, forcing the White House to shut down the system for several days, U.S. officials said. The hacked system is not used for classified information, but is used by the White House advance and press office, the general counsel's office, and
/
Russia is using its long-range bomber fleet to send a message to the US, and the general charged with protecting the homeland says those flights will continue, or even expand, in the coming months. Adm. Bill Gortney said the flights by long-range Russian bombers are "messaging" for the US, a reminder that there is another
/
/
Smart meters are now being used by authorities to crack down on "water wasters" in the state of California, but this is just the tip of the iceberg as far as what they can be used for. Ultimately, smart meters are designed to be part of an entire "smart grid" that will enable government bureaucrats "
to control everything from your dishwasher to thermostat
". And in recent years, there has been a massive push to install smart meters in as many homes in the United States and Europe as possible. Back in December 2007, there were only 7 million smart meters installed in this country. Today there are
more than 51 million
. On the other side of the Atlantic, the European Parliament has set a goal of having smart meters in 80 percent of all homes by the year 2020. This is being promoted as the "green" thing to do, but could it be possible that there is more to these smart meters than meets the eye?
(Read More....)
/
The EMP Threat: All It Would Take Is A Couple Of Explosions To Send America Back To The 1800s
Our entire way of life can be ended in a single day. And it wouldn't even take a nuclear war to do it. All it would take for a rogue nation or terror organization to bring us to our knees is the explosion of a couple well-placed nuclear devices high up in our atmosphere. The resulting electromagnetic pulses would fry electronics from coast to coast. Of course this could also be accomplished without any attack. Scientists tell us that massive solar storms have hit our planet before, and that it is inevitable that there will be more in the future. As you will read about below, the most recent example of this was "the Carrington Event" in 1859. If a similar burst from the sun hit us today, experts tell us that life in America could suddenly resemble life in the 1800s, and the economic damage caused could potentially be in the trillions of dollars. This is one of the greatest potential threats that we are facing as a nation, and yet Barack Obama has essentially done nothing to get us prepared.
(Read More....)
/
How Many People Will Have To Migrate Out Of California When All The Water Disappears?
The drought in California is getting a lot worse. As you read this, snowpack levels in the Sierra Nevada mountains
are the lowest that have ever been recorded
. That means that there won't be much water for California farmers and California cities once again this year. To make up the difference in recent years, water has been pumped out of the ground like crazy. In fact, California has been losing
more than 12 million acre-feet of groundwater a year
since 2011, and wells all over the state are going dry. Once the groundwater is all gone, what are people going to do? 100 years ago, the population of the state of California was 3 million, and during the 20th century we built lots of beautiful new cities in an area that was previously a desert. Scientists tell us that the 20th century was the wettest century in 1000 years for that area of the country, but now weather patterns are reverting back to normal. Today, the state of California is turning back into a desert but it now has a population of 38 million people. This is not sustainable in the long-term. So when the water runs out, where are they going to go?
(Read More....)
/
/