/
/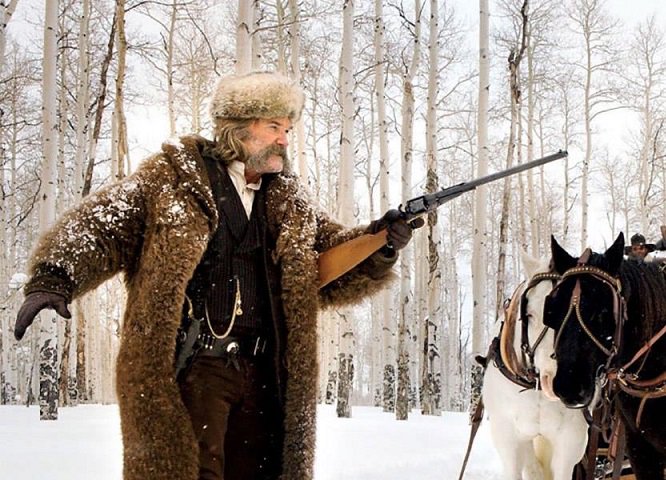 Kurt Russell Defends Gun Comments...
'Very Strong Reason' for Second Amendment...
/
Falling oil prices raise fears about economy...
/
China landslide: 22 buildings collapse in Shenzhen industrial park
Some 22 buildings have collapsed in a landslide at an industrial park in the southern Chinese city of Shenzhen. About 900 people have been evacuated, with four people pulled alive from rubble with minor or no injuries, the local government said. No fatalities have been reported. Shenzhen's fire brigade said it was working to free other trapped people. At least 22 remain missing.
/
Huge Fukushima Cover-Up Exposed, Government Scientists In Meltdown
/
China Now Has So Much Bad Debt, It's Selling Soured Loans On Alibaba
/
/
/
/
All Americans Must Carry a Firearm At All Times
All Americans must carry a firearm at all times. Our enemies are determined and the current administration could care less about your survival. Obama cannot be permitted to make a move to confiscate American guns as the following paragraphs explain why. Obama: "No Credible Evidence That Terrorism Is a Threat to America" It is difficult to present the President and his latest threat assessment regarding ..
/
First They Jailed the Bankers, Now Every Icelander to Be Paid in Bank Sale
/
Paul: Nobody Read The $1.1 Trillion Omnibus Bill
/
Gun Control Executive Orders Expected Within Weeks
/
In a study released on Wednesday by Pew Research, 30 percent of Southern Baptists believe homosexuality should be accepted by society. The typical "liberal" mainline denominations like American Baptists, Episcopalians, ELCA, United Church of Christ, United Methodist Church, and Presbyterian Church (USA) have the highest number of congregants who thought so. Denominations with a smaller percentage than the SBC who think homosexuality should accepted in society include charismatic denominations, Churches of God and Assemblies of God, and (rounding out the cult category), Seventh Day Adventists.
/
Guns In Church? Security Is Heightened As FEMA Helps Churches Prepare For 'Active Shooter Incidents'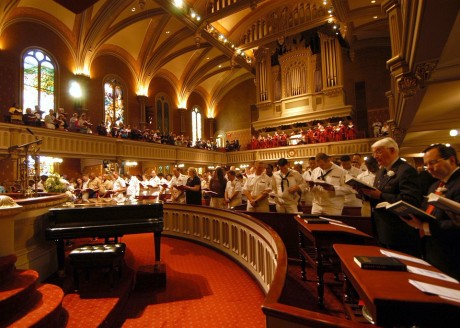 Do you ever wonder if someone might come marching into your church one Sunday morning and start shooting? When I was growing up, I never even imagined that some mentally-imbalanced individual or a group of Islamic terrorists would ever attempt to attack a church service that I was attending, but times have changed. There have been more mass shootings in America during the presidency of Barack Obama
than under the previous four presidents combined
, and the primary target of the Islamic terrorists in San Bernardino was
a Messianic Christian
. The shooters in San Bernardino could have very easily decided to hunt him down at his place of worship instead of at a workplace Christmas party if they had wanted to. And we all remember the horrific mass shooting that took place at a church in South Carolina
earlier this year
. Our churches are very vulnerable "soft targets", and Christians all over America are starting to realize that security needs to become a higher priority.
(Read More...)
/
The Rate Hike Stock Market Crash Has Thrown Gasoline Onto An Already Raging Global Financial Inferno
If the stock market crash of last Thursday and Friday had all happened on one day, it would have been the 7th largest single day decline in U.S. history. On Friday, the Dow Jones Industrial Average was down 367 points after finishing down 253 points on Thursday. The overall decline of 620 points between the two days would have been the 7th largest single day stock market crash ever experienced in the United States if it had happened within just one trading day. If you will remember, this is precisely
what I warned would happen
if the Federal Reserve raised interest rates. But when news of the rate hike first came out on Wednesday, stocks initially jumped. This didn't make any sense at all, and personally I was absolutely stunned that the markets had behaved so irrationally. But then we saw that on Thursday and Friday the markets did exactly what we thought they would do. The chief economist at Gluskin Sheff, David Rosenberg, is calling the brief rally on Wednesday "
a head-fake of enormous proportions
", and analysts all over Wall Street are bracing for what could be another very challenging week ahead.
(Read More....)
/
Prominent Catholic High School In Detroit Now Offers Muslim Prayer Room
A prestigious Catholic high school in a ritzy, estate-filled suburb of Detroit now features a prayer room for Muslim students to pray. The school is Brother Rice High School, an all-boys bastion affiliated with the Congregation of Christian Brothers in Bloomfield Hills, Mich., reports Detroit Fox station WJBK.
/
Slovenia rejects gay marriage in referendum
Slovenians have rejected same-sex marriage by a large margin in a referendum. Almost two-thirds of voters said no to a bill that defined marriage as a union between two consenting adults. ...But MPs from the United Left party, which initially proposed the change in the law, said the result was a temporary setback. "It's not over yet. Sooner or later the law will be accepted...
/
This Poll Shows How Christians in America Really Feel About Homosexuality
A new Pew Research Center survey suggests that growing numbers of Christians have come around on homosexuality, with a full 54% of all Christians agreeing that "homosexuality should be accepted, rather than discouraged, by society."
/
America's Ship Is Sinking" Former Bush Official Exposes The Unfixable Corruption Inside The Establishment
/
/
/
(NaturalNews) EXCLUSIVE: The Department of Homeland Security is intentionally placing local law enforcement in harm's way by knowing (and falsely) entering the license plates of patriot-oriented radio hosts in the federal "terror watch" database. The aim of this tactic is to
intentionally cause escalations of high-tension interactions between local police and pro-gun patriots
, knowing that local law enforcement will respond to terror watch list hits with an escalated engagement posture involving firearms being drawn and pointed at the suspects.
The DHS -- obviously at the command of an anti-American Obama regime that absolutely despises both patriots and police officers -- is hoping that either the patriot suspect opens fire on police or that overreacting police open fire on the patriot. Either way, this serves the agenda of the Obama regime and creates a powerful narrative that mainstream media can use to call for nationwide gun confiscation.
How do we know all this? Because Pete Santilli, the host of
Off the Hook
on
TalkNetwork.com
, was pulled over by a police officer in Cincinnatti just two days ago. His license plate was flagged by the federal "terror watch list," causing this police officer to respond with a very aggressive, high alert stance with his primary firearm drawn and pointed at Pete and his passenger (the terrorism "suspects").
This response by the police officer was
entirely appropriate based on the intel he received from DHS
. After all, thanks to open borders and insane refugee resettlement programs, the Obama regime is actively transplanting ISIS terrorists across the United States, readying them for being activated in a nationwide terror wave (see "
Obama is a Sleeper Cell
" to learn more). But what this police officer did not know is that
he was being manipulated by DHS
as part of a scheme that deliberately places police officers in harm's way by causing them to collide with "patriots" who are fraudulently placed on the government's terror watch list.
"Because I have political opponents that some of whom actually have access to the terror watch list," Pete told
Fox 19
. "I believe that what he saw was my name and my vehicle associated with someone on the terror watch list. Somebody who had access to that terror watch list wanted to use it as political intimidation."
Fortunately, both Pete Santilli and the police officer kept their cool. No shots were fired. Pete was arrested and then released less than a day later.
Click here to see his "Free at last" video
.
Most importantly, within 3-4 hours after his arrest,
Pete was cleared of any link to domestic terrorism
. He was told that the terror watch list was a "false hit."
DHS says he's a terrorist, then says he isn't
So wait a minute.

How can someone's license plate trigger a terror watch list "hit" and then, a few hours later, that same person is totally cleared by the DHS?

The answer is simple: DHS is intentionally placing patriots on the terror watch list to get them pulled over and hopefully shot to death by cops. Those who survive the interaction are then "cleared" by DHS, which deems to whole thing an "unfortunate mistake."

If someone happens to get shot during all this, so much the better for the Obama regime and the anti-gun political regime, all of whom absolutely LOVE to see more acts of gun violence so that they can exploit them to call for abolition of the Second Amendment.

As patriot radio hosts are being added to terror watch lists, the Obama administration is shutting down FBI investigations into ISIS groups
Keep in mind that all this is taking place at the same time the Obama administration is actively shutting down FBI investigations into people with ties to ISIS.
From
BizPacReview.com
:
In yet another example of political correctness trumping the safety and security of American citizens, a former Department of Homeland Security employee said the Obama administration shut down an investigation that could have prevented the San Bernardino terrorist attack.

Fox News correspondent Trace Gallagher reported that Philip Haney, the former DHS employee, was assigned to the department's Intelligence Review Unit.

"His job was to investigate individuals with potential links to terrorism," Gallagher told Fox News host Megyn Kelly on "The Kelly File," Thursday. "He noticed a trend of people with suspected radicalized ties coming into the United States."

But a year later, the State Department and the DHS Office for Civil Rights and Civil Liberties shut the investigation down, claiming that tracking the individuals and groups was "problematic" because they were Islamic.

Among the 67 of Haney's records that were deleted was "an investigation into an organization with ties to the mosque in Riverside [California] that San Bernardino terrorist Syed Farook attended," Gallagher reported.

Several years ago, after Haney complained of the shutdown of his investigation to Congress, DHS reportedly revoked his security clearance and pulled him from his duties.
The same DHS that shut down the FBI on ISIS is now flagging patriots as terrorists
So the same DHS that revoked the security clearance of an FBI investigator who might have been able to stop the San Bernardino attacks is actively placing patriot radio hosts on the terror watch list.

This is how absurd (and dangerous) the Obama regime has become: Patriotic Americans who love the Constitution are now labeled domestic terrorists. But actual ISIS terrorists who commit mass murder are given a total pass by the federal government. Obama even intervenes in FBI investigations, shutting them down and making sure ISIS is free to operate in America!

So now, at a whole new level, the Obama regime government is actively targeting people who exercise their free speech in defense of the Constitution... the same Constitution that President Obama is sworn to uphold and defend!

That the Obama regime has now turned to this extremely unethical tactic of intimidation and oppression -- which places citizens and police officers in harm's way to achieve a political outcome -- is beyond unconscionable. It is criminal in its intent. This scheme, when honestly considered, is truly an act of government terrorism targeting American citizens. The Obama regime, in other words, is now committing state-sponsored terrorism against patriotic Americans, hoping to initiate violence that it can use to destroy the Second Amendment.

How to get more details on this shocking story about government terrorism against patriots