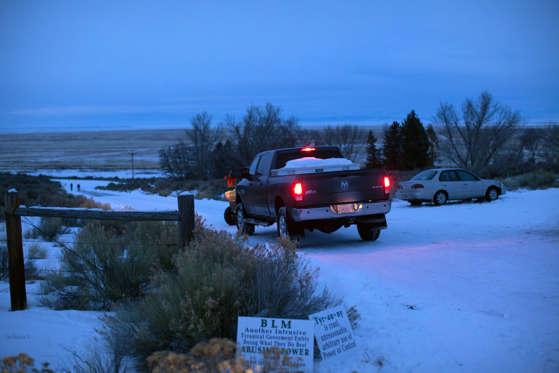 Arrests in militia standoff
BURNS, Ore. — Oregon militia leader Ammon Bundy is urging his followers at a wildlife refuge near Burns, Ore., to leave, CNN and KATU are reporting.
Bundy's lawyer, Mike Arnold, read a statement by Bundy, arrested Tuesday, on the steps of a courthouse in Portland, the news organizations reported.
"We need to step back," Arnold said in the statement. "Somebody died yesterday."
Reports: Ammon Bundy urges protesters to leave refuge
---
OREGON: Feds set up checkpoints, seal off refuge after violence...
Rancher Killed Vowed to Die Before Going to Jail...
'Cowboy's stand for freedom'...
image: http://www.trunews.com/wp-content/uploads/2016/01/santilli.jpg

State and federal authorities urged a group of armed men occupying a U.S. wildlife refuge in Oregon to abandon the protest over land rights on Wednesday, a day after their leader and seven other people were arrested and one man killed.
/
Admiral in charge of Navy intelligence has not been allowed to see military secrets -- for more than 2 years!
/
DOW, S&P 500, and NASDAQ end down more than 1 percent
Wall Street ended down on Wednesday after the U.S. Federal Reserve frustrated stock investors hoping for a strong sign it might scale back rate hikes.
/
NY Court: Farmers to Be Re-Educated, Pay Fines for Not Hosting Homosexual Wedding
CNS News - A couple who hosts occasional wedding ceremonies on their New York farm have lost an appeal to overturn the $13,000 in fines levied against them by the state's human rights agency, which ruled that their refusal to host a wedding for two women was discriminatory.... "After the agency ruled that the Gifford's were guilty of 'sexual orientation discrimination,' it fined them $10,000, plus $3,000 in damages and ordered them to implement re-education training classes designed to contradict the couple's religious beliefs about marriage," a press release issued following the court decision stated. In order to comply with the order, the couple will have to attend those "re-training" classes or have a "trainer" come to them, according to ADF.
/
Mainstream Media, Economists Mock "Cash Hoarding" Canadian 'Savers'
/
Every Economic Indicator Says We Are In Economic Free Fall
c Things are much worse that they appear. We are entering a time of unparalleled peril. Economic collapse is here and is underway in many parts of the economy. "Europe is on the verge of collapse" George Soros The architect of the Arab Spring has made a stunning proclamation. In an exclusive interview with a German magazine, George Soros recently stated that the European ..
/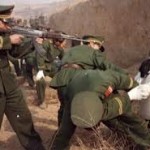 Chinese Military Hacks the VA Records of 21 Million Vets In Preparation for Martial Law
We already know that the United Nations is preparing to seize your guns. Will the Chinese military be the vanguard force in the effort to seize American guns? A very simple dot connecting exercise would suggest that will be the case. Interestingly, in the aftermath of the Sandy Hook event, the Communist Chinese called for more strict controls over American guns. What? Why would ..
/
---hAM RADIO OPERATORS TALKING TO JAMIE WHO LIVES IN BURNS, SAYING TOTAL MILITARY LOCK DOWN IN BURNS ... SAYS MEDIA IS TWISTING SHIT LIKE THERE IS NO TOMORROW
https://www.facebook.com/trurone/videos/10208435071213384/
/
LA County confirms first case of Zika virus
/
Alberta Loses Most Jobs In 34 Years As Oil Crunch Cripples Labor Market
/
Militia: "We'll Fight Until Death To Hold Refuge" – Streaming Until Batteries Die"
Intellihub reports:
Update 7:33 a.m.: Militia member Blaine Cooper is presumably in charge of militia operations at the refuge.
Update: 7:22 a.m.: Female militia member gave last wishes, testimony, to cameraman in full anticipation of being killed by authorities. The woman also wished her two dogs be cared for in the event of her death. The woman is wielding an AK-47, U.S. variant, with a 30 round clip.
Update 3:56 a.m.: FBI is moving in from "both sides."
A woman's voice could be heard on the livestream saying, "Ruby Ridge here we go. Thanks for staying guys. […] Don't let us die in vain."
/
Ammon Bundy: Lawyer Says He Calls for Militia to Stand Down at the Refuge
/
Alert! Obama Makes Major Change to Gun Background Check Process
/
Update: Standoff Still Ongoing Refuge Update
/
War Veterans Take On Oregon Standoff
/
Breaking Burns Oregon: Reports of Shots Fired - Casualties and Hospital Lockdown
/
----------------------------------------------------------------------------------------
Hundreds of locomotives stockpiled in Oklahoma city
NOTE FROM A PERSON I HAD A CONVERSATION VIA FACEBOOK – WAITING FOR PHOTOS
Tommy F.

wrote

You should see the stockpile of locomotives here in Oklahoma city. Hundreds of them have appeared over the last six months. It's amazing to see

.



I drive past the station about once a week and always too fast for pic. I will exit hwy and get pics soon.





NOTE FROM A PERSON I HAD A CONVERSATION VIA FACEBOOK – WAITING FOR PHOTOS





(I wrote) - I have heard a lot in Gillette Wyoming also about 150 engines Via KGAB radio news link about two weeks back. Also got word from a person's dad Union Pacific is storing engines in grand junction Colorado also



Cecilia C.

wrote

True I saw them in GJ, CO




-------------------------------------------------------------------------

/

Remaining Oregon protesters issue death threats; 'This is a free-for-all Armageddon'...
Three more arrests at Oregon refuge as some holdouts leave voluntarily
---Three more men arrested by FBI in Oregon stand-off just hours after leader Ammon Bundy urged them to 'stand down and go home to your families
--------Ammon Bundy Admits Defeat, Calls On Remaining Oregon Occupiers To "Stand Down, Go Home"

/
WORLD BANK AND IMF MOVE TO AVERT DEFAULTS CAUSED BY FALLING OIL PRICES...
/



Iran warns American warship to leave area of naval exercise...

/




I have never, ever had anyone tell me that he had too much ammunition. Not in a combat zone, not in a civil disaster, not even in peacetime. Never. Nor have I lived through a time where our governing class was so deeply corrupt

Buy Ammo: An armed, trained populace is not only prepared for when things go bad, but the fact that it is armed and trained makes it much less likely that things will go bad in the first place!
/

How 37 Banks Became 4 In Just 2 Decades, All In One Astonishing Chart
/
Baltic Dry Index
/
image: http://www.trunews.com/wp-content/uploads/2016/01/unease-fed-2.jpg