- My Note --
I am Amazed In these days that are not totally normal in America, how many are living like it is normal. Understanding the days we live in puts those who understand what is coming, into major changing positions, because they understand change has come to America. (while others pretend everything is just fine). Because many are not willing to do the hard thing too CHANGE with the times!
EPA Goes After Low-Income Farmers In Land Grab The Supreme Court says the Clean Water Act is not a grant of federal control over every stream and depression in the nation. The Environmental
/
.
/
SCALIA FOUND DEAD WITH 'PILLOW OVER HEAD'
SCALIA FOUND D
SCALIA, RIP...
UPDATE: 'It wasn't a heart attack'...
Declined security detail while at ranch...
'AUTOPSY NOT NECESSARY'...
Local judge disputes decision...
FLASHBACK: Justice Ginsburg details death threat...
DEATH IN OFFICE A RARITY FOR MODERN SUPREME COURT...
'I Would Not Like To Be Replaced By Someone Who Would Undo Everything I Did'...
FLASHBACK: Senate Dems passed resolution against election year appointments...
/
Negative interest rates herald new danger for world economy...
/
WISCONSIN:State high court broadens police search, seizure power in 4-3 decision
/
There is a very dangerous trend in America and it could literally threaten the lives of every single American in the near future. America is presently on a deliberate course to follow in the footsteps of Venezuela.
America Has Been Down The Starvation Road Before
An estimated
seven million people starved to death
during the Great Depression. And amazingly, these people had food preparation skills that are basically a lost art in America today (e.g. canning). These are skills that Americans no longer possess. Our collective food preparation skills consists of making sure we have enough gas to get to and from the grocery store.
America Is On the Verge of Mass Starvation:
/
Disregard Market Bulls, Economy Stagnant
On Friday, Feb. 12, 2016, a remarkable thing happened on Wall Street--the Dow Jones Industrial Average soared 331 points and threatened to surpass the 16,000 level once again. This surge was hailed by bulls as repudiation of the talk about entering a bear market as the surge was supported by retail sales and the health in the financial sector.
Oh, really?
The Census Bureau, who released the report on retail sales, gave an advance release and Bloomberg News provided the following assessment on Friday morning, "Retail sales increased for a third straight month in January as Americans kicked off 2016 by spending freely on cars, clothing and online merchandise. Greater job security, improving wage growth and falling gasoline prices may be persuading more consumers to loosen their purse strings after a fourth-quarter slowdown."
In looking through all the assessments released for the fourth quarter of 2015, it is hard to find any good news. Yet somehow we now have three straight months of retail sales 'growth'. In 2015, November kicked off the Christmas shopping season by dribbling the ball out of bounds. Then December's initial report gave us a .4% drop in consumer spending. Those figures were pretty much confirmed by Wall Street's earnings report for the fourth quarter which is what triggered talk of moving to a bear market throughout January.
Then the bureaucrats came through and revised December's numbers into positive territory on the back of the always suspicious "seasonal adjustments or SA" to get to a plus .2% and, not coincidently, managed to eke out the same growth for January after they figured in the SA.
On the other positive--the financials--there was about as much concern. We've been hearing about the big Euro Union banks facing real losses in their 'asset holdings' which led to most of the big banks there showing 16-30% losses. But on Friday, while the bank balance sheets haven't changed, there was a big surge led by Germany's Deutsche Bank in the market place.
The Deutsche Bank bought back $5.4 billion of its own bonds. The trick not noted in the marketplace euphoria was the bank used credit to borrow the money to repurchase its debt. To cover the repositioning of debt, CEO John Cryan took the unusual step of issuing a public statement on Thursday. "We [the Duetsche Bank] remain absolutely rock-solid, given our strong capital and risk position." I wish I could reposition my debt load, proclaim I am better off and have the public believe it.
Also on Friday, Jamie Dimon, CEO of JPMorgan Chase, personally purchased $25 million (500,000) shares of his company's stock. He could do this because last year, including his $20 million end-of-year bonus, he was paid $27 million. After looking at these two trades alone is it any wonder the financial sector showed some unexpected strength? Incidentally, on the KBW Bank Stock Index, American bank values shed 20% of their value in the first month of the year, almost exactly what the Euro banks had shown.
So one of Friday's leading up sectors was based on government-provided seasonal adjustments and the other by a major player using credit to purchase its outstanding bonds and another trade where a single person added to his already hefty portfolio. Dimon, by the way, now owns 7.8 million shares of JPMorgan stock worth in excess of $420 million.
The suspect health of the retail trade is the darkhorse that is overlooked. In a normal month, pre-recession, consumers would have been spending an additional 5% over what they had done the previous month. This time around the markets were giddy over a measly .2% rise achieved solely through manipulation.
With the SA being applied, January's red-hot move matched last February's snow-depleted mark. Even with auto sales added into its retail sales, the government assessment showed 1.44% growth in January. The reports omitted the fact the retail sales figures for December and January were no different than any other two-month period for the past year. That means these figures are becoming depressingly common--no matter the positive SA spins applied to them.
For the government's part, the SA would have some weight, carry some valid meaning with two specific changes. The government computes the SA from month to month or quarter to quarter using different formula which includes the number of weekends or placement of holidays in addition to the adjustments of moving things into or out of the calculations.
Auto sales, for instance, are considered too volatile to be placed into the Consumer Price Index when the economy is moving along, so the government doesn't have to count for this extra cost-of-living. Yet now that everything else is down, auto sales are being included. But at which figure?
In December auto sales were not good at all. But in January, they showed a 3.5% rise, unadjusted. After government manipulation was finished, January auto sales showed a hefty 7.2% rise over December.
Provided the opportunity to chose, those who are bent on selling the attributes of Wall Street will pick the better sounding numbers every time--no matter how unrealistic the spread sheet seems. If real, un-adjusted data shows the economy slipped another .2% and the adjusted figures show a .2% gain, guess which one makes headlines?
There is a good part to the market woes. It is leveling the playing field a bit and may be a tonic for what is ailing the global economy. The sag in the market hurts those whose world is the market. For the average worker, still in the workforce, things are getting slightly better. If they didn't have to carry those who have dropped out of the workforce, things would be much better than they were in 2009.
But that debt burden is growing because of those who have quit, meaning the economic outlook is not brighter for those who are working.
In the past American economists used to laugh at and openly question economic reports coming from China or Russia. (There was nothing funnier than trying to figure out how much padding went into one of the Communist's 5-Year, 7-Year or 10-Year Plans in the 50s, 60s and 70s.) Considering today's reports coming from long-established American bureaucrats maybe it is time we try figuring out what our economy really looks like without using government data.
One thing is absolutely certain, an economy running solely on increasing credit and government managed adjustments cannot last for long.
"I have sworn on the altar of God eternal hostility to every form of tyranny over the mind of man."--Thomas Jefferson
/
Russia-Turkey tensions in Syria hit peak...
/
Financial Crisis 2016: High Yield Debt Tells Us That Just About EVERYTHING Is About To Collapse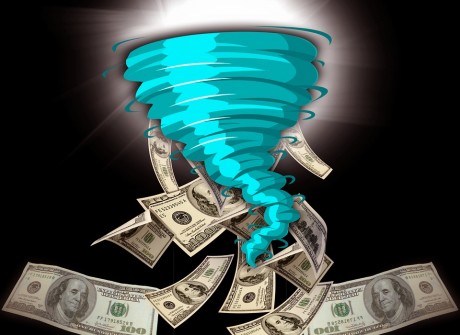 Did you know that there are more than 1.8
trillion
dollars worth of junk bonds outstanding in the United States alone? With interest rates at record lows all over the world in recent years, investors that were starving for a decent return poured hundreds of billions of dollars into high yield debt (also known as junk bonds). This created a giant bubble, but at first everything seemed to be going fine. Defaults were very low and most investors were seeing a nice return. But then the price of oil started crashing and the global economy began to slow down significantly. Energy company debt makes up somewhere between 15 and 20 percent of the junk bond market, and the credit rating downgrades for that sector are coming fast and furious. But it isn't just the energy industry that is seeing a massive wave of defaults, debt restructurings and bankruptcy filings. Just like with subprime mortgages in 2008, investors are starting to wake up and realize that the paper that they are holding is not worth a whole lot. So now investors are rushing for the exits and we are starting to see panic on a level that we have not witnessed since the last financial crisis.
(Read More...)
/
World War 3 Could Start This Month: 350,000 Soldiers In Saudi Arabia Stand Ready To Invade Syria
350,000 soldiers, 20,000 tanks, 2,450 warplanes and 460 military helicopters are massing in northern Saudi Arabia for a military exercise that is being called "Northern Thunder". According to
the official announcement
, forces are being contributed by Saudi Arabia, the United Arab Emirates, Egypt, Jordan, Bahrain, Sudan, Kuwait, Morocco, Pakistan, Tunisia, Oman, Qatar, Malaysia and several other nations. This exercise will reportedly last
for 18 days
, and during that time the airspace over northern Saudi Arabia will be closed to air traffic. This will be the largest military exercise in the history of the region, and it comes amid rumors that Saudi Arabia and Turkey are preparing for a massive ground invasion of Syria.
(Read More....)
/
Navy
'STAR WARS' weapon fires shell 7x speed of sound...
/
Jim Rogers On CNN: 'We Are All Going To Pay A Horrible Price' - Bank Bail-Ins Imminent
/
Are you ready for a Collapse of the U.S Food Supply System and a Coming Food Crisis?
/
President Ronald Reagan appointed Scalia to the U.S. Court of Appeals in 1982. In 1986, he nominated Scalia to the Supreme Court. -
The End of an American Era: Scalia is Dead: Scalia was a conservative icon who transformed the court by instilling in it his belief that judges should follow the precise words of the Constitution and not apply a modern interpretation.
/
THE REAL REASON IRAN DUMPED THE DOLLAR IS WORSE THAN WE THOUGHT AND WILL SHOCK THE WORLD
/
-New York Assembly Passes Bill Allowing Shooting Babies Through the Heart With Poison to Kill Them
/
Computerized Gas Station Price War Takes Prices Down To A Few Pennies In Ohio
/
Former Intel Officer Suspects Foul Play in Death of Antonin Scalia
/
Flashback: Justice Kennedy Said Constitution is a "Flawed Document
/
Donald Trump: Debate Tickets Should Go to General Public, Not Special Interests
/
Obama May Use "Nuclear Option" to Appoint a Supreme Court Justice
/
China Created More Debt In January Than The GDP Of Norway, Austria Or The UAE
---
Chinese Brokers' Profits Plunge 98% As Traders Flee Rigged, Burst Bubble Markets
/
Congress Can Deny Obama the Power to Replace Justice Scalia
/
/
State Supreme Court Rules Cops Can Enter Home & Seize Evidence with No Warrant
/
Samsung Warns Customers to Think Twice About What They Say Near Smart TVs
/
Jim Willie: "The Quickening" is Approaching Global Economic Markets
/
The World Economic Climate Index Indicates The Global Economy Is Heading Into A Storm
/
Italy's Banking Crisis Spirals Elegantly out of Control
/
/
Gee, That's Not Suspicious at All: Justice Scalia Already Embalmed
/
Here's Why (And How) The Government Will "Borrow" Your Retirement…
This article was written by Simon Black and originally published at Sovereign Man
According to financial research firm ICI, total retirement assets in the Land of the Free now exceed $23 trillion.
$7.3 trillion of that is held in Individual Retirement Accounts (IRAs).
That's an appetizing figure, especially
for a government that just passed $19 trillion in debt and is in pressing need of new funding sources.
Even when you account for all federal assets (like national parks and aircraft carriers), the government's "net financial position" according to its own accounting is negative $17.7 trillion.
And that number doesn't include unfunded Social Security entitlements, which the government estimates is another $42 trillion.
The US national debt has increased by roughly $1 trillion annually over the past several years.
The Federal Reserve has conjured an astonishing amount of money out of thin air in order to buy a big chunk of that debt.
But even the Fed has limitations. According to its own weekly financial statement, the Fed's solvency is at precariously low levels (with a capital base of just 0.8% of assets).
And on a mark-to-market basis, the Fed is already insolvent. So it's foolish to think they can continue to print money forever and bail out the government without consequence.
The Chinese (and other foreigners) own a big slice of US debt as well.
But it's just as foolish to expect them to continue bailing out America, especially when they have such large economic problems at home.
US taxpayers own the largest share of the debt, mostly through various trust funds of Social Security and Medicare.
But again, given the $42 trillion funding gap in these programs, it's mathematically impossible for Social Security to continue funding the national debt.
This reality puts the US government in rough spot.
It's not like government spending is going down anytime soon; it already takes nearly 100% of tax revenue just to pay mandatory entitlements like Social Security, and interest on the debt.
Plus the government itself estimates that the national debt will hit $30 trillion within ten years.
Bottom line, they need more money.
Lots of it.
And there is perhaps no easier pool of cash to 'borrow' than Americans' retirement savings.
$7.3 trillion in US IRA accounts is too large for them to ignore.
And if you think it's inconceivable for the government to borrow your retirement savings, just consider the following:
1) Borrowing retirement funds is becoming a popular tactic.
Forced loans have been a common tactic of bankrupt governments throughout history.
Plus there's recent precedent all over the world; Hungary, France, Ireland, and Poland are among many governments that have resorted to 'borrowing' public and private pension funds.
2) The US government has already done this with federal pension funds.
During the multiple debt ceiling fiascos since 2011, the Treasury Department resorted to "extraordinary measures" at least twice in order to continue funding the government.
What exactly were these extraordinary measures?
They dipped into federal retirement funds and borrowed what they needed to tide them over.
In fact, the debt ceiling debacles were only resolved because the Treasury Department had fully depleted available retirement funds.
3) They've been paving the way to borrow your retirement savings for a long time.
Two years ago the government launched a new initiative to 'help Americans save for retirement.'
It's called MyRA. And the idea is for people to invest retirement savings 'in the safety and security of US government bonds'.
Since then they've gone on a marketing offensive involving the President, Treasury Secretary, and other prominent politicians.
(Most recently Nancy Pelosi published an Op-Ed in the San Francisco Chronicle a few days ago promoting the program.)
They've also proposed a number of legislative reforms to 'encourage' American businesses to sign their employees up for MyRA.
Just last week, Congress introduced the "Making Your Retirement Accessible", or MyRA Act, which would charge a penalty to employers whose workers don't have a retirement account.
The proposed penalty is $100. Per worker. Per day.
Imagine a small business with, say, 10 employees who don't have retirement accounts. The penalty to Uncle Sam would be a whopping $30,000 PER MONTH.
There's a word for this.

It's called extortion.


Obviously when facing a $30,000 monthly penalty, an employer will pick the easiest option.
Given the absurd amount of government regulation on the rest of the financial industry, MyRA is the fastest choice.
This isn't about fear or paranoia. It's about facts.
And the reality is that the government in the Land of the Free is moving in the direction of borrowing more and more of your retirement savings.
If you still remain skeptical, remember that last year the government stole more from its citizens through Civil Asset Forfeiture than thieves in the private sector.
Or that just 45-days ago a new law went into effect authorizing the government to strip you of your passport if they believe in their sole discretion that you owe them too much tax.
No judge. No jury. No trial. They just confiscate your passport.
Here's Why (And How) The Government Will "Borrow" Your Retirement…
/
Truck-ocalypse" Hits Main Street As Daimler Fires 1,250 Amid Collapsing Demand
/
MICHAEL SAVAGE: 'WAS SCALIA MURDERED?' Talk-radio giant calls for 'Warren Commission': 'This is serious business'
/
States are getting rid of vehicle registration stickers and using license plate readers to track everyone
/
DHS wants to force car owners to use OEM parts and ban auto modifications
/
Venezuela's CDS Is Now At The Same Level As Greece's Three Months Before Its Default"
/
The People vs. the Police State: The Struggle for Justice in the Supreme Court:We can no longer depend on the federal courts to protect us against the government. They are the government.
/
U.S. Banks Ready for Negative Interest Rates? ;
---
NEW BANK HIRE-His new job was to coordinate as a project manager to test the bank computer systems to see which might be able to handle negative interests rates and this was requested by the federal government.
Steve,

A like minded friend of mine lost his job a year ago. He then found a job
working for a local bank on contract basis. The job he was doing ended
after the year and his boss at the time who is a full time employee of
bank, basically started recommending job posting to him for full time
employment with bank. He contacted me to let me know that today was
first day of new job with bank and he wanted to let me know he was in a
meeting with staff this morning and found out that his new job was to
coordinate as a project manager to test the bank computer systems to see
which might be able to handle negative interests rates and this was
requested by the federal government. I just found this interesting and
never believed Janet Yellen when she said the fed has not looked into or
planned NIRP. Obviously they have been planning this for quite awhile and
it would seem that NIRP may be coming sooner than we think. God Bless-Joe
Feb 17, 2016