NY to probe 'radioactive' water leak at nuke facility...
'Alarming levels'...
/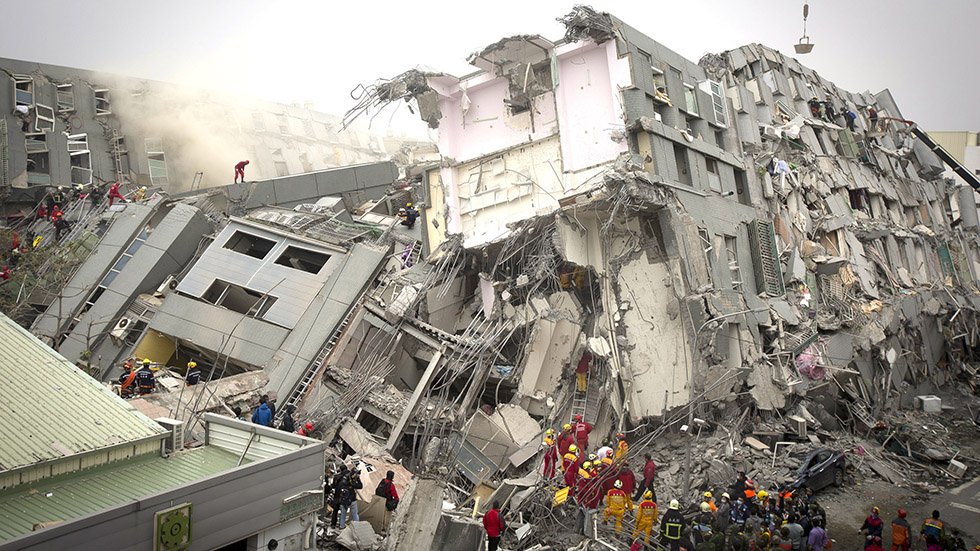 UPDATE: OVER 100 MISSING, 14 DEAD AS STRONG QUAKE RATTLES TAIWAN...
Drone footage shows devastation...
/
ANOTHER NYC Subway Slashing Despite Increased Patrols...
/
Syrians flee to Turkish border as assault on Aleppo intensifies
Russian and Syrian government forces on Saturday intensified an assault on rebel-held areas around the Syrian city of Aleppo, pushing thousands to flee.
/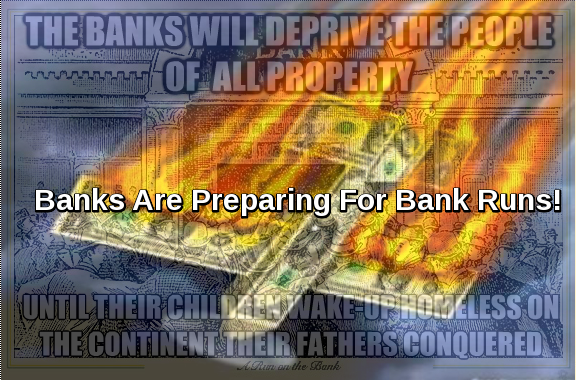 By Stefan Stanford - All News Pipeline - Live Free Or Die
All across the country and the world, signs continue to emerge that government and the global banking system are preparing for massive failure and the resultant chaos. The headline from one such story linked on the Drudge Report yesterday screamed out to us, loudly and clearly: CITI SOUNDS ALARM: WORLD ECONOMY IN DEATH SPIRAL. Over at Zero Hedge we get several ominous signs that what we're watching now is only the beginning with one story titled
22 Signs That The Global Economic Turmoil We Have Seen So Far In 2016 Is Just The Beginning
while another story gives us more evidence that the X22Report video (2nd video below) is correct when we're told to expect bank runs as banks across the country and the entire world are preparing for an emergency situation.

Sharing with us "Some Important News About JPMorgan's New Cash Policies," we see that those who dabble with that 'barbarous relic' known as cash will be treated like common criminals..by their own bank...for such 'crimes' as 'cash deposits' or 'making a cash payment for a loan or credit card'.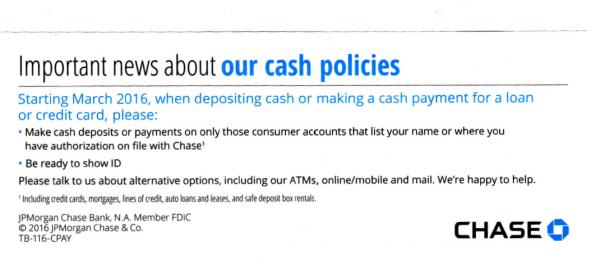 We're also told that as cash is increasingly frowned upon, cash deposits will be phased out as the govt looks for ways to keep track of every transaction we make. With banks like JPMorgan treating their account holders as criminals we have to ask, who needs them? If you haven't moved your money as far away from these money-pits as you can, don't blame us when you have nothing left.
The new story from Infowars is called "The American Dream Is Dead And Now Even The Mainstream Media Is Starting To Admit It" while 'Liberty Blitzkrieg welcomes us to the recovery' here in America, where 1 out of every 7 Americans remain on food stamps, a 45-million-person time-bomb just ready to explode. Imagine 45 million Americans no longer able to find their next meals or common necessities such as water or toilet paper!

As we're told in the 1st video below featuring Andy Hoffman, a major catastrophic financial event is now on the horizon with the 'big reset' now in our sight - an event that will leave those who are unprepared for it wishing that they were.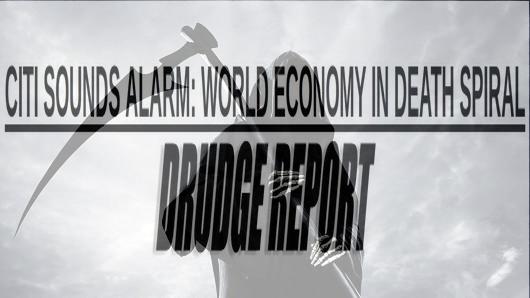 Zero Hedge also tells us about another
monster no longer just lurking as the US, Japan, Australia and 9 other countries have signed the Trans-Pacific Partnership agreement (TPP)
, an agreement signed despite many warnings that it
would be horrible
for Americans and the people of the world and another incident that proves beyond a shadow of a doubt just how corrupt and evil the people who 'represent' us in government really are: they never followed through on their promise of an open and lively debate. Zero Hedge also tells us that 'only by raising hell can we stop this monster'.

The story on the Telegraph tells us that we're now witnessing what could be called 'a perfect storm' for the economy as a pernicious cycle of collapsing commodities, corporate defaults and currency wars loom. They also ask if there is anything at all that can stop it all from unraveling and warn this market crash is like nothing we've ever seen before.

Why, suddenly after all of these years, are the mainstream media and big banks finally warning of the coming collapse? Is this a situation where everyone can now so clearly see it coming that they risk losing relevancy by not disclosing what everybody else can now see? We're clearly running out of time and as the videos below help prove to us, we better be prepared for what the big banks and government are preparing for or we stand a chance of being left in a very dark and dangerous place once it all comes crashing down.

As we're told in this story from Townhall.com, America is a nation that is headed for a fall. At this point in time we strongly believe that there is nothing that can be done to stop the fall...however, if we look at the words of Ronald Reagan republished in this story, we can see there is something much more important than just our economy at stake.:
"Freedom is never more than one generation away from extinction. We didn't pass it to our children in the bloodstream. It must be fought for, protected, and handed on for them to do the same, or one day we will spend our sunset years telling our children and our children's children what it was once like in the United States where men were free." – Ronald Reagan
If we lose our economy alone but keep our freedom, humanity will be ok. If we lose our economic system and lose our freedom, we lose everything, and as so wisely pointed out by Ronald Reagan, that loss extends to our children, grandchildren and all future generations. We cannot afford to fail them.
/
The Common Sense Show has learned that Obama is renewing his purge of America's military leaders. In this instance, Obama has targeted the leadership of the submarine fleet.
Obama Prepares for Civil War As He Continues Destroying the Military's Leadership
/
RON PAUL: CRUZ NOT A LIBERTARIAN, HE'S OWNED BY GOLDMAN SACHS 'I mean, he and Hillary have more in common than we would have with Cruz and Trump...'
/
65,000% Spike In Reported Radioactivity After Tritium Leaks At Indian Point Nuclear Power Plant
/
The Mechanics Of NIRP:
: How The Fed Will Bring Negative Rates To The U.S.
/
The earnings season has started, and several major banks in the Eurozone have already reported on how they performed in the fourth quarter of 2015, and the entire financial year. Most results were quite boring, but unfortunately Deutsche Bank once again had some bad news.
Deutsche Bank is shaking to its foundations – is a new banking crisis around the corner?
/
Wikileaks Founder Julian Assange Reveals Real Intentions Behind The Trans-Pacific Partnership (TPP) :IMPORTANT INFO ON THE TPP :'Essentially, every aspect of the modern economy, even banking services, are in the TPP'.
/
Iran Replaces US Dollar with the Euro in Oil Sales...
/
UK CHURCH PASTOR JEAN CLEMENTS NOW PERFORMING THE WORLD'S FIRST-EVER TRANSGENDER BAPTISMS
/
image: http://www.wnd.com/files/2016/02/David-Cameron-Obama.jpg
Read more at http://www.wnd.com/2016/02/u-k-pushes-obama-for-power-to-serve-warrants-in-u-s/#xd1OrBVvSlmMRt05.99
U.K. pushes Obama for power to serve warrants in U.S.
/
Marco Rubio Can't Wait To Sell Out The United States
/
ISIS Plot To Shoot Up A Detroit Megachurch Revealed As 'Christianophobia' Spreads Across America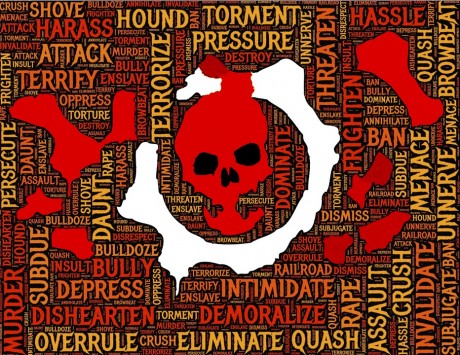 If you are a Christian, you better brace yourself for great persecution. It has gotten very little attention from the mainstream media, but federal authorities have uncovered an ISIS plot
to "shoot up" a Detroit megachurch
. 21-year-old Khalil Abu-Rayyan of Dearborn Heights, Michigan told authorities that he actually intended to take a gun into a very large church in Detroit that can seat up to 6,000 people and start killing Christians. He has been charged with supporting the Islamic States and with "illegally having a firearm while using a controlled substance". Abu-Rayyan actually admitted that since he can't be part of the jihad in the Middle East, that he would "do my jihad over here". As I have warned
so many times before
, ISIS terrorists are already here, and what we have seen so far is just the beginning.
(Read More...)
/
Dot-Com Bubble 2.0 Is Bursting: Tech Stocks Are Already Down Half A Trillion Dollars Since Mid-2015
Do you remember how much stocks went down when the first dot-com bubble burst? Well, it is happening again, and tech stocks are already down
more than half a trillion dollars
since the middle of 2015. On Friday, the tech-heavy Nasdaq dropped to its lowest level in more than 15 months, and it has now fallen more than 16 percent from the peak of the market. But of course some of the biggest names have fallen much more than that. Netflix is down 37 percent, Yahoo is down 39 percent, LinkedIn is down 60 percent, and Twitter is down more than 70 percent. If you go back through my previous articles, you will find that I specifically warned about Twitter
again
and
again
. Irrational financial bubbles like this always burst eventually, and many investors that got in at the very top are now losing extraordinary amounts of money.
(Read More....)
/
Sheriff adding 'In God We Trust' to patrol vehicles...
/
ZIKA Infected 3,100+ Colombian Women BUT NO CASES OF BRAIN DEFORMED BABIES?
/
Want to deposit cash at JPMorgan Chase? Then prepare to be treated if not like a criminal, then certainly a suspect of a very serious crime. The charge: being in possession of that 'barbarous relic' known as cash.
/
image: http://www.trunews.com/wp-content/uploads/2016/02/r-77.jpeg

/
Record Numbers of Prisoners Now Escaping from Churches
-
http://z3news.com/w/
The prisoners have been bound up in chains for so long they have almost forgotten what it is like to be free. The prison guards have done their best to keep them locked away, but more and more are finding ways to escape.
The evidence of this is found in reading the comments posted on Joanie Stahl's latest post,
False Bridge Now Being Prepared to Embrace False Bridegroom
. Person after person shared testimonies of their great escapes. Most endured heartaches and wounds, but reported how it was well worth it because of how much they have grown and prospered in their new life as free men and women.
It is actually very heartbreaking to read so many testimonies of how people have been trampled on by prison guards disguised as church leaders, wolves in sheep's clothing, even to the point where many have been forced to flee to avoid being devoured. It is very sad when we are no longer safe in our own sanctuaries!
I attended church faithfully for over 25 years, until the Lord told me to leave about 8 years ago. Like so many others have shared, my relationship with God began to grow like never before AFTER I left the local church. However, mine was a lonely and difficult escape.
Right after I left, my mind was struggling with how it could be right to be out of church. While I was praying one day, I saw a vision of the scene from the movie Shawshank Redemption when the man escapes from prison through a sewage pipe and comes up out of the water completely free. Then the Lord said to me, "Every now and then someone escapes."
I could hardly believe He showed me that scene, but He did. He actually referred to my local church as a prison and my exit as an escape!
Now I am finding I was not alone. There are so many others. Rick Joyner saw a vision similar to what I saw, but his was much longer and far more detailed. I don't currently have a copy, but I believe it was from his book, The Call.
I still struggled with leaving church because of so many years of hearing pastors quoting the well-known scripture from Hebrews 10:25 telling us, "We must not forsake our assembling together". So I asked the Lord about it and was amazed by what I learned.
After all those years, no one had ever shared the whole verse, or the preceding verse, because the two verses together present a completely different message. All those years I was held in bondage by a misquoted part of one verse, not even one whole verse! When I finally took the time to read it, I saw it in a whole new light that set me free! The truth was there all along. All I had to do was read it.
24 and let us consider how to stimulate one another to love and good deeds,
25 not forsaking our own assembling together, as is the habit of some, but encouraging one another; and all the more as you see the day drawing near. (Hebrews 10:24-25)
Yes, Paul encouraged the Hebrews not to forsake assembling together, but he wrote that only for the purpose of achieving two objectives, which he stated as clearly as can be stated, which was:
To stimulate one another to love and good deeds
To encourage one another
Assembling together was important only as a means to achieve these objectives. Paul never intended to make assembling together the objective! He put the emphasis on the end result, which is so important because putting the emphasis in the right place produces liberty and fruit. Shifting the emphasis to the wrong place, focusing on how we achieve the objectives, produces bondage with little or no fruit. What a difference!
Now I know why they never shared the whole verses. It would no longer serve their agenda. We can't have the prisoners hearing about so much freedom! So the guards use the first part of verse 25 to claim all prisoners must be physically present in a church building whenever services are offered. Being physically present allows us to check the box that says we fulfilled our prison duties, we did our church thing, but it means nothing unless we stimulate others to love and good deeds or find ways to encourage others.
We have been misled by a twisted interpretation, making us think we have done something to please God by attending church, when in reality we have done nothing yet. We have been misled into thinking we have displeased God by not attending church, when in reality He could be very pleased with us if we are stimulating one another to love and good deeds and encouraging one another. After years of misquoted scriptures, we now have prisoners chained to their church pew thinking they are right with God when in reality they are on their way to hell. At the same time, we have escapees still wearing shackles on their legs thinking they are not right with God when in reality they are earning great rewards in heaven. What a mess!
When Paul wrote his letters during the first century, the only way to achieve his two objectives was either through face to face contact or by writing letters. Paul actually reached far more people through his letters, including every generation since, than he ever reached by physically assembling together, which is further evidence of how Paul pursued these objectives. Today we have far more ways to connect with people than Paul did, including television, radio, and the Internet. So as long as we are pursuing the same objectives Paul pursued, we should never allow anyone to put us into bondage regarding the methods we use.
Anyone who tries to twist these verses for the purpose of controlling and manipulating others is nothing more than a prison guard, a false shepherd who does not truly care for the sheep. They are also a hypocrite because they themselves are missing the mark by failing to act in love. How can they possibly be stimulating others to love and good deeds when they themselves are putting others in bondage? They should first remove the log from their own eye before worrying about the spec in anyone else's eye.
As Joanie's dream revealed, most of the prisoners don't even know they are in prison. Only a small remnant has recognized the chains of bondage and succeeded in escaping to freedom, but I am glad to see the numbers are much bigger than I realized. I thank God for every person who escapes, but I also thank God for every pastor who is truly leading his people to liberty rather than bondage. Just as there is a remnant of faithful believers, there is also a remnant of faithful pastors. Anyone who has a pastor like that is truly blessed and has no need to escape. All of us need to be wherever God tells us to be.
The good news is God has exciting plans for His true church in the days ahead. I have been seeing it recently in dreams and I am very excited about what is coming. I have tried to share these dreams in blog articles, but they are just too long so I am now putting them together in a book. The short version is we are going to be united together as one body like never before. Big changes are coming soon. When God gets through, He is going to have the church of His dreams and we are going to feel right at home there.
Free at last, free at last! Thank God Almighty, we are free at last!
http://z3news.com/w/