Should central banks create money out of thin air and give it directly to governments and average citizens? If you can believe it, this is now under serious consideration. Since 2008, global central banks have cut interest rates 637 times, they have injected 12.3 trillion dollars into the global financial system through various quantitative easing programs, and we have seen an explosion of government debt unlike anything we have ever witnessed before. But despite these unprecedented measures, the global economy is still deeply struggling. This is particularly true in Japan,
in South America
, and
in Europe
. In fact, there are
16 countries
in Europe that are experiencing deflation right now. In a desperate attempt to spur economic activity, central banks in Europe and in Japan are playing around with negative interest rates, and so far they seem to only have had a limited effect.
(Read More....)
/

We just got more evidence that a major economic slowdown is underway here in the United States. Existing home sales were down a whopping 7.1 percent during the month of February, and this represented the biggest decline that we have seen in six years. This is yet another sign that we are in the early stages of a new crisis that is eerily reminiscent of what happened back in 2008. The truth is that most U.S. consumers are tapped out, and when you are tapped out it is really hard to get a mortgage. Banks aren't really fond of lending money to people that can't pay it back, and in recent years housing prices in many areas have risen to levels that are beyond the reach of most middle class families.
(Read More...)
/
Owners, Staff at Utah Restaurant Open Carry to Support 2nd Amendment
Breitbart - Tony and Monika Siebers own Ogden, Utah's Sea Bears Fish House, a Scottish-themed restaurant where the staff wear kilts and openly carry handguns. Monika says they evolved to carrying openly while they were going through the process of acquiring concealed carry licenses. She said she started carrying her pistol in plain sight and customer responses convinced her and her husband that carrying that way gave them an opportunity to talk to customers about the importance of the Second Amendment. According to KSL, customers invite such discussions by asking Monika why she carries or why she views carrying as "so important." She answers those questions by focusing on the importance of being free people in a free country. Monika said, "I think part of what we love about what we do and the country we live in is that we have the freedom to choose what we want to do." Tony said, "When law-abiding citizens carry, it protects all of us."
/
Watch: Entire Donald Trump AIPAC Speech
Breitbart - Monday in Washington, D.C., Republican presidential front-runner Donald Trump American Israel Public Affairs Committee policy conference. Transcript as follows...
* Related:
Trump's Five Most Important Declarations At AIPAC Speech
/
Mexico Attempting to Subvert US Presidential Election

Kurt Nimmo - The Mexican government is directly involved in an attempt to subvert the presidential election in the United States. On Sunday Bloomberg Business reported that while Mexico officially claims to respect the sovereignty of the United States, behind the scenes its diplomats are working to legalize thousands of illegal immigrants in order to shift the election away from Donald Trump. "This is a historic moment where the Mexican consulate will open its doors to carry out these types of events in favor of the Mexican community," Adrian Sosa, a spokesman for the Mexican consulate in Chicago, told Bloomberg. The consulate has sponsored "citizenship clinics" around the United States. Sosa said the Mexican government hosts the clinics and activists assist illegal immigrants in becoming US citizens.
/
Atlantic City Goes Bankrupt, Will Shut Down For 3 Weeks
/
Does Banks' Withdrawal from Coal Financing Mean Industry's End is near?
AllGov - Morgan's bank, now JPMorgan Chase, announced two weeks ago that it would no longer finance new coal-fired power plants in the United States or other wealthy nations. The retreat follows similar announcements by Bank of America, Citigroup and Morgan Stanley that they are, in one way or another, backing away from coal.... Some banks say they are trying to do their part to curtail climate change by moving away from coal projects and financing ventures that produce less carbon. But bankers also say there is a more basic reason for the shift: Lending to coal companies is too risky and could ultimately prove unprofitable.... And it is not just big banks. Even many more daring investors like hedge funds and private equity firms, which are usually eager to pounce on industries in distress, are shying away from coal because of deep uncertainty about its future.... Despite the challenges, the coal industry still powers roughly a third of the nation's electricity. Industry officials say the business will eventually bounce back, once supplies burn off and demand for coal rebounds in places like China.
/
Google to Congress: Trash Constitution for Self-Driving Cars
Breitbart - Google told the U.S. Senate Commerce Committee that Congress must fast-track self-driving cars by waiving states' rights with a federal takeover of all roads and highways, the better to keep America ahead of Europe, China, and Japan, which are "hot on our heels." Chris Urmson, director of Google's driverless car unit, complained about what he called a "growing patchwork" of state regulations that threatened the viability of autonomous vehicles on U.S. highways. He added that without vehicles having unified rules for travel between states, it will be a "challenge in delivering the technology broadly." Urmson claims the problem is that "In the past two years, 23 states have introduced 53 pieces of legislation that affect self-driving cars — all of which include different approaches and concepts." But he failed to mention growing that problem about safety after Google's driverless car was cited in a California Department of Motor Vehicles (DMV) accident report on February 14 for slamming into the side of a Mountain View city bus.
/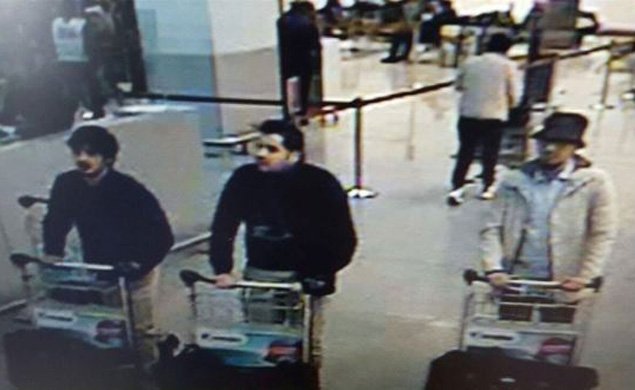 THE TERROR SUSPECTS
ISIS CLAIMS RESPONSIBILITY
/
EXPLOSIONS ROCK BRUSSELS AIRPORT, SUBWAY...
'Allahu Akbar'...
RAIDS UNDERWAY ACROSS BELGIUM...
'Shocking' Unpreparedness...
INTERIOR MINISTER: 'Never could have imagined something of this scale'...
Brussels Ran Ad Mocking Notion of Islamic Violence 2 Months Ago...
FLASHBACK: ISIS Says Paris 'Start of Storm'...
MAG: Islamic State Overwhelming European Counterterrorism Forces...
Geert Wilders: 'We Ain't Seen Nothin Yet'...
Belgium beefs up security at nuke plants...
Aftermath footage shows terrified travelers cowering behind suitcases...
Europe vows to defend democracy on 'black day'...
American missionaries, military family among wounded...
Attack narrowly missed two visiting U.S. Senators...
Attacks Fuel Debate Over Migrants in Fractured Europe...
/
/
OBAMA'S LATEST FRAUD: 'ECONOMIC RECOVERY' DISPROVEN IN JUST 9 CHARTS Numbers demonstrate failure of administration's policies
/
Montana Constitutional Sheriff Tells Feds to Stand Down: Tom Rummel, Constitutional Sheriff of Montana's Sanders County, exercises his power to block the arrest of activist, Jake Ryan, on federal charges
/
CIVIL WAR IN AMERICA HAS BECOME INEVITABLE REGARDLESS OF THE ELECTION OUTCOME!
/
GLENN BECK Bashes Christians for Voting Trump: 'Evangelicals Have Not Been Listening to Their God'
/

The horrific terror attacks in Brussels, Belgium on March 22, 2016 are going to reverberate in our memories for years to come, and perhaps that was the intention. Terror attacks are designed to create fear and to get attention, and these attacks have definitely done both. On Tuesday morning, two huge explosions ripped through Zaventem Airport in Brussels as travelers were getting ready to board their morning flights. You can view some raw footage of one of the bomb blasts
right here
. Just a short while later, another huge explosion was reported at a metro station just yards away from the European Commission headquarters. At this point,
CNN says
that at least 30 people have died and about 230 people are wounded as a result of these bombings. But what was the real motive for these attacks? The following are 7 strange questions about the Brussels terror attacks that the mainstream media is not asking…
(Read More....)
/
/

/
/
/
/


Washington Times - The mayor of Atlantic City, New Jersey, says the resort town's dismal finances will force a weeks long shutdown of nonessential government services next month if the city doesn't get state aid. Republican Don Guardian said Monday the shutdown would start April 8 and likely last until at least May 2, when quarterly tax revenue is set to arrive. Police, fire and sanitation workers would continue to perform their jobs without pay but would be paid when the tax money comes in. Guardian says the city could be in a similar situation in a couple of months. The city's tax base has contracted since four of its 12 casinos closed.