/
Flint Water Crisis: Six Michigan State Workers Charged
/
Did The DNC Hire Actors (At Below Minimum Wage) To Work At The Convention?
Zero Hedge - Following the exposure of a fake Trump job advertisement designed by The DNC to embarrass Trump, it is interesting that a Craigslist ad calling for "Actors Needed for National Convention" has surfaced... Whether the ad is real or fake is unclear, but the text suggests below minimum wage compensation (7-plus hours work for $50) and the number of walkouts from the Convention indicates perhaps a need for cheering happy seat-fillers... Actors Needed For National Convention (Philadelphia)
compensation: $50.00… Looking for 700 people to be utilized as actors during the National Convention. We currently have a number of empty seats that will need to be filled as we are currently removing a number of people and need to refill their seats for the remainder of the conference. You will be paid $50.00 each night for the remainder of the convention. You will be required to cheer at all times and will be asked to dress properly and possibly wear some promotional material.
/
Shock Report: Uniformed Police Officers Banned from Dem Convention Floor
Breitbart - Thursday on Fox News Channel's "Fox & Friends," in an appearance from the site of the Democratic National Convention in Philadelphia, former New York City Mayor Rudy Giuliani called the convention "the most anti-police" and "the most anti-law enforcement" he had ever seen. However, he also said that according to "high-ranking police officers" in Philadelphia, uniformed law enforcement was not allowed on the floor of the convention. "This is the most anti-police, anti-law enforcement convention I've ever seen in my whole life. There was not a uniformed police officer allowed on the convention floor. I was told that by four high-ranking police officers, two of whom I've known for a very long time. And then I walked the floor for very long time and I couldn't find a single officer. Go look at your footage. You find me a uniform. Hillary Clinton didn't want uniformed police officers on the convention floor."
/
Ford Plunges After Warning "We Don't See Growth", Warns US Auto Industry "Has Plateaued"
Zero Hedge - The reason Ford stock is plunging this morning is not so much the company's earnings miss, when the US auto giant reported Q2 EPS of $0.52, below the $0.60 expected, but because in some startling language, CEO Mark Fields laid out a very gloomy picture of the future…. A key part of the problem is one shown here repeatedly over the past year, namely the troubling increase in auto inventories, which are now at 5 year highs, and the inventory to sales ratio back to levels seen during the last recession…. "What we're seeing is that over time, particularly as the U.S. industry has started to plateau, we've seen a very gradual, modestly rising incentive level," Shanks said later in a conference call with analysts. Ford lowered its estimates for full-year industry sales in the U.S. saying second half sales will be "much weaker than normal" and said next year's sales will be even weaker…. And while we await Santander Commercial to file its delayed, and adjusted, earnings report, it appears that even without the hard data one can conclude that the subprime driven auto-boom, which propelled the auto industry over the past two years, has finally ended.
/
Microsoft to cut 2,850 more jobs
Reuters - Microsoft Corp said it would cut about 2,850 more jobs over the next 12 months, taking its total planned job cuts to up to 4,700, or about 4 percent of its workforce. The company said in May it would cut 1,850 jobs in its smartphone business, most of them in Finland. Microsoft bought Finland-based handset maker Nokia in 2014 in an ill-fated attempt to take on market leaders Apple Inc and Samsung Electronics Co Ltd. Chief Executive Satya Nadella, who took the helm just two months before the deal closed, has since focused on restructuring the struggling phone business. Microsoft had about 114,000 full-time employees as of June 30.
/
/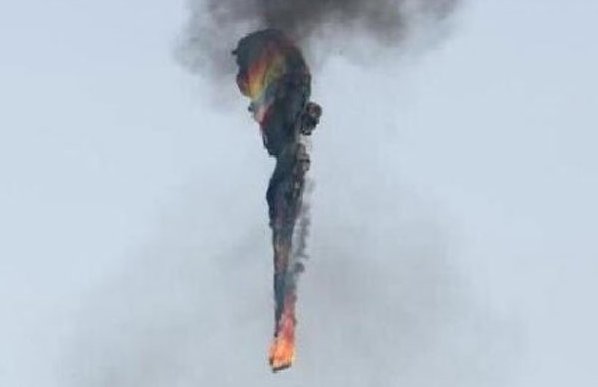 HORROR: HOT AIR BALLOON CRASHES IN TX...
ALL 16 PASSENGERS DEAD...
/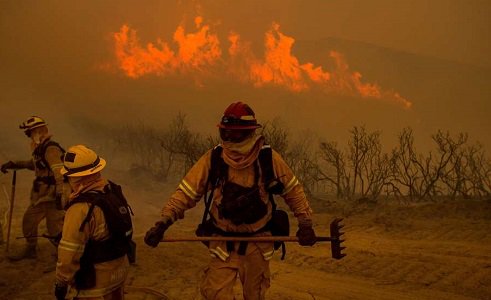 CALIFORNIA FIRE RAGES
/
Survey shows 34 percent of Americans are excited about the prospect of microchips implanted in their brains
/
Putin's Russian secret super submarine fleet could be unstoppable in World War III
/
We just got another extremely disappointing GDP number. It was being projected that U.S. GDP would grow by 2.5 percent during the second quarter of 2016, but instead it only grew by just 1.2 percent. In addition, the Census Bureau announced that GDP growth for the first quarter of 2016 had been revised down from 1.1 percent to 0.8 percent. What this means is that the U.S. economy is just barely hanging on by its fingernails from falling into a recession. As Zero Hedge has pointed out, the "average annual growth rate during the current business cycle remains the weakest of any expansion since at least 1949″. This is not what a recovery looks like. (Read More....)
/
/
/
/
/
/
/
/
/
/
/
/
/
/
/
/
/
IRAN THREATENS TO BLOCK STRAIT OF HORMUZ
/
TURKISH DICTATORSHIP SHUTS DOWN 130 OPPOSITION MEDIA OUTLETS
/
DEUTSCHE BANK COLLAPSE! PROFITS PLUNGE 98% NOW THE WORLD'S RISKIEST BANK
/
CHINA VACUUMING UP THE WORLD'S GOLD, NOW TARGETING RUSSIAN SUPPLY
/
Greg Hunter-Weekly News Wrap-Up 7.29.16