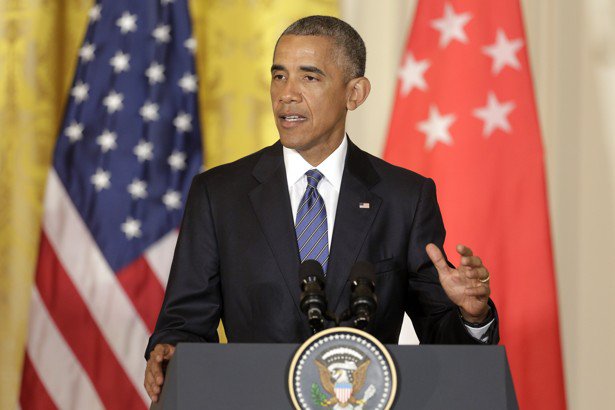 GLOBALIST PANIC: OBAMA WARNS DUMP TRUMP
/
VET GIVES TRUMP HIS PURPLE HEART...
/
Gay-sex scandal hits Irish seminary...
/
Who would have ever believed that so many big names in the Republican Party would publicly pledge to vote for Hillary Clinton in the 2016 election? All throughout the primaries and the caucuses, the Republican establishment expressed tremendous disdain for Donald Trump, but they were unable to derail his march to the nomination. Now that we have reached the general election, some of the biggest names in the GOP are actually taking the unprecedented step of crossing over to the other side and are publicly announcing their support for Hillary Clinton. This shows that many of these individuals were only "Republicans in name only" to begin with, and it also demonstrates the lengths that the elite are willing to go to in order to keep Donald Trump out of the White House. (Read More...)
/
This wasn't supposed to happen. The price of oil was supposed to start going back up, and this would have brought much needed relief to economically-depressed areas of North America that are heavily dependent on the energy industry. Instead, the price of oil is crashing again, and that is really bad news for a U.S. economy that is already mired in the worst "recovery" since 1949. On Monday, U.S. oil was down almost four percent, and for a brief time it actually fell below 40 dollars a barrel. Overall, the price of oil has fallen a staggering 21 percent since June 8th. In less than two months, the "oil rally" that so many were pinning their hopes on has been totally wiped out, and if the price of oil continues to stay this low it is going to have very seriously implications for our economy moving forward. (Read More....)
/
ATF Illegally Stockpiling Gun Owner Personal Info...
/
Weak Economy Will Decide Election
The economy has reached critical mass point and the Federal Reserve has nothing left in its arsenal and we are headed for the make-or-break portion of the election cycle.
On the critical mass problem, oil and housing are still the main concerns. The oil market still has to deal with an ever-growing global glut while the housing revival has been shorter-lived than many expected.
On the oil front, many have never before been so certain that the price of oil will decline. Bets on falling crude price for the future are steadily increasing in direct step with the glut. Stockpiles of crude and refined fuel reached their highest level in more than twenty years in the latest released figures. This excess supply is hammering the energy sector's second quarter earnings.
How bad is the glut? Normally, the annual stockpile peaks around April and dwindles during the northern hemisphere's summer rush. This year the expected peak in April hit a 97-year high and the current stockpile at the end of June matched April's number. This unanticipated overstock has brought prices down by nearly 20% from May's high point of $53 a barrel. West Texas oil was trading near the $41 level earlier today.
With oil tearing at the hamstring of a fragile economy, the housing slide heads for the shoulders, where the most delicate strength resides. Construction payrolls consistently eroded during the second quarter. Office quarters and apartment space led the charge last year and into the early portion of 2016.
Off-shore funding really spurred high-rise condo construction in Miami and the hotel market of New York as investors there looked for better returns. But the frenetic building pace has outstripped demand creating another supply glut which may not be diminished since banks are wary now of commercial real estate deals after being warned by federal regulators of the situation. Commercial lending is up by more than 50% in the last three years alone and the market simply cannot absorb any more paper without a repeat of 2007.
Construction payroll numbers has lost 22,000 jobs since March's peak, a rather insignificant number until you compare the situation to events preceding the 2007 crash. Construction payrolls were steady through August of 2007 before the roof caved in on the process. Then it was mostly in the housing market where the glut of workers was found compared to the commercial realm now but a slowdown in commercial construction would have a more immediate impact because business startups are still lagging businesses calling it quits.
What hopes the construction firms have are based on public works spending. Without a steady increase n tax rates, how that is to be done when most government entities are running on fumes now hasn't been explained.
With hopes fading on the economic front, America's political class will more than likely turn to the Fed for support. The Fed is struggling to get back to a more normal policy balance almost nine years after the Recession began. That means interest rates must increase and the Fed must begin divesting itself of assets held in the M1 portion of the balance sheet's money supply. Neither will be easy.
A small rate hike in December unnerved the economy and has forced at least two additional hikes to be postponed already. While a move in the right direction, a hike of a quarter percentage point isn't an indicator of "normal" Fed policy. Until and unless the U.S. economy is strong enough to absorb a full 1 percent standard interest rate, the Fed is walking on eggshells that are already slightly cracked.
The problem for Americans is the longer the Fed stays behind the planned curve, the more certain it becomes that the current policies will be the norm of the future, which isn't healthy.
A hidden problem in America's economy is the investment side of the ledger, even with abnormally low rates has not grown. This is indicative of a populace that, despite government claims to the contrary, is not yet confident enough in political actions that it feels it will not get burned again.
This brings us to the current election. This lack of confidence is what is driving more Americans to the decision their vote will count this time, unlike ever before. The race has evolved into a classic insider versus outsider race. If more of those entering the voting circle decide maintaining the status quo is better for them, Hillary Clinton will be the president-elect.
But this then begs the question as to why those people are entering the voting cycle if they vote to maintain things. They didn't vote when they could have added stability to the system-as-is so why would they take the time to vote now? Americans consistently have maintained the economy is the top priority in this election. Status quo is what has caused the economy to weaken, in the new voter's eye.
Will there be enough new voters to repeal the status quo is the logical next question. It is the same question America last faced 156 years ago in the election of 1860. Those who lost that vote rebelled against a "rigged system" then. The same result is not out of the question this time around.
"I have sworn on the altar of God eternal hostility to every form of tyranny over of the mind of man."--Thomas Jefferson
/
/
/

/
/
Its All Unwinding - All US Military Bases On Alert
/
OBAMA SENT $400M CASH TO IRAN AS AMERICAN PRISONERS FREED
/
JEEP hackers control steering, braking systems...
/
White House Green Lights GOOGLE Drones...
/
Putin's revenge? Helicopter is seen dropping 'chemical weapons' on a Syrian town hours after a Russian chopper was shot down killing five on board- Local activists say a helicopter dropped toxic gas on nearby Saraqeb effecting 33 people hours after crash
/
CALIFORNIA--Soberanes Fire - Massive wildfire burns over 17 500 hectares in California, thousands threatened
/
Now Obama Warns Americans to 'Be Prepared' For Disaster... What Does He Know?
/
Prepare for possible 'war on water' over South China Sea tensions, Beijing tells citizens- The Chinese military, law enforcement and citizens must be ready for mobilization in the event of a 'people's war at sea,' he added.
/
WW 3 Flash-point now! Tensions extremely high!
/
Feds Try to Harass me for Camping!
/
The Economic Collapse Is Like A Ticking Time Bomb, When It Hits Zero It's Over
/
If you want Donald Trump to win the election, then you should be rooting for a stock market crash between now and November. As you will see below, if stocks go up during the last three months before an election, the incumbent party almost always keeps the White House. But if stocks go down during the last three months before an election, the incumbent party almost always loses. Earlier today, Trump warned Americans
to get out of the stock market
, and if his warning turns out to be correct it will likely benefit him politically as well. When the general population believes that things are going well, Americans tend to stick with current leadership, but when the general population believes that we have hit rocky times they are usually ready for a change.
(Read More...)
/
Texas allows guns in college classrooms under new law
Reuters - A new law went into effect in Texas on Monday that allows certain students to bring guns into classrooms, with supporters saying it could prevent mass shootings and critics saying the measure will endanger safety on campuses. The so-called state "campus carry" law allows people 21 and older with a concealed handgun license to carry pistols in classrooms and buildings throughout public colleges, including the University of Texas system, one of the nation's largest with an enrollment of more than 214,000 students…. Governor Greg Abbott, a Republican who supports campus carry, said a gunman could already bring a firearm on to campus, and the law could prevent mass shootings because someone with a licensed concealed weapon could be ready to confront a gunman.
/
Candy-Flavored Meth For Kids Approved By FDA, Despite Side Effects Like Heart Attacks
Natural Blaze - An FDA-approved, candy-flavored amphetamine is to be used to treat children six or older that have been diagnosed with ADHD. The label itself says that the drug has a "high potential for abuse and dependence," which is not something most parents want their children to be consuming daily. Active ingredients in the drug itself make it addicting, but the sweet, candy-flavored gummies only serve to keep kids wanting more. Many healthcare professionals are concerned about possible addiction-forming that could follow the children into adulthood, but that hasn't stopped Neos Therapeutics from producing the drug. The Dallas-based pharmaceutical company is pushing forward with Adzenys XR-ODT, the name give to this new form of meth. The CEO of the company, Vipin Garg, "launching now at full speed"—pun intended—in an effort to get "ahead of back-to-school season."… While lawmakers are attempting to ban cannabis edibles that resemble sweet treats, the government is continuing to push these addicting gummy drugs because it can actually be controlled and turn out a profit…. To top it all off, the side effects of these drugs range from mild to sudden death, which has apparently happened in adults…. Other side effects include fever, hair loss, hallucinations, psychotic episodes, strokes, and dangerously high blood pressure, meaning that there are no benefits for children in taking this drug over Adderall, which may have the same active ingredients but at least it doesn't taste like candy.
/
Cannabis Oil Cures 3 Year Old Boy Of Cancer After Doctors Gave Him 48 Hours To Live
Natural Blaze - A young boy named Landon Riddle was diagnosed with Leukemia, and was told by his doctors that he only had an 8-10% chance of living for more than a day or two. "His whole chest was full of leukemia tumors, which is why he couldn't breathe. They started him on chemo, but told us that he probably wasn't going to make it," his mother, Sierra Riddle said. After two months of Chemotherapy, Landon became sick and would refuse to eat. According to his mother, he would vomit up to 50 times a day, and the doctors eventually lost hope, seeing no other solution than Chemotherapy. Then one day, Landon's grandmother suggested that they look into cannabis oil treatment. "We discussed all of our concerns with his medical team in Utah and watched Landon continue to suffer and wither away as the piled on drug after drug. Then my mother came across cannabis oil online,"…. The family then fled the state of Utah for Colorado, where cannabis oil treatment was legal. In just days, Landon began vomiting less and less each day and finally began to eat…. Now, Landon's cancer is in remission.
/
/
/