/
Sumatran earthquakes in April were part of tectonic plate breakup
/
http://theextinctionprotocol.wordpress.com/
/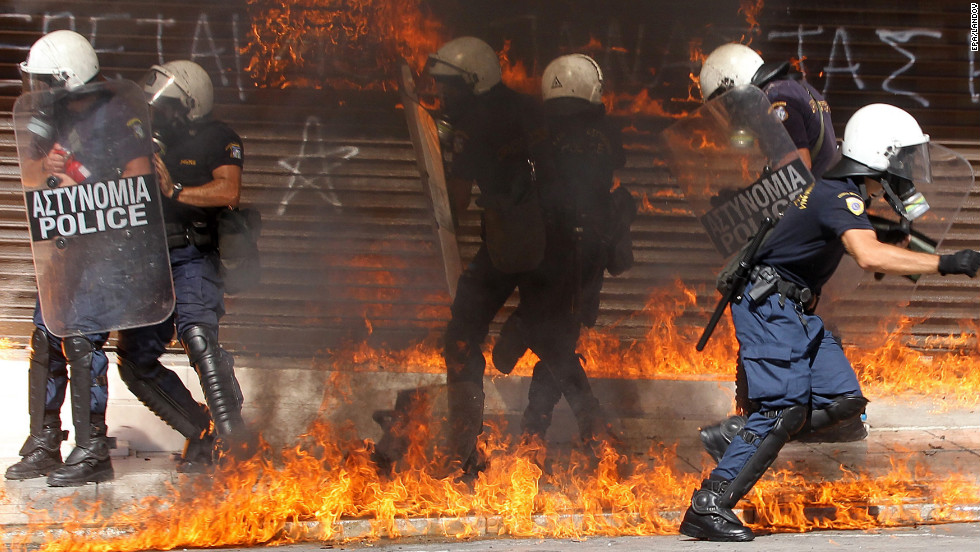 Day of rage in Greece as more stringent cuts loom
/
Eurozone crisis: Spain inching closer to a meltdown
/
Gold rises to record in euros, swiss francs
September 27, 2012, 1:30 PM
New York-traded gold futures GCZ2
/quotes/zigman/699338
GCZ2
+1.48%
have struggled with sell-offs in recent sessions, but on the other side of the Atlantic the price of the yellow metal has been hitting records as fears over over inflation and the stability of the euro fester.
Gold reached highs in euros and Swiss francs on Thursday, underscoring European investors' concerns with currency debasement and inflation following monetary stimulus from central banks around the globe.
Unlike most Americans, Europeans know a thing or two about such worries.
Prices in afternoon trading in London hit a record 1,379.60 euros an ounce, said James Moore, an analyst with thebullionvault.com. That compares to 1,375 euros an ounce last September. Gold traded around 1,666 Swiss francs.
Europeans have been watching scenes of riots in Athens and protests in Madrid in in recent days.
Underscoring the appeal of gold as a store of value, holdings of exchange-traded products backed by gold have also risen to a record.
Holdings in funds and notes that Moore tracks hit a record of 2,567 metric tons before easing to 2,556 metric tons as of Wednesday.
And Barclays Plc. on Thursday announced it was opening its own London vault to store gold and other precious metals due to customer demand.
In New York, gold for December delivery, the most-active contract, recently traded at $1,780 an ounce, up 1.5% on a rebound from two-week lows in the previous session.
Several investment banks have released reports in recent days upping their gold price forecast, with a few calling for gold in the neighborhood of $2,000 and beyond in coming months. Such updates were predicated on the inflationary and currency concerns ignited by the latest volley of monetary easing in the U.S. and elsewhere.
– Claudia Assis
/
Panic Cash Withdrawals In Spain Drain Banks; Greece-Style Economic Implosion Now Imminent
---
Five Mainstream Economists Sound A Warning
/
Michael Maloney explains in this informative interview how the debt based currency system we follow requires the issuance of more and more fiat currency (aka. paper money) to keep the whole thing going. The present policy of active currency debasement adopted by the central banks of the US, UK and EU through QE, Money Printing, Bond Issuance, etc etc will ultimately lead to a massive flow of funds into sound asset classes as people attempt to retain their wealth. So how does it all end..? Mike explains.
/