/
Eric Sprott: The One Event That Will Completely Take the Lid off of Gold!
/
/
OBAMA INTENDS TO COLLAPSE US ECONOMY – EXCLUSIVE – Ann Barnhardt

In this exclusive interview with Ann Barnhardt, founder of the former Barnhard Capital Management, Barnhardt exposes the blatant fraud in US financial markets, the recent IRS scandal, the financial enslavement of the American people, and whether Obama is conspiraring to collapse our economy! As the most popular "Finance and Liberty" interview to date, stay tuned for a shocking ride behind the scenes of the true America and how we can [...]
/
Rothschild Dynasty Merging French & UK Banks Before "Fallout of Financial Crisis"!
/
Billionaire Issues Chilling Warning About Interest Rate Derivatives
-
I think we are going to see a series of bankruptcies. I think the rise in interest rates is the fatal sign which is going to ignite a derivatives crisis. This is going to bring down the derivatives system (and the financial system).
There are (over) one quadrillion dollars of derivatives and most of them are related to interest rates. The spiking of interest rates in the United States may set that off. What is going to happen in the world is eventually we are going to come to a moment where there is going to be massive bankruptcies around the globe.
What is going to be left after the dust settles is gold, and some people are going to have it and some people are not. Then the problem is going to be to hold on to what you've got because it's not going to be a very pleasant world.
-The Commodity Futures Trading Commission (CFTC) is probing 15 banks over allegations that they instructed brokers to carry out trades that would move ISDAfix, the leading benchmark rate for interest rate swaps.
Pension funds and companies who invest in interest rate derivatives often deal with banks to insure against big movements in the ISDAfix rate or to speculate on changes to interest rate swaps
ISDAfix is published each morning after banks submit bids for swaps via Icap, the inter-dealer broker, in a number of currencies. The CFTC has been investigating suggestions that the banks deliberately moved the rate in order to profit on these deals.
Given the hundreds of trillions of dollars worth of interest rate derivatives trades that occur annually, even the slightest manipulation can have a substantial effect. The CFTC, which started to investigate ISDAfix after last summer's Libor scandal has now been handed emails and phone call recordings that show the rate was deliberately moved, according to Bloomberg.
/
By Michael Snyder
There is a relentless assault on the family in America today unlike anything that we have ever seen before. For decades, the entertainment industry and the mainstream media have been portraying marriage as the time "when your fun is over" and they have been encouraging young adults to put off marriage for as long as possible. So now the marriage rate in the United States is at a
/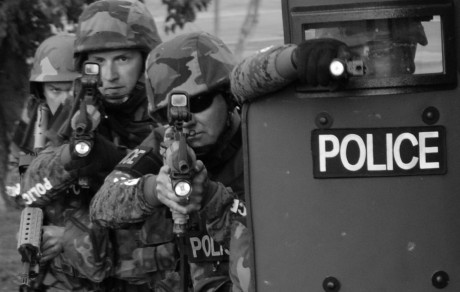 Type The Wrong Thing Into A Search Engine And A SWAT Team Will Break Down Your Door!
/
T. Ferguson: Why is JPM Hoarding Gold?
JPM is sitting very tight with their Comex stocks. Very little change for the past two weeks. Their total registered gold is 390,000 ounces but their total eligible gold is only 46,262 troy ounces or just 1.4 metric tonnes.
All Comex gold is extremely low at just 7,000,000 ounces. See chart below.
The GLD continues to be drained. Another 2.41 mts (77,000+ ounces) were sucked out just last Friday, bringing the Thursday-Friday total to 8.71 mts or 280,000 ounces. JPM is one of the "Authorized Participants" which can liquidate the GLD at 100,000 ounces a throw. How much of these recent withdrawals or, for that matter, how much of the 431 mts withdrawn YTD have flown directly into JPM's hands?
/
US Middle East Embassies Close Under Terror Threat, Russia Snowden Asylum, IRS Scandal Grows
/
Latest On Sheriff Joe's Obama ID Fraud Investigation
/
War Drums
/
U.S. Evacuates...
Britain Bails...
http://drudgereport.com/
AMERICA BOMBS YEMEN
/
JAPAN UNVEILS LARGEST WARSHIP SINCE WW II...
/
Rich banking cash at record rate...
/
Gunman kills 3 at PA township meeting...
/
Chicago Faces $1 Billion Shortfall by 2015...
/
Glenn Beck: US And Russia Are On The Verge Of World War III
/
Peter Schiff: We Remain Propagandized in Recession; Worse Bubble than 2008 to Collapse (video)
/
Pat Caddell: John Boehner "purposely" stonewalling Benghazi investigation to cover-up his own involvement
/
CBS News: Terrorists Already Have Orders, Could Be In Place For Attacks
/
California New Program "Spit & Acquit" – Give Up DNA You May Go Free Special Report
/
Massive Kansas sinkhole attracts tourists like a mini Grand Canyon
A massive sinkhole has opened in a Kansas field, drawing tourists for an ill-advised look into the void. A Wallace County rancher found the sinkhole on Aug. 1 on land about 20 miles from the Kansas-Colorado border. The hole is about 90 feet deep and 200 to 300 feet wide. Landowner Dalton Hoss said his
/
UFO? Superman? Mysterious light burns bright across the sky
Experts believe a mysterious bright light in the sky north of Noosa was probably caused by the sun's light on a jet's contrail. The phenomenon appeared to be soaring across the sky for at least 20 minutes, just after sunset on Sunday. Read full article
/
Massive sinkhole swallows backhoe in downtown Montreal
A section of a downtown commercial street swallowed a backhoe on Monday as city crews were getting ready to repair a leaky water main. The backhoe had started to chip at asphalt near the corner of Ste-Catherine and Guy streets when the ground crumbled beneath it and the heavy machine tumbled in. The driver of
/
LISTEN TO MY INTERVIEW WITH Colorado Sheriff Justin Smith))