The National Abortion Federation has been fighting the release of the video, saying the tapes have spurred threats and endangered people depicted in the footage. | Associated Press
/
/
/
/
/
/
/
/
/
/
/
US Proxy Army Is Now Moving From Iraq To Syria To Fight Russia
/
MEXICO MONSTER
/
Insiders: Trump nomination looking more likely...
74% of GOP Voters Now See It... Developing...
And he's moving in on Bush, Rubio turf in FL...
/
Unrest worsens fear, suspicion among Jews and Arab Israelis...
Palestinian Anger Gets Violent Soundtrack...

'Stab, stab'...
ISIS threaten to kill Jews across world in disturbing new video...
/
Russian President Vladimir Putin
Russia and NATO ready for confrontation
---
Putin accuses West of 'double game' with Syria terrorist groups Russian President accuses West of declaring a fight against some Syrian groups while supporting others.
/
Breaking: China Cuts Interest Rate By 25 bps, Cuts RRR by 50 bps; Futures Soar; Fed December Rate Hike Back In Play
/
Absolute Madness:It is as if the leadership of the 'developed' world chose to engage in some kind of communal hallucination as they drag our world over the nearest cliff.
/
BREAKING: Hacker obtains, leaks 11 undercover Planned Parenthood videos blocked by court
/
Bernie Sanders Caught on Video Glorifying Communist Murderer
/
BREAKING: DHS FBI DECLARE SOCIAL MEDIA THE NEW TERRORIST THREAT
/
NEW DOCS: BENGHAZI COVER UP BEGAN WHILE AMERICANS WERE BEING KILLED :'Hillary Clinton is benefiting from an in-house propagenda machine coupled with a news media that would greatly impress Reich Minister Joseph Goebbels'
/
Putin Vs. Obama: Shall We Compare The Two Leaders Or Will That Be Too Embarrassing For America?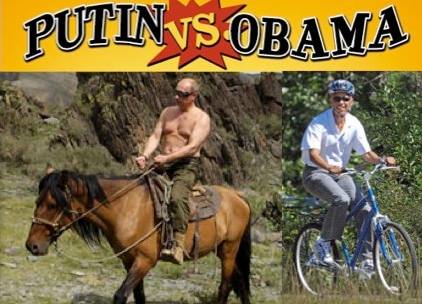 Have you noticed that the United States and Russia are heading in two very different directions? United behind a very strong leader with an 89.9 percent approval rating, Russia is
stunning the world
with the efficiency with which it is striking ISIS in Syria. Of course Vladimir Putin is far from perfect, and there are real questions about what Russia's true motives in Syria and elsewhere are, but this is a leader and a country that have shown that they can get things done. In the U.S., on the other hand, we are being led by a weak, ineffective con man in the White House that has just
a 45.3 percent approval rating
. Under Obama, the federal government seems to be inept at just about everything, and this is especially true when it comes to foreign policy.
(Read More...)
/
Arizona High School Bans Patriotic Gear From Football Game
/
America Waiting to Explode: "If Supply Lines Go Down… Millions of FDA-Approved Drug Addicts Go Psycho
/
Putin Nuke War Warning, Clinton Benghazi Terror Lie, MSM False Narrative
/
The US Gov Revised The Entire Economy To Give The Illusion We Are In A Recovery