The judgment now coming upon the United States is not just about us, but is part of a bigger picture that includes the fulfillment of ancient prophecies.
There are many reasons why God is about to shake the United States, but I believe one of them is because He still loves the Jewish people and wants to rescue as many of them as He can. He has a plan for that and it involves their return to the land of Israel.
No nation has ever been reborn after being conquered and scattered throughout the world, but Israel has done it twice. The first time happened thousands of years ago after they were exiled to Babylon and Assyria. However, the Bible tells us it will happen a second time.
Then it will happen on that day that the Lord will again recover the second time with His hand the remnant of His people, who will remain, from Assyria, Egypt, Pathros, Cush, Elam, Shinar, Hamath, and from the islands of the sea. And He will lift up a standard for the nations and assemble the banished ones of Israel, and will gather the dispersed of Judah from the four corners of the earth. (Isaiah 11:11-12)
When the Lord will have compassion on Jacob and again choose Israel, and settle them in their own land. (Isaiah 14:1)
The fulfillment of this prophecy has been underway for over one hundred years as the Jewish people have been returning to Israel from the four corners of the earth. They started even before the rebirth of Israel in 1948 and they are still returning today. They call it making Aliyah, which means to go up or to ascend, as in going up to Mount Zion.
The rebirth and continued survival of modern Israel is an amazing testimony of the Lord's faithfulness to do what He promised. Despite what many Christians claim, the existence of modern Israel is evidence that God is not done with the Jewish people. They point to the sins of the people, especially those living in Tel Aviv today, but God is not doing these things because they deserve it. He is doing it for the sake of His own name.
22 "Therefore say to the house of Israel, 'Thus says the Lord God, "It is not for your sake, O house of Israel, that I am about to act, but for My holy name, which you have profaned among the nations where you went.
23 I will vindicate the holiness of My great name which has been profaned among the nations, which you have profaned in their midst. Then the nations will know that I am the Lord," declares the Lord God, "when I prove Myself holy among you in their sight.
24 For I will take you from the nations, gather you from all the lands and bring you into your own land.
25 Then I will sprinkle clean water on you, and you will be clean; I will cleanse you from all your filthiness and from all your idols.
26 Moreover, I will give you a new heart and put a new spirit within you; and I will remove the heart of stone from your flesh and give you a heart of flesh.
27 I will put My Spirit within you and cause you to walk in My statutes, and you will be careful to observe My ordinances.
28 You will live in the land that I gave to your forefathers; so you will be My people, and I will be your God. (Ezekiel 36:22-28)
He has done amazing things, but even more amazing things are coming in the days ahead as these prophecies continue to be fulfilled.
An estimated 3.6 million Jewish people have already made Aliyah with over one million of them returning during the 1990's (Source:
Wikipedia
). However, even after all of that less than half of the world's Jewish people live in Israel, only 6.1 million out of 14.3 million worldwide. Among the 8.2 million living outside of Israel, 5.7 million live in the United States, which is 40% of the total worldwide Jewish population (Source:
Jewish People Policy Institute
).
The United States has provided an oasis of peace and prosperity for them, which explains why so many have stayed. However, when the shaking begins the oasis is going to dry up and so will their reasons for staying. Then they will have no one else to lean on except the Lord.
God's plan is not just to get them to return to Israel, but to return to Him. He wants to bring them to salvation through Yeshua their Messiah. They rejected Him when He was on the earth, but they are going to get a second chance. Jesus prophesied this when He said:
"Jerusalem, Jerusalem, who kills the prophets and stones those who are sent to her! How often I wanted to gather your children together, the way a hen gathers her chicks under her wings, and you were unwilling. Behold, your house is being left to you desolate! For I say to you, from now on you will not see Me until you say, ' Blessed is He who comes in the name of the Lord.'" (Matthew 23:37-39)
The prophet Jeremiah saw the sons of Israel fleeing from Babylon to return to Zion, the land of Israel, to avoid being victims of a military invasion. I believe Babylon represents the United States in this passage.
4 "In those days and at that time," declares the Lord, "the sons of Israel will come, both they and the sons of Judah as well; they will go along weeping as they go, and it will be the Lord their God they will seek.
5 They will ask for the way to Zion, turning their faces in its direction; they will come that they may join themselves to the Lord in an everlasting covenant that will not be forgotten.
8"Wander away from the midst of Babylon and go forth from the land of the Chaldeans. Be also like male goats at the head of the flock.
9 "For behold, I am going to arouse and bring up against Babylon a horde of great nations from the land of the north, and they will draw up their battle lines against her. From there she will be taken captive. Their arrows will be like an expert warrior who does not return empty. (Jeremiah 50:4-5, 8-9)
Paul saw a day coming when God would deliver Israel and take away their sins.
For I do not want you, brethren, to be uninformed of this mystery, so that you will not be wise in your own estimation, that a partial hardening has happened to Israel until the fullness of the Gentiles has come in; and so all Israel will be saved; just as it is written, "The Deliverer will come from Zion, He will remove ungodliness from Jacob. This is my covenant with them, when I take away their sins." (Romans 11:25-27)
Zechariah saw these events would be fulfilled in the land of Israel as the nations gather against the city of Jerusalem.
Behold, a day is coming for the Lord when the spoil taken from you will be divided among you. For I will gather all the nations against Jerusalem to battle, and the city will be captured, the houses plundered, the women ravished and half of the city exiled, but the rest of the people will not be cut off from the city. Then the Lord will go forth and fight against those nations, as when He fights on a day of battle. In that day His feet will stand on the Mount of Olives, which is in front of Jerusalem on the east; and the Mount of Olives will be split in its middle from east to west by a very large valley, so that half of the mountain will move toward the north and the other half toward the south. You will flee by the valley of My mountains, for the valley of the mountains will reach to Azel; yes, you will flee just as you fled before the earthquake in the days of Uzziah king of Judah. Then the Lord, my God, will come, and all the holy ones with Him. (Zechariah 14:1-5)
Many things must happen to fulfill these prophecies, but one of them is the return of the Jewish people to the land of Israel. I don't believe the Lord is going to forget about 40% of the world's Jewish population living in the United States. I don't believe they would ever leave the United States if everything remains the way it is now. So this is another reason why big changes are coming.
Shaking of the United States Fulfills Ancient Prophecies
/
In the 2.5 minute video shown at the bottom of this post, Missionary Heidi Baker shares a vision in which the Lord showed her wealthy Americans standing in long food lines due to a sudden event.
Most Christians aren't hearing these warnings because most churches refuse to talk about what is coming soon to America. Not only churches, but also many Christian websites, even Christian news sites, refuse to report anything about what is coming. Instead, they dismiss it as gloom and doom prophecies. Yet, the Lord is showing those who are willing to hear so they can prepare.
Here is the transcript of Heidi Baker's vision.
"I had a vision in your church and it wasn't what I expected to see. I saw bread lines, soup kitchens, and I saw people wearing beautiful clothing. Their clothing was not worn out. Now in my nation when people are hungry you can tell. I mean they are in shredded rags. They don't have shoes or they have flip flops. Most of them have no shoes. They are hungry and they know they are hungry. They come for food, not because they are beggars, but because they are hungry.
I have held starving children in my arms. I know what starvation is. I know what pain is. I know what suffering is. But in this vision that I had that was in your nation, which the Lord is helping me to say, I will identify with America as well as Mozambique.
I saw this bread line, long bread lines, and I said, "Lord, I don't think that is popular to say in a church, especially one that is all about revival and victory and power."
I didn't want to see what I saw, but I saw what I saw so, I was so undone that I just said what I saw. And I saw all these people and they had beautiful cars, 4 by 4's and Lexus, Mercedez, BMW's, Toyotas. There they were with fancy shiny cars, but they were standing in line.
What I said about worrying, the worriers turned into worshipping warriors.
I asked, "Why are they so well dressed and standing in this line?"
He said, "Because it is a suddenly. They are suddenly in need of food."
I asked, "What are we to do?"
He said, "Tell them that what you see in Mozambique they will see in America with the signs and wonders and miracles. They will see it on their soil. They will see what I do."
What is it that He does? For one thing He puts peace on you in the midst of the storm."
Heidi Baker's vision confirms what the Lord showed me when I saw famine and death coming to America. I shared the details of that vision in my previous post,
Famine and Death Are Coming to America
. Her vision also confirms the sudden nature of the event, which I shared in my previous post,
Warning: Sudden Economic Collapse Coming in 2015
.
The good news, according to Heidi Baker, is this sudden event will cause worriers to become worshipping warriors. It also brings manifestations of God's supernatural power with signs, wonders, and miracles that Americans only hear about happening in other countries, but rarely see in our land.
Heidi Baker: Americans Suddenly in Bread Lines and Soup Kitchens
/
Six Reasons to Withdraw Cash from Bank Accounts Now
Now is a good time to withdraw cash from checking and savings accounts for the following six reasons.
First, banks pay close to zero interest, so we earn almost zero profits by keeping our money in the bank and we incur almost zero cost for storing our cash somewhere else.
Second, in the event of a financial crisis, bank deposits are not safe because the Federal Deposit Insurance Corporation, which is the agency charged with insuring deposits, only has enough assets to cover 1.15% of deposits, which means 98.85% of deposits are at risk.
Third, in the event of a bank holiday or capital controls, such as already happened in Cyprus and Greece, depositors will not be allowed to withdraw their money from the bank. A bank holiday means the banks are closed and bank accounts are frozen, so no one can access their accounts until they reopen. Bank holidays can last for weeks. Capital controls can restrict banking hours, limit or suspend access to ATM machines, and restrict cash withdrawals to very small amounts per day. In Cyprus, capital controls were started in 2013 and remained in place for two years before finally being removed earlier this year (Source:
BBC
). In Greece, depositors were only allowed to withdraw 60 euros per day, about $70, and had to stand in long lines to get it.
Fourth, in the event of a financial system crash, credit cards and debit cards might temporarily become unacceptable methods of payment. In that scenario, cash will be king. Those who have cash will have purchasing power while those who don't will have to do without.
Fifth, legislation has already been passed allowing banks to freeze depositor accounts and then take, which means steal, those funds to bail themselves out. It is called a bank bail-in. Our legislators have betrayed our interests to protect the interests of the bankers, which means we will have no legal recourse to get our stolen money back.
Six, when a banking crisis happens there will not be time to withdraw cash because it will happen suddenly. This is what the Lord showed me in a dream, which I shared in my previous post,
Warning: Sudden Economic Collapse Coming in 2015
.
The following comments from Phoenix Capital Research provide insights into how suddenly the banking crisis unfolded in Cyprus:
The most important thing I want you to focus on is how lies and propaganda were spread for months leading up to the collapse. Then in the space of a single weekend, the whole mess came unhinged and accounts were frozen.
One weekend. The process was not gradual. It was sudden and it was total: once it began in earnest, the banks were closed and you couldn't get your money out (more on this in a moment).
There were no warnings that this was coming because everyone at the top of the financial food chain are highly incentivized to keep quiet about this. Central Banks, Bank CEOs, politicians… all of these people are focused primarily on maintaining CONFIDENCE in the system, NOT on fixing the system's problems. Indeed, they cannot even openly discuss the system's problems because it would quickly reveal that they are a primary cause of them.
For that reason, you will never and I repeat NEVER see a Central banker, Bank CEO, or politician admit openly what is happening in the financial system. Even middle managers and lower level employees won't talk about it because A) they don't know the truth concerning their institutions or B) they could be fired for warning others. (See the full story)
Capital controls were introduced into the U.S. banking system back in 1970 and have been tightening ever since, especially in recent years. As a result, we are only allowed to withdraw cash in small increments. Please see my previous post,
How to Withdraw Cash from the Bank Without Getting Arrested
.
Six Reasons to Withdraw Cash from Bank Accounts Now
/
Prophetic Warning: Russia's Actions in Syria Could Be a Decoy
A visitor to this site, John Hansell, shared a dream he had recently regarding recent Russian military actions.
Several nights ago I had a dream where I was being stalked by a bear. But it was unusual in that it was not a direct assault but as if the bear was toying with me. It wanted me to focus totally on it.
While still dreaming the thought that came to mind was of the original Jurassic Park movie where the raptors were being hunted and the hunter was focused on the one laying down and getting ready to shoot. Because he was so focused on the one in front, he did not notice the other raptor as it attacked from the side before he could react.
When I awoke my impression was that Russia's actions in Syria is the decoy. While they may have plans in that area, they want the world not to notice their main activity.
John's dream could be a confirmation of David Taylor's prophetic warnings, which I shared in my previous post,
David Taylor: Russian Attack on America is Coming
. It also could be a confirmation of a dream I had when I saw bears,
Bears in the House
.
Prophetic Warning: Russia's Actions in Syria Could Be a Decoy
/
Credit

Brendan Smialowski/Agence France-Presse — Getty Images
Russian Ships Near Data Cables Are Too Close for U.S. Comfort/
/

MICHAEL SAVAGE DECLARES: 'WE'VE LOST THE BATTLE'... -

A major battle in a war over the future of Western civilization has been lost as millions of migrants from the Middle East who largely oppose Judeo-Christian values and have no intention of assimilating flood the United States, Britain, France, Germany and other nations, talk-radio host Michael Savage told his listeners Tuesday

Savage said he received an email from someone he described as "far smarter than I am" and "farseeing."

"He said to me, 'It's over.

Support for 'Tea Party Drops' to New Low...
/
LIMBAUGH: Washington news is a script!
/
7.5 MAG QUAKE IN AFGHANISTAN SHAKES REGION...
UPDATES...
/
LEW: RAISE DEBT LIMIT NOW!
Govt Collects Record-High Taxes...
51% of working Americans make less than $30K a year...
/
The Decline of Obamacare...

Fewer enrolles and rising loss ratios will force rewrite in '17...
Colorado preparing single-payer plan...
/
BEAST SYSTEM UPDATE: Obama Signs Executive Order Forcing Gov't Use of EMV Credit Cards
/
On the march to western Europe: Shocking pictures show thousands of determined men, women and children trudging across the Balkans as politicians warn EU could collapse in weeks
/
i
Chinese Firm Plans $1.3 Billion Purchase Of Texas Oil Lands
/
Israeli Military Enters Syria While Officials Downplay Events
/
image: http://www.trunews.com/wp-content/uploads/2015/10/11025800_1038601362839805_5701078176335868943_n.jpg

Gov. Rick Scott: "Even in Our Darkest Days, God Will Show up"
(Trunews) – Kicking off what turned into a truly inspirational day of worship and mass-repentance before the Lord, Florida Governor Rick Scott shared some powerful words of encouragement and affirmation, when he took to the stage early Saturday morning at The Response USA, in Orlando, Florida, and proclaimed, "even in our darkest days, God will /
/
Economist Magazine Cover Foreshadows A False Flag Event That Will Happen In November?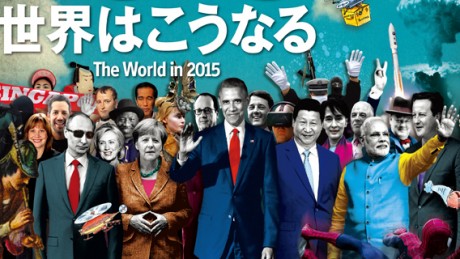 Have the elite warned us that November 3rd and November 5th will be particularly important dates? The Economist has very close ties to the Rothschild banking dynasty of Europe, and it has been a well-known mouthpiece for the global elite for decades. That is why all of the weird imagery that was used on the cover of the January 2015 issue made so many headlines when it first came out. The elite often like to foreshadow what they intend to do in advance, and many were trying to decipher what many of the cryptic symbols might mean. For those that have not seen it yet, here is the full cover…
(Read More...)
/
/
/
"Our Data Is Not Good" - US Companies Warn That A Recession Is Coming
/
"Smaller Suppliers Will Go Out Of Business": Hail Mary Time For Wal-Mart, As Vendors Pushed To Brink
/
WTI Crude Contango Collapsed To 5-Month Lows Amid Growing "Over-Supply" Concerns
/
Wedded 'throuples' coming to America
"If marriage is not the union of a man and a woman, why limit it to two people?" "What makes the number two unique or necessary? Why not marry yourself, as some women have recently done? Why not throuples? There are several examples of this in the last few years. Why not three women and two men? We see this already in polygamous relationships. Why not?"
/
There's a reason why God calls us His sheep; they are not known for their intelligence. Sometimes it takes us a while to see what God is trying to show us. That's what just happened to me. The Lord gave me a dream back in March 2015 showing me an important event coming up, but I got sidetracked by news reports and lost sight of the details of the dream. Today, I regained my focus. In this dream, I was shown a sign to watch for the
In an interview on CNBC's "Squawk Box" on Monday October 19, Treasury Secretary Jack Lew warned the U.S. Treasury will run out of money by Tuesday November 3, less than two weeks from now, unless the debt ceiling is raised. That's a story we have all heard before as the debt ceiling has already been raised 74 times since 1962 (Source: Wikipedia). But Secretary Lew added a strange warning about a terrible accident: "Only Congress can act to