Obama's mysterious trip to San Diego...
/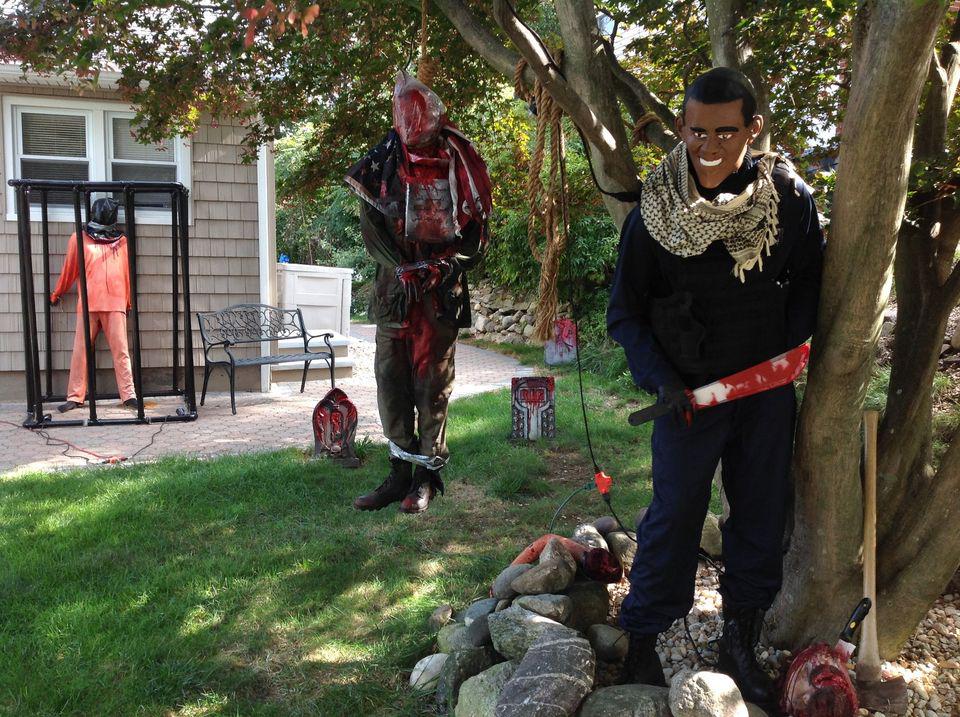 ISIS Halloween display featuring hanging soldier, terrorist in Obama mask sparks outrage...
/
TWITTER SAID TO BE PLANNING COMPANY-WIDE LAYOFFS...
- Twitter is planning company-wide layoffs next week, according to multiple sources. It's unclear how much of the staff will be culled, but insiders say it will likely affect most, if not all, departments.
/
CHINA WARNS USA: STAY OUT OF OUR WATERS!
/
WEEKEND: ANTI-ISLAM PROTESTS ACROSS USA...
AZ sheriff: Feds 'refusing' to prosecute illegals...
/
/
The United States government has become 'the world's most dangerous terrorist organization,' warns former Reagan official
/
ABSOLUTE MUST SEE: SANDY HOOK NEWS FOOTAGE SPLICED INTO OREGON SHOOTING NEWS
/
Europe Reveals How Accounts Will Be Frozen During the Next Crisis
/
Thousands upon thousands of Shad, Flounder and Trout wash ashore at Freeport Texas as a new fish kill baffles experts
/
California Officials Increase Mercury-laced Vaccines for Children and Pregnant Women
/
/
The Final Leaked TPP Text is All That We Feared
/
HUNDREDS TURN OUT to Protest Barack Obama in Oregon (VIDEO
/
Russian Air Force destroys 29 ISIS camps in Syria in 24 hours
/
Mayor of Jerusalem Calls on Citizens to Carry Guns After Wave of Stabbings
/
Majority Of Americans Think Government Has Too Much Power
/
Video: Facebook Reportedly Censoring Anti-TPP Posts
/
Fierce battles in central Syria amid Russian airstrikes
Syrian troops backed by Russian airstrikes seized a village in central Syria on Saturday amid fierce clashes with rebels, part of a ground offensive launched earlier this week.
/
Obama Is Considering Gun Control Through Executive Order
/
"It's Over For Me" Matt Drudge Warns Public "You're A Pawn In The 'Ghetto-isation'" Of The Web
/
Quarter Million Germans Protest Obama "Free Trade" Deal
/
TSU Shooting: Texas Southern University On Lockdown After 1 Person Killed
/
Russians Attacks Terrorists, Economy Sinking Fast, Clinton Email Troubles Mount
/
Economist Finally Admit The Economy Is Collapsing And It Might Be Around The Corner
/
Escalating Violence: Israeli-Palestinian clashes erupt near Gaza
/
Bernanke Policy About To Break Economy
One of the Rant's favorite whipping boys was, is and will be Ben (BS) Bernanke, the former Chairman of the Federal Reserve, for his lousy handling of the financial crisis in 2007-08, before Obama was inaugurated. BS's handling of the money supply is why Main Street has not felt the "economic recovery" he boasts of.
David Stockman who worked in the Reagan White House put out a expose of Bernanke's ineptness earlier this week because we are once again faced with an over-valued market loaded with bubbles. While the Rant refers to B.S.'s incomprehensible explanations as BS, Mr. Stockman merely calls the Bernanke assertions "Balderdash." Stockman wrote his piece after Bernanke had an Op-Ed piece in Monday's Wall Street Journal in which he takes credit "for saving the world."
Stockman writes: "The U.S. and world economies are drifting inexorably into the next recession owing to the deflationary collapse of commodities, capital spending and world trade. The apparent global boom during that period [the past 20 years] was actually a central bank-driven excursion into the false economics of borrowing to inflate consumption and frenzied, uneconomic investing to inflate GDP in China and the emerging markets."
What Mr. Stockman did not put into his explanation was the fact the governments of the world, including the central bankers, were forced to invest in China and the emerging markets of the third world by provisions of the Kyoto Treaty which severely limited the amount of carbon dioxide that could be released into the atmosphere by all developed nations.
Stockman takes the usual path of blaming the explosion of debt ($185 trillion was added around the globe) and compares it to GDP "growth". What is omitted is the unrelenting increase in fiat supply. Somehow any elite school-trained economist misses this point. None of them account for the explosion in fiat which has driven all increases in GDP since about 1977.
Across the globe fewer units of almost all things are being produced now then there was then per capita. The extra costs for handling the provisions of Kyoto Treaty have caused an increase in the price of each unit of GDP but the majority has been caused by the central bankers' unrestricted use of the printing press as a means to handle every crisis thrown at them.
Stockman did allude to this point. "That ratio [debt increase to global GDP increase] is an understatement because measured GDP has been artificially bloated by the worldwide malinvestment and excess capacity arising from the credit bubble. That phony 'growth' will be liquidated under the laws of economics in due course."
BS is a devoted Keynesian economist. Germany, under Finance Minister Wolfgang Schauble, has actually achieved a near balanced-budget. This would be noteworthy if Germany were an independent country. Since it joined the Euro Union that little achievement is akin to Indiana balancing its state budget since Germany no longer has an independent fiat base.
But BS's claim that the U.S. economic growth through stimulus is a material difference between Europe and America since the Lehman Bros. collapse is indeed "balderdash." As Stockman correctly points out, Germany's growth has not lagged even while it was hostage to the same retarded European Central Bank policies as the rest of the Eurozone.
BS's biggest magician track was the illusion of stability the printing press run provided. Bernanke boasts about how he filled the bathtub of GDP with "aggregate demand." which restored the nation's economy to "close to full employment."
Stockman takes this argument and correctly dismantles it with "Don't mention that to the tens of millions of main street savers and retirees who have literally been expropriated by the Fed."
There's the gist of central banker policy around the globe, led and fostered by BS as Chairman of the Federal Reserve.
I have no sympathy for the casino gamblers who willingly go back to the table of market investing in any shape or form. But for those individuals who think their investment is in a safe place, those hedge fund managers and insurance peddlers are risking all by going back in without their clients' full understanding of the risks.
BS's adherence to Keynesian gospel is as untrustworthy as the San Andreas fault line but the Fed clings to it like a well-trained retriever clings to the quarry. We felt the fault line shake in the dotcom recession. It gave a good accounting in the housing bubble burst. The bubbles looming now dwarf either of those two events because the world has gone more global than ever before. Global economic outlooks are hostages in BS's gospel.
There is no "safe" haven when this slippage occurs. Every asset will take a hit. There is a serious doubt here that BS will take credit when that happens.
"I have sworn on the altar of God eternal hostility to every form of tyranny over the mind of man."--Thomas Jefferson
/
9/27/2015 -- New York hit by Earthquake + Arizona VOLCANIC Activity Showing
/
Rainbow Flags Fly High in Rural Ireland