Has the next Lehman Brothers moment arrived? Late Thursday night we learned that the British people had voted to leave the European Union, and this could be the "trigger event" that unleashes great financial panic all over the planet. Of course stocks have already been crashing
all over the globe
over the past year, but up until now we had not seen the kind of stark fear that the crash of 2008 created following the collapse of Lehman Brothers. The British people are certainly to be congratulated for choosing to leave the tyrannical EU, and if I could have voted I would have voted to "leave" as well. But just as I warned
10 days ago
, choosing to leave will "throw the entire continent into a state of economic and financial chaos". And "Black Friday" was just the beginning – the pain from this event is going to continue to be felt for months to come.
(Read More....)
Worst Floods in '500 YEARS' Kill 26 in WV...
Burning House Swept Down River...
Photos...
/
East Coast states want to tax drivers by the mile...
/
2nd TX man infected with flesh-eating bacteria...
/
Obama Invites 18.7 Million Immigrants to Avoid Oath of Allegiance, Pledge to Defend America
FEDS MOVE FORWARD WITH 'HOTEL' FOR ILLEGALS...
18.7 Million Immigrants Exempt From Oath of Allegiance...
/
/

What Comes After Brexit
/

/
Donald Trump's Entire Financial History In One Short Video
/
/
/
/
Trump is praising the Brexit vote for Britain's independence from the EU.
Hillary appears to not really understand what it means.
People are having trouble with the establishment, which favored Britain staying in the EU. They basically tried to scare their constituents by talling them all sorts of false stories.
Trump came right out and
/
The Chinese government said on Saturday it had stopped a communication mechanism with Taiwan because of the refusal of the self-ruled island's new government to recognise the "one China" principle, in the latest show of tension between the two.
/
by Sean Adl-Tabatabai
Texas has passed a law which will permanently ban any type of Sharia law from being imposted in the Lone Star State.
Senator Donna Campbell passed the bill that will ensure that no laws from foreign courts will be adopted by Texas civil court judges.
/
52,000 GUNS SOLD A DAY UNDER OBAMA!
/
/
/
World stocks and European bank shares tumble post Brexit
World stocks tumbled and European bank shares were on track for their biggest ever two-day fall on Monday as the political and economic fallout of Britain's shock vote to leave the European Union drove sterling to a fresh 31-year low against the dollar.
/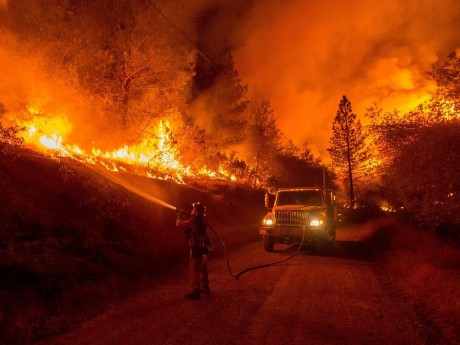 As you read this article, the state of California is being ravaged by gigantic wildfires that are raging wildly out of control, and West Virginia is dealing with a "500 year flood". Since last September, the U.S. has been hit by a series of 11 historic floods. Never before in American history have we seen so many major floods within such a compressed space of time. And just as the Shemitah year ended last September, massive wildfires began erupting all over the country. Thanks to that unprecedented outbreak of large fires, 2015 ended up being the worst year for wildfires in all of U.S. history. And since 2016 began, things have continued to get worse. As far as the total number of acres burned is concerned, we are more than a million acres ahead of the pace that was set last year. So why in the world is all of this happening?
(Read More...)
/
More stock market wealth was lost on Friday than on any other day in world history. As you will see below, global investors lost
two trillion dollars
on the day following the Brexit vote. And remember, this is on top of the trillions that global investors
have already lost over the past 12 months
. It is important to understand that the Brexit vote was not the beginning of a new crisis – it has simply accelerated a global financial crisis that started last year and that was already in the process of unfolding. As I noted
on Friday
, we have been waiting for "the next Lehman Brothers moment" that would really unleash fear and panic globally, and now we have it. The next six months should be absolutely fascinating to watch.
(Read More....)