Cleveland Stocking Up On Riot Gear Ahead Of Republican National Convention...
/
Turkey shelling Syrian Kurdish militia in northern Aleppo - YPG
/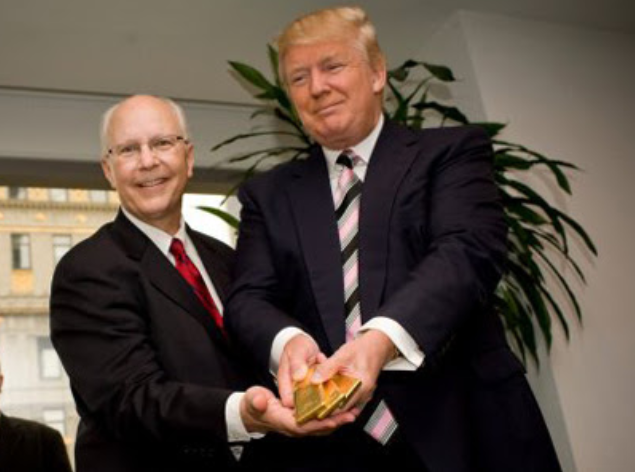 For Trump, Gold Is Better Than Cash :At the time, Trump expressed concern about the nation's currency. "It's a sad day when a large property owner starts accepting gold instead of the dollar," Mr. Trump told the Wall Street Journal.
/
German Banks Told To Start Hoarding Cash
Zero Hedge - German newspaper Der Spiegel reported yesterday [Thursday] that the Bavarian Banking Association has recommended that its member banks start stockpiling physical cash. Europe, of course, has been battling with negative interest rates for quite some time. What this means is that commercial banks are being charged interest for holding wholesale deposits at the European Central Bank… On one hand, banks stand to lose a ton of money in negative interest. On the other hand, they put their customers' deposits at risk if they don't hold extra reserves… Their new recommendation is for all member banks to ditch the ECB and instead start keeping their excess reserves in physical cash, stored in their own bank vaults. This is officially an all-out revolution of
/
the financial system where banks are now actively rebelling against the central bank… There's just one teensy tiny problem: there simply is not enough physical cash in the entire financial system to support even a tiny fraction of the demand.
/
Feds Arrest Bundy Supporters in Six States
Infowars - A federal indictment names the elder Bundy as the leader and beneficiary of the "conspiracy" to prevent the government from seizing cattle near the Bundy ranch in Nevada in April 2014. Bureau of Land Management officials backed down after public backlash. The arrest of 12 people in six states followed a grand jury indictment in Nevada's US District Court on Wednesday. The indictment charges the Bundy supporters with conspiracy to commit an offense against the United States, conspiracy to impede or injure a federal officer, weapon use and possession, assault on a federal officer, threatening a federal law enforcement officer, obstruction of justice, extortion to interfere with commerce and interstate travel in aid of extortion.... The corporate media is reporting that one of the arrested men, Jerry DeLemus, is connected to the Trump campaign. DeLemus is the co-chair of Veterans for Trump in New Hampshire. The organization is not formally part of the Trump campaign. The arrested Bundy supporters will likely face stiff penalties and long prison terms.
/
VIDEO: Judge Jeanine: Mitt Romney awoke a sleeping giant
Fox news - Fox News Channel's Jeanine Pirro launches a tirade against former Republican presidential nominee Mitt Romney for demanding a brokered convention to block Trump. The "establishment is panicked" and Mitt Romney just confirmed it, Pirro said on her weekend FNC show Justice.
/
Trump Wins Louisiana and Kentucky
Gateway Pundit - Donald Trump won the Louisiana Republican primary last night. D. Trump 46.8% 18,514, D. Trump 46.8% 18,514, M. Rubio 17.9% 7,086. Donald Trump also wins Kentucky – a closed primary.
/
Gingrich: Trump right to skip CPAC
The Hill - Former Speaker Newt Gingrich (R-Ga.) on Friday praised Donald Trump for his last-minute decision to skip the annual Conservative Political Action Conference (CPAC). The real estate mogul's campaign issued a statement shortly after saying he would instead be campaigning in Kansas and Florida. "Because of this, he will not be able to speak at CPAC as he has done for many consecutive years," the statement read. "Mr. Trump would like to thank Matt Schlapp and all of the executives at CPAC and looks forward to returning to next year, hopefully as President of the United States." Trump has been heavily criticized by many Republicans, and some speakers at the gathering took the opportunity take shots at the front-runner.
* Related:
Gingrich: Establishment Scared of Trump Because He "Didn't Belong to the Secret Society"
/
Glenn Beck at CPAC: Compares Trump to Film Villain, Claims Industrial Revolution Started in America Because of Constitution
Breitbart - Glenn Beck delivered a fiery closing keynote speech at the Conservative Political Action Conference (CPAC), comparing GOP frontrunner Donald Trump to the "Arthur Slugworth" character from Willy Wonka & the Chocolate Factory and claiming that the Industrial Revolution "was born" in the United States due to the Constitution.
/
Mass Layoffs Hit Staples As Shutdown Begins
Government Slaves - During a conference call with analysts Friday, office supplies major Staples has unveiled that it has sacked out more than 1,000 employees between November and January… The company's spokesman said that the company has not tracked where the layoffs have taken place. But as per current and former employees, hundreds of jobs at the Framingham headquarters have been made redundant… Staples has also closed 73 stores in 2015 and plans to close 50 in 2016, leading to a total of 300 since 2014, said Staples Chief Financial Officer Christine Komola. The company has also reported its fifth consecutive year of declining revenue.
/
Saturated Fats Are NOT to Blame for Heart Disease
Dr. Mercola - You know the drill. Watch or read the health media and you will be regularly told to avoid saturated fats because they raise your LDL cholesterol, which will ultimately clog your arteries and lead to heart disease. The problem with this recommendation is that it is only based on a theory, and worse yet that theory has never been proven. In fact, the recent studies that carefully examine saturated fat disprove this. The video above provides a comical illustration of what happens when a renowned international cardiologist publishes a groundbreaking article that debunks saturated fat. He is challenged by two ignorant dietitians spouting what they had been taught years ago. Interestingly, a new American Heart Association (AHA) study claims eating the "right" fats could save 1 million lives per year.... Foods that are naturally rich in saturated fats, like grass-fed meats, grass-fed butter, pastured eggs and coconuts, come in a near-perfect package, as they are typically loaded with healthy, fat-soluble vitamins like A, D, E and K. Industrially processed vegetable oils, on the other hand, are highly processed and offer little nutritional value other than empty calories. More importantly they damage your cellular and mitochondrial membranes.
* Related:
Eat 2 Tablespoons of Coconut Oil Daily for These Amazing Health Benefits!
/
Strange hum haunts residents of Canadian city near US border...
Mike Provost, a resident on Windsor's Hillcrest Boulevard, has kept records of the hums heard throughout his neighborhood, he told the newspaper. He noted a particular blast on Saturday, Feb. 27, that "shook everything … like a pounding on the wall."
"Some people complain about dishes rattling, windows rattling," Provost told the
Star
. "It can get real disturbing."
/
image: http://i2.wp.com/www.trunews.com/wp-content/uploads/2016/03/chinese-stocks.jpg?fit=644%2C429

Global stocks drop due to Chinese predictions
Global stock markets fell on Tuesday after another batch of weak data from China reinforced persistent concerns about a possible slowdown in the global economy. Exports from the world's second-biggest economy tumbled 25.4 percent in February compared with the same month last year, while its imports dropped 13.8 percent. The pan-European FTSEurofirst 300 index fell
/
image: http://i0.wp.com/www.trunews.com/wp-content/uploads/2016/03/1200x-1.jpg?fit=1200%2C800

Schiff: Zero rates, QE4 by election, and real estate crash looming
Top economic forecaster, Peter Schiff, predicts that the Fed will lower interest rates back to zero and begin QE4 before the November presidential elections. Schiff also believes a 2007 style crash is coming to the real estate market.
/
image: http://i1.wp.com/www.trunews.com/wp-content/uploads/2014/05/Coal-Billboard-West-VI-Reuters-1.png?fit=475%2C355

India buying coal from U.S. companies despite Paris climate talks
(TRUNEWS) Coal power isn't dead, it just moved to India, according to federal data published Monday. In 2008, then-presidential candidate Barack Obama promised to bankrupt coal power plants through regulations to fight global warming. He largely succeeded in the U.S., but the coal America would be burning is now being shipped to India, according to
/
image: http://i0.wp.com/www.trunews.com/wp-content/uploads/2015/12/2015-12-09T180307Z_2_LYNXMPEBB80X4_RTROPTP_3_USA-COURT-RETIREMENT.jpg?fit=800%2C573

Supreme Court Upholds Lesbian Parental Rights in Unanimous Decision
Chief Justice Roy Moore of Alabama suffered a setback in his defense of traditional family values when the US Supreme ruled in favor of a lesbian and her parental rights. She had adopted three children with her live-in lesbian partner. The court took the relatively unusual step of reversing the Alabama Supreme Court without hearing
/
image: http://i0.wp.com/www.trunews.com/wp-content/uploads/2015/04/cute-baby-surprised.jpg?fit=600%2C375

NHS to 'support' women to carry babies to term for organ donation
(TRUNEWS) Pregnant women may soon be forced to make a difficult decision – to abort their babies or giving up their organs after birth. National Health Service (NHS), the publically funded healthcare system in the U.K. is proposing that women be "supported" to carry the child to term for the sole purpose of harvesting the
/
Why Threaten North Korea And China? Would Obama Start A War To Stay In Office?
Is Barack Obama trying to start a war, and will that war be used as an excuse to stay in office once his term is over? Late in his second term, Obama is starting to become extremely aggressive with the rest of the world. He just angered China by sailing an aircraft carrier task force past disputed islands in the South China Sea, he is provoking North Korea by simulating an invasion of that nation during a military exercise that is going to involve more than 300,000 troops, and he is backing Saudi Arabia and Turkey as they make moves
that could very well start World War III in the Middle East
. If a war did begin, that could give Obama the excuse that he needs to exercise
his emergency powers
, and that could potentially include suspending the election that is scheduled for November.
(Read More...)
/
Economy Contracts, Work Hours Drop
mccrant@gmail.com
Please do not grab onto the February jobs report, as many politicians are, and think things are improving. This latest jobs report was a phony as a six-dollar bill.
An important item to factor in is hours worked by those employed. That dropped from 34.4 hours per job each week to 34.2, a six-tenths of percent drop for the month.
At the current employment level, the economy would have to add 898.800 jobs to fill that work-hour void TO KEEP THE ECONOMY EVEN! It added 242,000. Can you see the discrepancy? Yet the loss of man-hours work time is never mentioned, calculated or reported. However, based on the rise in "employment" the powers-that-be happily projected a coming wage hike.
It's a giant shell game played by government with the gullible populace.
A report yesterday on ship movement is a prime example of the shell game being played as surely as the made-up employment numbers.
From space, where satellites track ship movement, it seems as if all is well. "It's a bizarre scenario. There doesn't seem to be that many ships waiting for cargo," noted Simon Francis, founder of a company that monitors shipping congestion. He pointed out that even though the industry is "on its knees" you couldn't tell it from ports where traffic is noticeably down. Normally, in a down cycle, ship owners tied their ships up, waiting for a market rebound.
Not this time. Commodity shippers are grabbing every transaction they can in an effort to keep a their share of the trade even though they are losing money on every trip. Commodity prices and demand for transportation services are so bad, ship owners are not getting enough to pay a fourth of what each trip is costing them.
Where they usually idle ships in an economic slowdown, this time is different because there is no end in sight. Part of the blame is on the greed side as ship-building surged on new orders since the 2008 recession. The size of the global fleet doubled its capacity--most based on China's near double-digit economic growth analysis.
Ship owners are reluctant to trash their new ships, but are trimming the older fleet at a record pace. Even so, they can't find a profit. That is a recipe for collapse.
Just like companies listed on Wall Street, the shipping owners made some really poor business decisions over the past six years--expecting the bull run would not end. Companies borrowed to keep stock prices high through buyback programs, ship owners hocked the future for immediate returns. Now both sides are in danger of failing. The financial companies that lent the funds have no leverage to foreclose in a global economy that is unwinding yet the borrowers cannot make enough to even cover day-to-day operating expenses, much less repay debt.
You might have noticed a 20-cent jump in gasoline at the pump this week. The price of oil stabilized on the world market because "of a potential pact between the world's leading producers to freeze output."
Here again look at the facts. A freeze would be a great start--to keeping the current glut in place! And that is if the pledges are kept. The price of oil should have stabilized. Instead, the commodity jumped in value. For the better part of a year we have been bombarded by the industry's bemoaning the glut caused by production outstripping demand. Now we have production levels agreed to at the current pace and the perceived value jumps 14% in a week even though there is no change in the global glut side of the equation.
Demand, as the shipping industry shows, is not indicating an increase in economic activity. Without that increase, energy production must be reduced or the glut remains in place.
But how is the average American consumer, the top consumer of energy in the world, supposed to continue to buy a commodity that is valued higher while losing man-hours? And this phenomenon is being repeated around the globe in almost every nation. The analysts miss the forest for the tree that provides the most positive headline.
The economic alarm bells should be ringing louder today. Major problems remain around the globe yet the pall they cast was dismissed by the fact America increased its employment number. We lost work hours that could not be replaced by the increase in jobs. That fact was not explained yet it should have been the headline.
The government does not want to deal with the truth or else you might catch onto its game. The Federal Reserve wants to put some bullets back in the holster by raising rates. So it picked an arbitrary measure of the economy--the unemployment rate. Other bureaucrats proudly got the unemployment rate down to where the Fed wanted it. Yet the American consumer is losing on both sides. He is getting squeezed through a shorter work week and the interest rate on his credit usage is going to take a significant jump--just like the sticker shock he will feel at the pump now.
If the experts were wrong about the consumer spending his pump savings, how is a rising fuel bill going to fit in with smaller take-home pay due to shorter hours?
I've had readers comment about "my perpetual negativity." That mindset does not want facts as much as they want something positive to hold onto--just look at the political campaign we are in. But facts have to be dealt with in the real world outside Washington. You ignore them at your peril. That is the disconnect between the Beltway and Main Street.
The economy has more storm clouds now than it did in the summer of 2007. These are not mere headwinds able to be minimized with another round Quantitative Easing or a reduction in interest rates but fully mature storm warnings that will quash most living standard norms.
Right now, in the United States, America finds itself in a position where we may be the first American generation who is leaving the next one with fewer options, not more.
Believe political hype if you wish. A fact-based data analysis keeps showing an economy that is contracting, not improving. It is not a realization that sits comfortably--even for someone with a "negative mindset."
"I have sworn on the altar of God eternal hostility to every form of tyranny over the mind of man."--Thomas Jefferson
The Collapse Of Italy's Banks Threatens To Plunge The European Financial System Into Chaos
The Italian banking system is a "leaning tower" that truly could completely collapse at literally any moment. And as Italy's banks begin to go down like dominoes, it is going to set off financial panic all over Europe unlike anything we have ever seen before. I wrote about the troubles in Italy
back in January
, but since that time the crisis has escalated. At this point, Italian banking stocks have declined a whopping
28 percent

since the beginning of 2016, and when you look at some of the biggest Italian banks the numbers become even more frightening. On Monday, shares of Monte dei Paschi were down 4.7 percent, and they have now plummeted 56 percent since the start of the year. Shares of Carige were down 8 percent, and they have now plunged a total of 58 percent since the start of the year. This is what a financial crisis looks like, and just like we are seeing

in South America

, the problems in Italy appear to be significantly accelerating.
(Read More....)
/
/
When the police seize assets from ordinary citizens, there is often no recourse. It's expensive to take the cops to court, sometimes more so than the value of what was stolen. And in any case, there is no guarantee that they will win in court, so most people simply cut their losses.
However, private citizens are not the only people who can be victims of asset forfeiture. In 2010, a police officer in Oklahoma had his truck seized by the sheriff's department, after a ranch hand used it during a crime. How he finally got it back might surprise you. It just goes to show that predatory cops don't discriminate.
Article reposted with permission from
The Daily Sheeple
.
/
The Commodity Rally Is Not Sustainable" - Goldman Is Now Waiting For The Next Big Drop
Submitted by Tyler Durden on 03/08/2016 - 04:33
As noted yesterday morning, "
Goldman does it again
" when just hours after Goldman said the "bearish cash for iron ore was intact," the commodity recorded its biggest surge in history crushing anyone short, and soaring 20% across the globe. That however has not dented Goldman's conviction that the commodity rally is overdone (we actually agree with Goldman for once) and just hours ago the head of commodities at Goldman Jeffrey Currie doubled down on Goldman's bearish commodities call saying "
market views on reflation, realignment and re-levering have driven a premature surge in commodity prices that we believe is not sustainable
.
/
China Trade Balance Plunges To 11-Month Lows As Exports Crash Over 25%
/
On Friday, the Alabama Supreme Court rejected the US Supreme Court's marriage opinion and basically told them to take a hike in favor of following the Alabama Constitution and Alabama law. On March 4, 2016,
/
/
/
Minority Report: FBI Asks High Schoolers, Teachers to Watch for Student Terrorism
/
Current Economic Collapse News Brief