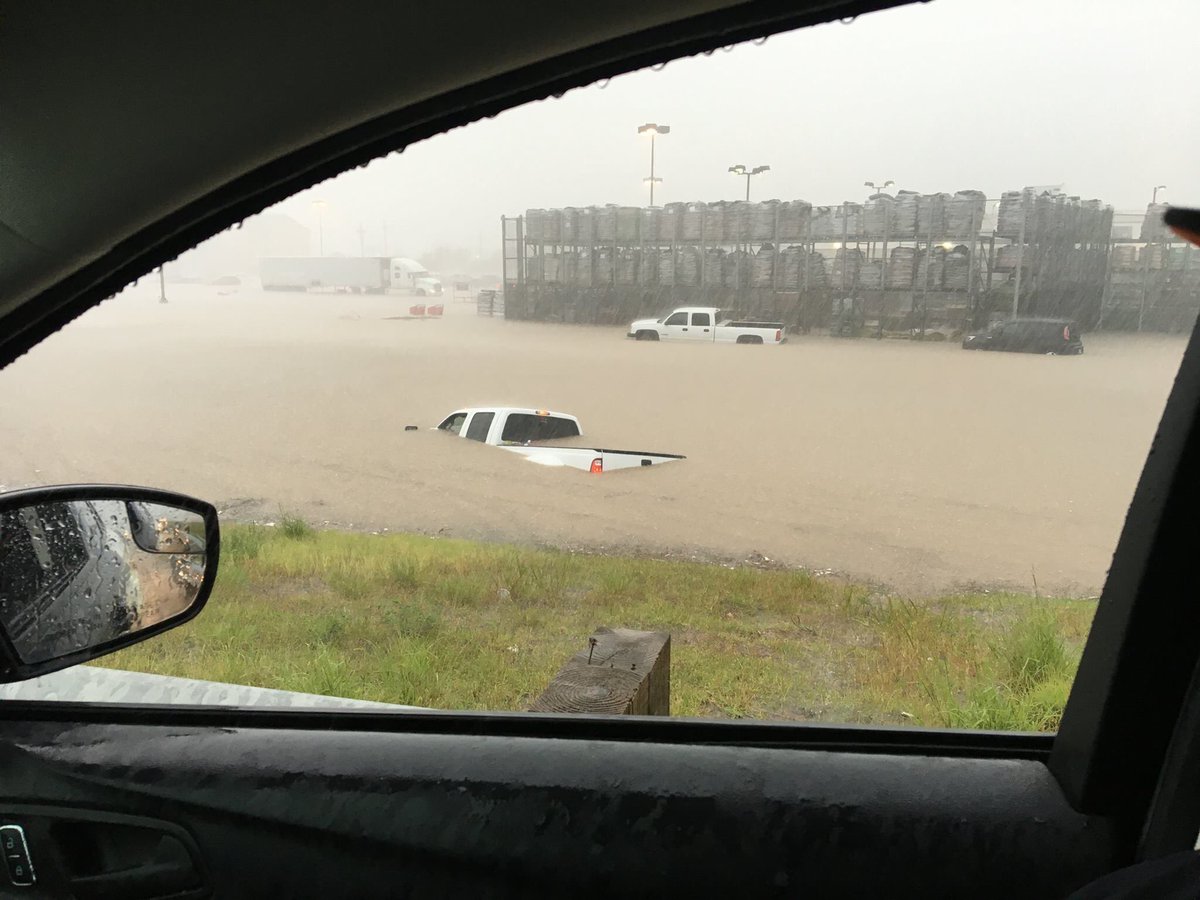 THE BIBLICAL RAINS OF TEXAS...
More Flood Friday...
Video: Herds of animals scramble to escape...
5 soldiers dead from capsized truck at Ft Hood... Developing...
/
DRONES TO REPLACE WALMART WORKERS...
/
ILLEGALS SMUGGLED INTO USA FROM MIDDLE EAST
CRAWL UNDER MEXICAN BORDER FENCE
/
Anti-Trump Protesters Tear American Flag at San Jose Rally...
Man Left Bleeding After Being Attacked By Mob...
/
BBC blasted for rejecting work applicants because they are white!
/
/
When Barack Obama speaks to the public, it is very rare that he does so without a specific purpose in mind. So why is he urging Americans "to be prepared for a disaster" all of a sudden? On May 31, Obama took time out of his extremely busy schedule to deliver an address at the FEMA National Response Coordination Center in Washington. During his speech, he stressed that every American is responsible for preparing for disasters, and that includes "having an evacuation plan" and "having a fully stocked disaster supply kit". These are basic steps that I have been encouraging people to do for years, but if they won't listen to me, perhaps they will listen to the man currently residing in the White House. The following excerpt from Obama's speech
comes directly from the official White House website
…
(Read More....)
/
/
/
/

/
/
/
May Jobs Report Dismal At Best
If anyone needed proof of the disaster that is Obama-nomics, proof that the last eight years have not been much of a recovery or proof that Washington is totally deaf to anything but what is whispered in its ear from Wall Street, just look at the latest jobs report. There is enough negative news in the May jobs report to stock the Library of Congress.
What is pathetic, is thumbing through the analyses of the jobs report will quickly tell you whether the author is still a believer that Washington is being run "for the people" or if the author at least thinks it is time to end the foolish run and put the noose of a dying economy squarely around the neck of the politicians who created too-big-to-fail economics.
You've probably heard the Administration's position on the recovery recited daily for the better part of a year during the campaign that never seems to end: repeated references to the 75 consecutive months of jobs growth, nods of the head to a government actively promoting social and climate justice, and claims of gains in degrading ISIS.
Then May's job numbers came in and, if anything, the defense of the Administration only grew more rabid, fueling the campaigners' 'differences'. May numbers showed a paltry 38,000 new positions in May. That isn't enough to even keep up with population growth much less be considered a recovery-basis number.
For those in defense of the Administration there was an interesting op-ed piece by Hans Parisis. He starts off asking the question: "When is a low payroll number not a weak payroll number?"
He cites three reasons why you must look behind the numbers, pointing out the weak numbers can be blamed on "lack of available working talent", the fact the initial reports are always revised, and the fact the labor force has become more flexible with self-employment and contract work making "a mockery of traditional labor statistics."
True to an extent but why then didn't the Administration point that out instead of just grabbing the glory since the 'recovery' began? A simple answer? The behind-the-scene numbers show how poor the recovery has been.
In the realm of talent deficiency--that is pretty bogus standard when you put in the self-employment and contract workers alluded to later on. If the talent exists to do self-employment or contract work, that has not diminished the talent available to make America's economy boom, merely changed the dynamic of where and how work is accomplished. Social equality regulation has made that non-profit work however.
Reports by government have always been revised but if you look at the last 82 months, they have been revised down more often than they have been revised up! Looking at the average revisions made over the course of the ensuing two months, 34 times the reports have finished higher with an average of 34,652 more jobs than originally reported while 48 times the number has been revised down for an average revision of 38,217 less jobs.
On the other side of the political coin, comes in a professor such as Peter Morici of Maryland. He jumps all over the May jobs report.
He correctly points out family incomes are still down about $1600 annually from when Obama replaced Bush and the wealth gap had widened considerably. But his best analysis was on the "self-improvement" angle rather than self-employment.
For people in the lower income bracket, "sending a second adult to work or training for a higher paying position imposes a 50 to 80 percent penalty [on earnings] from additional taxes and lost benefits."
Is it any wonder the non-recovery recovery continues? Where is the incentive to work when doing so adds no distinct wealth advantage?
The indictment is not in the jobs report but in the government social programs that have been enacted. What the jobs report demonstrates is not only a realistic view of the economy but what should be a change in direction for this country back to pre-New Deal times. Instead of giving away earned wealth in economic redistribution, how about Washington just delivering a swift kick in the pants by cutting all entitlement programs not paid for by FICA taxes.
But in order for that to work, the phony climate change laws, the penalties imposed by a distorted tax system, the mandatory minimum wage laws, the employment restrictive Obamacare laws and the removal of illegal immigrants would have to be done as well. Americans would have to be moved to the top of the work chain instead of the bottom in reality, not just in campaign promises.
Destroying the business model that had worked for the U.S. for over 200 years is an outgrowth of a misguided mind-set that should not have been put into the economic picture in the first place. But politicos have always found it easier to promise everything to voters while promising "the other guy will pay."
America is not reflected in the May jobs report--Washington's failed policies are. It is, I believe, the basis for the anti-Washington feeling that has confounded experts during this political season. Americans, are feeling the pinch in the pocketbook, and they are determined to try and eliminate that pinch, even if it hurts doing so.
"I have sworn on the altar of God eternal hostility to every form of tyranny over the mind of man."--Thomas Jefferson
/
/
/
image: http://www.trunews.com/wp-content/uploads/2016/06/r-961.jpeg

Omen of times to come: Lady riots after EBT card fails
A large woman destroyed a convenience store after having her food stamp benefits card declined, according to a video uploaded to Live Leak Thursday. "Call the police, call the police," the unnamed woman says repeatedly in the video as she lumbers around the store causing havoc. "Call the police. Do your job, do your job."
/
image: http://www.trunews.com/wp-content/uploads/2016/06/Bearded-Liberty-2.jpg

Bearded Lady Liberty Featured at Hillsong NYC Event
(TRUNEWS) As if Hillsong's recent controversy regarding the Times Square Naked Cowboy wasn't creating enough worries for the megachurch, a further look at the video reveals even more startling content. This video shows a clip from Hillsong's recent Color Conference, a special event for women. This huge production number which features the Naked Cowboy, Ninja
---
image: http://www.trunews.com/wp-content/uploads/2016/06/houston.jpg

Hillsong Pastor Responds to 'Naked Cowboy' Controversy
(TRUNEWS) – Megachurch pastor Brian Houston of Hillsong took to the internet to respond to the rising wave of criticism due to an appearance of someone impersonating the famous Times' Square 'Naked Cowboy' at a recent Christian women's conference: In a statement released June 1: Have You Heard the One About the Cowboy? So how
/
image: http://www.trunews.com/wp-content/uploads/2016/06/r-946.jpeg

/
This is exactly what we have been expecting to happen. On Friday, the Bureau of Labor Statistics announced that the U.S. economy only added 38,000 jobs in May. This was way below the 158,000 jobs that analysts were projecting, and it is also way below what is needed just to keep up with population growth. In addition, the number of jobs created in April was revised down by 37,000 and the number of jobs created in March was revised down by 22,000. This was the worst jobs report in almost six years, and the consensus on Wall Street is that it was an unmitigated disaster.
(Read More....)
/
DHS Quietly Moving, Releasing Vanloads of Illegal Aliens Away from Border
/
Admiral Warns: Russian Subs Waging Cold War-Style 'Battle of the Atlantic'Russian officials have been open about increased submarine operations over the last two years. Russian Navy head Adm. Viktor Chirkov said in March of 2015 that submarines operations
/
/
/
/
/
New World Order uses satanic ritual to unveil Gotthard Train Tunnel
(TRUNEWS) On June 1st Switzerland unveiled the world's longest and deepest railroad tunnel with a deeply occultic, satanic ceremony.
At the Gotthard Train Tunnel's northern portal in Erstfeld, Switzerland, hundreds of dignitaries including Italian Prime Minister Matteo Renzi, Switzerland's President Johann Schneider-Ammann, Germany's Chancellor Angela Merkel and France's President Francois Hollande attended the Illuminati-esq ceremony.
Read more and see full video at http://www.trunews.com/nwo-satanic-ri...
/
President Barack Obama says the Bible supports his sweeping directive to allow transgender public school students to use the bathroom of their choice.
The president made that remark at a townhall meeting hosted by "PBS NewsHour" in Elkhart, Indiana, Wednesday night.
Obama said people with religious beliefs may disagree with his decision, but he believes he's following Jesus' command to treat others the way he'd want to be treated.
"My reading of Scripture tells me that that Golden Rule is pretty high up there in terms of my Christian belief," he said.
The president said he wants to ensure that all children are treated with kindness and protect transgender students.
"You have transgender students who are in school and they get bullied and they get ostracized," Obama explained.
"Schools are asking us, The Department of Education, for guidance [on] how should we deal with this and my answer is that we should deal with this issue the same way we'd want it dealt with if it was our child," he said.
/
/
/
By BI: Fred Gralinski of the Central Coventry Fire District shockingly compared having an American flag on the back of a fire truck to ISIS flying its flag of jihad while riding around in Iraq or Syria. Clash Daily "They look like a bunch of yahoos," Gralinski said at a board meeting. "Like in the paper, like ISIS in […]
/
SECRET SERVICE BOOK ROCKS CLINTON CAMPAIGN
UPCOMING TELL-ALL BY AGENT JUMPS TO #1 AMAZON....
//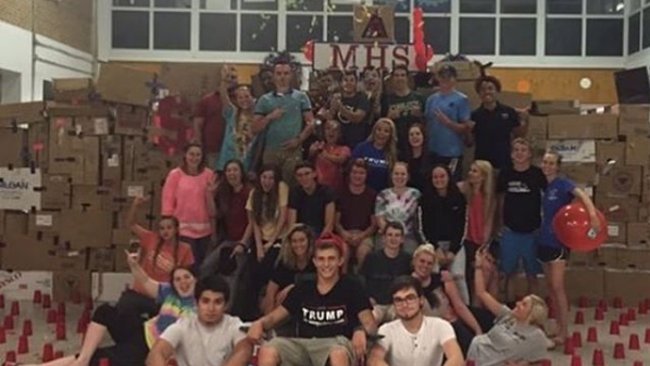 High school students build 'Trump Wall'...
/
/
"If you have the truth you know what reality is like, if you don't you're ignorant of reality... and we are living in an age in which there's another seemingly acceptable alternative to the truth, and that's bullshit.. The danger is that there will be a loss of concern for the truth, and that I believe is an insidious assault on the fundamental principles of society.
/
/
/
Lake In Chile Mysteriously Vanishes Overnight, Multiple Times a Year, Every Few Years
/
/
/
/
The opening ceremony of the Gotthard Base Tunnel in Switzerland featured a "goat-man" that dies, is resurrected, is worshipped and is crowned as "the king of the world". The "goat-man" that played such a key role in this performance bore a striking resemblance to
Baphomet
, which in recent decades has become one of the key symbols used to represent Satan in the occult community. So could it be possible that this entire ceremony was actually an Illuminati ritual that was intended to honor Satan? Don't pass judgment until you see the videos.
(Read More...)
/
All over the planet, global weather patterns have gone completely nuts. Just over the past few days we have seen "life threatening" heatwaves, extremely dangerous wildfires, vicious tornadoes and unprecedented flooding – and that is just in the United States. And of course this is just the continuation of a trend that stretches back to last year, when extremely weird weather created "
apocalyptic-like conditions
" in many areas around the world. So why is this happening? For decades, we could count on weather patterns falling within fairly predictable parameters, but now that is completely changing all of a sudden. All over the globe we are seeing things happen that we have never seen happen before, and the weather just seems to get even more crazy with each passing month.
(Read More....)
/
SECRET SERVICE AGENT EXPOSES 'REAL' HILLARY
BOOK DRAMA HITS CAMPAIGN
/
Pensions may be cut to 'virtually nothing' for 407,000 people :One of the biggest private pension funds in the country is almost out of money, and fresh out of options.
/
Kanye causes chaos in New York: Thousands mob streets for star's 'secret' gig prompting NYPD shutdown and near riot... as delighted West drives through crowd hanging out the SUNROOF of his car
/
Dr. Jim Willie: Americans Will Be Armed With Pitchforks Looking For Who to Blame
/
Oregon standoff: Judge declines to dismiss conspiracy, firearms in federal facility charges
Oregon Live - The judge's decisions follow legal arguments last month in which defense lawyers had urged the court to dismiss the allegations, contending they were unconstitutionally vague or broad, or that the federal government did not have jurisdiction over the wildlife sanctuary in eastern Oregon. In written orders filed Friday, the judge dismissed those defense motions. Brown, though, has yet to rule on the third count of the federal indictments – using and carrying a firearm in the course of a crime of violence - considered the most tenuous of the charges filed.
/
Worst Jobs Report In Nearly 6 Years – 102 Million Working Age Americans Do Not Have Jobs
Economic Collapse - On Friday, the Bureau of Labor Statistics announced that the U.S. economy only added 38,000 jobs in May. This was way below the 158,000 jobs that analysts were projecting, and it is also way below what is needed just to keep up with population growth. In addition, the number of jobs created in April was revised down by 37,000 and the number of jobs created in March was revised down by 22,000. This was the worst jobs report in almost six years, and the consensus on Wall Street is that it was an unmitigated disaster.
*Related:
312K Full-Time Jobs Were Lost In Last Two Months, Offset By 118K Part-Time Hires
/
Flu Pandemic Drills for Mass Flu Vaccinations Begin in the U.S. Targeting Children in Schools
Health Impact News - According to The Daily Reporter out of Coldwater, Michigan, the local health agency simulated a flu pandemic using 300 students at Bronson Junior/Senior High School. Community Health Agency (CHA) Health Officer Rebecca Burns stated that this drill was the first actual live exercise [minus the injecting of students] in the past five or six years according to the article. "I wanted to reach giving 1,000 shots an hour" explained CHA Emergency Preparedness Coordinator Jim Cook. CHA Emergency Preparedness Coordinator Jim Cook explained that the program is part of the requirements the health department must complete to comply with and test federal emergency preparedness response requirements, and to qualify for grants. The drill saw the students herded into the gym, processed and treated to a simulated administration of a flu vaccine. Meanwhile, two months earlier, Valley View Medical Center in Cedar City, Utah was also busy executing one of the largest full-scale flu pandemic disaster drill scenarios ever performed in Southern Utah. According to the local St. George News outlet, the drill included amateur radio operators, all dispatch centers, law enforcement, Community Emergency Response Teams, ambulance partners and medical staff from all six hospitals throughout the five-county region.