/
Translated by Ollie Richardson for Fort Russ
5th April, 2016
You brought it upon yourselves.
Yesterday's Panamanian crib notes immediately received a fitting answer. Guys who are receiving grants from Soros Foundation and the MacArthur Foundation, their owners, and other interested parties were thinking that they were taking part in a hunt for the beast. Well, well. This time they were made to play ping-pong, but they didn't even notice it. So naive are they... They scattered the documents around 80 countries and 400 paid journalists to deducted names and addresses. Well, at least one of them was from the CBP (Foreign Intelligence Service) and a couple hundred from the GRU...
And they've got their punishment, not them, of course, but their owners.
The Russian President said that he has decided to declassify many archival documents, and that he will sign the decree today. And it was signed. Here:
http://kremlin.ru/
And he quietly added: "This, as far as I know, according to the information from archive agencies, concerns the period from 1930 to 1989. In these documents there are cases, excuse me, of snitches as well as the innocently repressed, with very interesting names, some documents will surprise society..."
In fact, what is happening is a test for society and the President. He passed an exam for the "leader of the nation", and society - for the "superpower". I have no doubt, personally, of the result. And also no doubt on the number of political cadavers that will appear soon in stupid Europe, which thought that she was taking part in the hunt for the beast, whilst the ambush was prepared for her.
Putin to Declassify Documents That Bear Some 'Very Interesting Names'
/
Report: Trump Supporters in Wisconsin See Votes Switched to Cruz
/
Transgender former banker, 55, has her ears and nose REMOVED to transform into a 'dragon lady' with scales, a forked tongue and a horned skull
/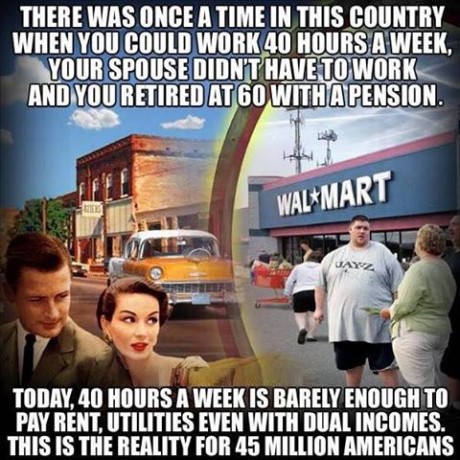 Is America a better place today than it was back in 1956? Of course many Americans living right now couldn't even imagine a world without cell phones, Facebook or cable television, but was life really so bad back then? 60 years ago, families would actually spend time on their front porches and people would actually have dinner with their neighbors. 60 years ago, cars were still cars, football was still football and it still meant something to be an American. In our country today, it is considered odd to greet someone as they are walking down the street, and if someone tries to be helpful it is usually because they want something from you. But things were very different in the middle of the last century. Men aspired to be gentlemen and women aspired to be ladies, and nobody had ever heard of "bling", "sexting" or "twerking". Of course life was far from perfect, but people actually had standards and they tried to live up to them.
(Read More...)
/
One of the epicenters of the global financial crisis that started during the second half of last year is Japan, and it looks like the markets in the land of the rising sun are entering yet another period of great turmoil. The Nikkei was down another 390 points last night, and it is now down more than 1,300 points since a week ago. Why this is so important for U.S. investors is because the Nikkei is often an early warning indicator of where the rest of the global markets are heading. For example, the Nikkei started crashing early last December about a month before U.S. markets started crashing really hard in early January. So the fact that the Nikkei has been falling very rapidly in recent days should be a huge red flag for investors in this country.
(Read More....)
/
When the gun grabbers can't get all of the guns, they go after the bullets. Though Lt. Governor Gavin Newsom has hypocritically
led the charge against the rights of gun owners while having tax payer funded armed security
, he is now pushing to
require background checks to purchase ammunition
.
/
image: http://www.trunews.com/wp-content/uploads/2014/02/americanflagshirt.jpg

Yes, Things ARE Getting Worse in America – Michael Snyder
Has the U.S. economy gotten better over the past six months or has it gotten worse? In this article, you will find solid proof that the U.S. economy has continued to get worse over the past six months. Unfortunately, most people seem to think that since the stock market has rebounded significantly in recent weeks
/
/
/
/
/
/
/
/
-T
he
University of Berkeley
received close to $14 million in grants from DHS to run California's Sobriety Checkpoint program. (It's really a national sobriety program)
/
/
/
"
The unborn person doesn't have constitutional rights
."—Hillary Clinton,
Meet the Press
(April 3, 2016)
By John W. Whitehead
April 04, 2016
The Slippery Slope: It's Not Just the Unborn Being Denied Rights Under the Constitution:American families who have their dogs shot, their homes trashed and their children terrorized or, worse, killed by errant SWAT team raids in the middle of the night
/
PARENTS FURIOUS OVER 'PRIVILEGE' QUIZ 'Her sexuality and all that has nothing to do with the school'
/
/
/