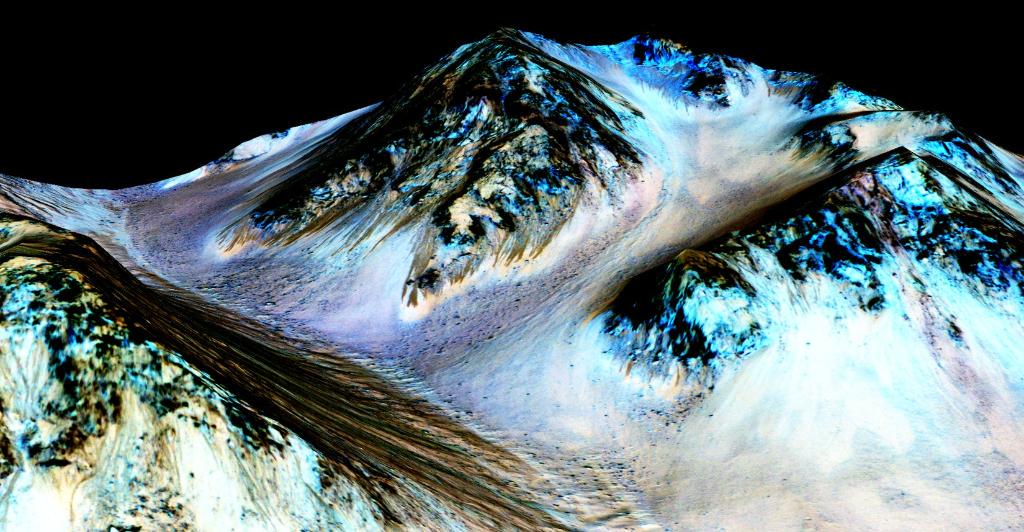 WATERS OF MARS
---NASA ends cover-up and finally admits water flows on Mars... but still won't admit to proof of life on the red planet, known as a fact since 1976
/
PUTIN TAKES LEAD IN FIGHT AGAINST ISIS...

Russians mock Obama on social media...


/
Confederate Flag at School Leads to Lockdown...
-
POLK COUNTY, Ga. - A trio of students has been suspended from school after one of them brought a Confederate battle flag to campus.
/
Feds move in on local police forces...
/
Pentagon implanting chips in soldier brains...
/
German authorities use morally dubious measures to evict its own citizens from their homes to fill them with "refugees"
Germany: Migrants In, Germans Out The Death of Property Rights:
/
NEW WORLD ORDER: PUTIN OUTSMARTS OBAMA
/
Obama to Bypass Congress on Syria, 'Global Warming'...
Plan to 'internationalize' Internet sparks constitutional concerns...
/
Calif. Kindergartener Kicked Out of Christian School for Having 2 Moms
/
Chemicals Linked to Obesity, Diabetes...

Nearly every person exposed...

Plastics, cosmetics, flame retardants, pesticides...
/
Illegal Aliens Accused of Gruesome Executions, Burning Corpses in Texas...
---
Naked Man Covered In Blood Wanders CA Streets...
/
Real Estate Crisis in North Dakota's Man Camps...
/
5 Things the Media Won't Report About the Refugee Crisis ;The entire narrative that major western media outlets have crafted around the migrant crisis is a complete fraud. :
/
UBS Is About To Blow The Cover On A Massive Gold-Rigging Scandal
/
IN NEW YORK, POPE FRANCIS EMBRACED CHRISLAM AND LAID A FOUNDATION FOR A ONE WORLD RELIGION If all this sounds incredibly strange to you, just keep reading, because this is just the tip of the iceberg
-
What Pope Francis had to say at St. Patrick's Cathedral in Manhattan has received very little coverage by the mainstream media, but it was exceedingly significant. The following
is how he began his address
…
I would like to express two sentiments for my Muslim brothers and sisters: Firstly, my greetings as they celebrate the feast of sacrifice. I would have wished my greeting to be warmer. My sentiments of closeness, my sentiments of closeness in the face of tragedy. The tragedy that they suffered in Mecca. In this moment, I give assurances of my prayers. I unite myself with you all. A prayer to almighty god, all merciful.
He did not choose those words by accident. In Islam, Allah is known as "the all-merciful one". If you doubt this,
just do a Google search
.
/
Record Number Of Americans Believe Congress Is Corrupt
/
Germans Could Have Their Children Snatched For Anti-Migrant Facebook Posts
---
Mark Zuckerberg Caught on Hot Mic Saying Facebook Will Censor Anti-Migrant Posts -
/
Cost of migration crisis means nothing to us, says top EU official
The EU's leaders "do not care about the political cost" of their handling of the migration crisis because they do not have to face election, one of its top officials has admitted.
/
Is Glencore The Next Lehman? The World's Largest Commodities Trading Company Is Toast
Are we about to witness the most important global financial event since the collapse of Lehman Brothers in 2008? Glencore has been known as the largest commodities trading company on the entire planet, and at one time it was ranked as the 10th biggest company in the world. It is linked to
trillions
of dollars of derivatives trades globally, and if the firm were to implode it would be a financial disaster unlike anything that we have seen in Europe since the end of World War II. Unfortunately, all signs are pointing to an inescapable death spiral for Glencore at this point. The stock price was down nearly 30 percent on Monday, and overall Glencore stock has plunged nearly 80 percent since May. There are certainly other candidates for "the next Lehman" (Petrobras and
Deutsche Bank
being two perfect examples), but Glencore has definitely surged to the front of the pack. Right now many analysts are openly wondering if the firm will even be able to survive to the end of next month.
(Read More....)
/
Swiss open major bank probe into precious metals market rigging
Hang The Bankers -The Swiss competition regulator has opened an investigation into possible collusion in the precious metals market by several major banks, it said on Monday, the latest in a string of manipulation probes. Switzerland's WEKO watchdog said its investigation, the result of a preliminary probe, was looking at whether UBS, Julius Baer, Deutsche Bank, HSBC, Barclays, Morgan Stanley and Mitsui conspired to set bid/ask spreads. "It (WEKO) has indications that possible prohibited competitive agreements in the trading of precious metals were agreed among the banks mentioned," WEKO said in a statement. A WEKO spokesman said the investigation would likely conclude in ei
/
Fukushima Daiichi: 100% meltdown in reactor 2 likely, Tepco ignored tsunami risk assessment
InvestmentWatch - Nuclear Expert: US West Coast being continuously exposed to Fukushima radioactive releases, it's an ongoing tragedy. Marine Chemist: Impossible to stop nuclear waste flowing into ocean; "It never will be... that's what keeps me up at night." A group of researchers says it is highly likely that 70 to 100 percent of fuel has melted at one of the damaged reactors at the Fukushima Daiichi nuclear power plant. The group includes researchers from Nagoya University. It has been probing the plant's No. 2 reactor since April of last year, using a device that uses elementary particles called muons to see into its interior. The researchers say the results of their study show few signs of nuclear fuel at the reactor core, in contrast to the No. 5 reactor where fuel was clearly visible at its core. This led them to believe that 70 to 100 percent of fuel at the reactor has likely melted. The researchers say further analyses are needed to determine whether molten fuel penetrated the reactor and fell down.
/
/
Obama Warns Christians: Gay Rights Trump Religious Freedom…
Breitbart - As Pope Francis flew back to Rome, President Obama issued a stern warning to Christians, warning them their attempts to assert their religious liberty to oppose gay rights would fail. "We affirm that we cherish our religious freedom and are profoundly respectful of religious traditions," he insisted during a dramatic speech at a LGTB fundraiser in New York City on Sunday night, praising the progress made on gay rights under his administration. "But we also have to say clearly that our religious freedom doesn't grant us the freedom to deny our fellow Americans their constitutional rights."
/
School Asks Students For Number of Guns, Political Views Held by Family
Kit Daniels - The gun survey given to journalism students at Hendrickson High School in Pflugerville, Texas, also asks students for their parents' political views.... "[The Second Amendment] is a great conversation for kids to have in the classroom and definitely for journalism because it applies directly to our Constitution… but the questions that concern me are the ones that ask 'how many firearms does your parents have at home?' and 'what political affiliations do your parents have?'" radio host and gun rights activist Michael Cargill said, who brought the survey to the public's attention. "That's private." And the survey can be used against the student and his family. "Have you or anyone in your family ever used a gun in a self-defense situation?" another question asks. "If so, please describe." That question is particularly alarming because there's no statue of limitation prohibiting an anti-gun prosecutor from charging someone with murder for using a gun in self-defense. And Child Protective Services could also use the survey as a pretext to take kids away from a family.
/
Why did a Ted Cruz super PAC give $500,000 to Carly Fiorina's?
Washington Post - A super PAC supporting former tech executive Carly Fiorina's run reported raising $3.5 million -- with a half-million dollar lift from a super PAC supporting GOP presidential rival Sen. Ted Cruz (R-Tex.). The pro-Cruz PAC, Keep the Promise I, reported the disbursement Friday in a document filed with the Federal Election Commission. That is...unusual, to say the least.
/
Whole Foods Market to cut about 1,500 jobs
CNBC News - Upscale food market operator Whole Foods Market said it would cut about 1,500 jobs, or about 1.6 percent of its workforce, over the next eight weeks. The cuts are aimed at reducing costs as the company invests in technology upgrades, Whole Foods said in a filing. The affected positions were mainly in stores, but "back of house" positions that were not customer facing, the company said in an email to Reuters. Whole Foods said it would offer employees options including transition pay, severance, or allow them to apply for other jobs. The job cuts come as the retailer is working to shed its "Whole Paycheck" nickname and its reputation for high prices. Whole Foods said in May that it would launch a new chain of smaller, more value-focused shops next year.
/
image: https://www.trunews.com/wp-content/uploads/2015/09/deadwhaleswikicommons.jpg

/
Russian Expedition Discovers New Lands In Arctic
/
School Uses Children to Spy on 2nd Amendment Supporting Parents